Recipes
Molten Chocolate Cake
How To Make the '90s Dessert We Miss the Most.
Serves

6

Cook

2 hours 10 minutes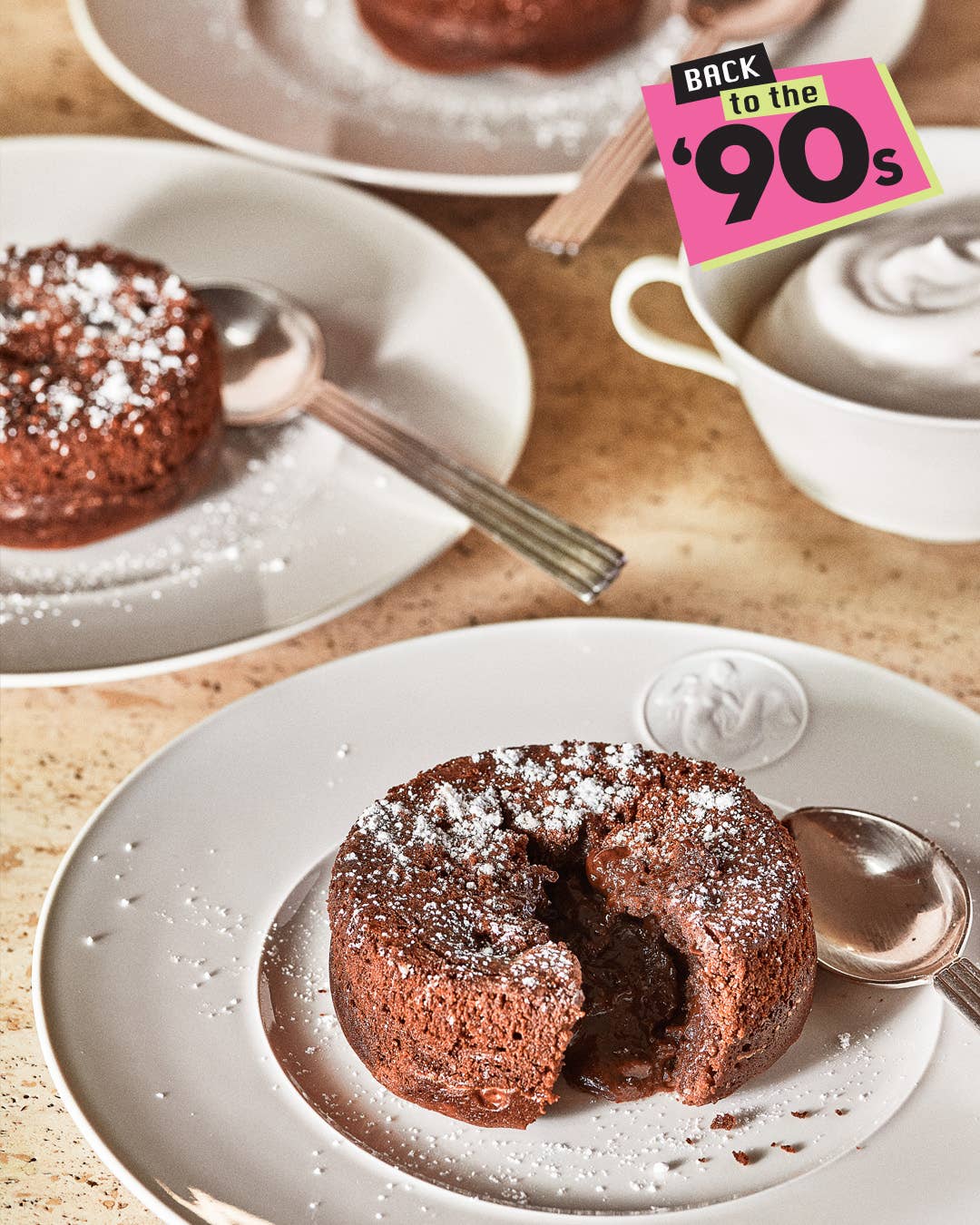 Dense and fudgy along the edges and liquified in the center, this molten chocolate cake recipe resists overbaking due to a cleverly placed ganache truffle. This dessert is intended to be served straight out of the oven; feel free to prepare the ganache and batter up to 24 hours ahead of time so that it's easy to fire off the cakes "à la minute."
This recipe is adapted from a version inspired by the Jean-Georges Vongerichten dessert, which originally ran in the 2011 SAVEUR 100.
Ingredients
For the chocolate truffles:
2 oz. semisweet chocolate, finely chopped
1 Tbsp. dark rum
3 Tbsp. heavy cream
For the cakes:
8 Tbsp. unsalted butter, plus more for greasing
¼ cup all-purpose flour, plus more for dusting
6 oz. bittersweet chocolate, finely chopped
½ cup sugar
1 tsp. vanilla extract
Pinch fine salt
3 large eggs
Confectioners' sugar, for serving
Vanilla ice cream, for serving (optional)
Instructions
Step 1
Make the chocolate truffles: To a small heatproof bowl, add the semisweet chocolate and rum; set aside.
Step 2
To a small pot over medium heat, add the cream and cook just until it reaches a gentle simmer. Remove from the heat, then immediately pour the hot cream over the chocolate and rum. Set aside for 1 minute, then, using a silicone spatula, slowly stir until completely melted and smooth. Cool to room temperature then cover and refrigerate until firm and chilled, about 1 hour.
Step 3
Line a large plate with parchment paper. Scoop the chilled chocolate mixture into six equal portions, then roll each portion into a ball. Place the balls on the lined plate and return to the refrigerator; chill until ready to bake the cakes.
Step 4
Position a rack in the center of the oven and preheat to 425°F. Grease the bottom and sides of six 6-ounce ramekins with butter and lightly dust with flour, tapping out any excess. Arrange the ramekins about 2 inches apart on a large baking sheet.
Step 5
Make the cakes: To a small pot, add the butter and bittersweet chocolate, set over medium heat, and cook, stirring occasionally, until just melted and combined, about 5 minutes. Remove from heat and set aside to cool slightly at room temperature for 10 minutes.
Step 6
Using a hand mixer or stand mixer fitted with the whisk attachment, beat the sugar, vanilla, salt, and eggs on medium-high speed until pale and thick, 3–4 minutes. Beat in the melted butter-chocolate mixture until just combined, then add the flour and continue beating until completely smooth.
Step 7
Divide half the batter among the prepared ramekins. Place a chilled chocolate ball in the center of each ramekin. Cover each chocolate ball with the remaining batter; use a small offset spatula or the back of a spoon to smooth the surface of each cake. Bake until the cakes are fragrant and just barely set, about 15 minutes (a cake tester inserted into the center will
not
come out clean). Transfer to a wire rack and set aside to cool slightly, 2–3 minutes, before unmolding.
Step 8
Run a paring knife around the edge of each ramekin and invert onto small dessert plates. Dust with confectioners' sugar and serve immediately, with vanilla ice cream, if desired.