Recipes
Tamarind Rice
A fine balance of sour, sweet, savory, and spice make this traditional Indian dish shine.
Serves

serves 4

Cook

20 minutes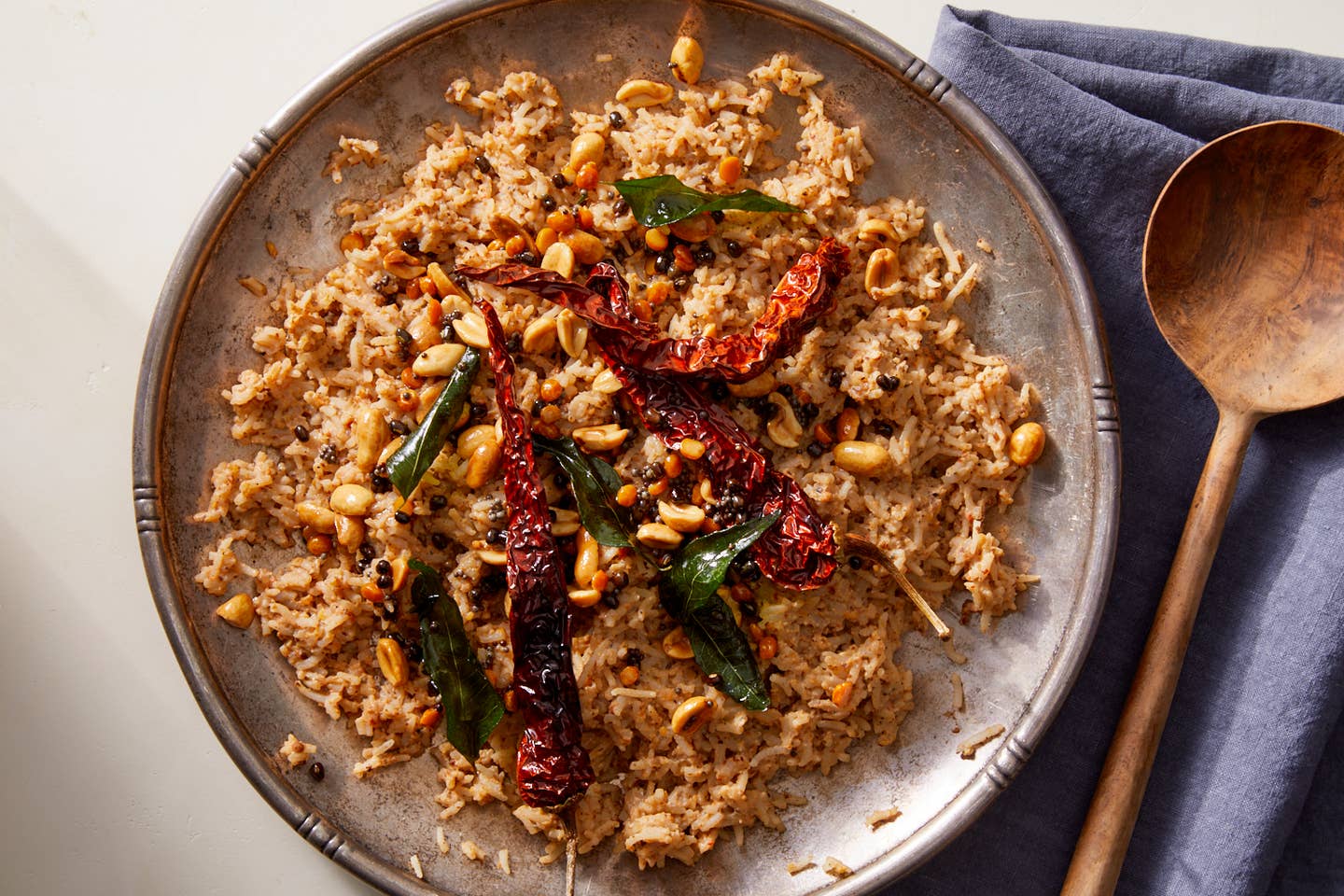 Depending on where in South India it comes from, tamarind rice is known variously as puliyogare, pulihora, puliyodarai, or puli sadam. Although its registers may shift—fewer ingredients, fluctuating quantities of spice, the addition or subtraction of cashews and coconut—the paste is traditionally built on tamarind, red chile, mustard, coriander, curry leaves, and dal. Most Indian homes use block tamarind paste that still has the pulp and needs to be soaked, but tamarind concentrate may also be substituted. Medium-grain rice, such as sona masoori, is preferred here, either freshly cooked or even leftover from a previous meal.
This version is from Mumbai-based writer Meher Mirza, who adapted her own recipe from one she learned from a friend; the addition of jaggery is entirely optional. The chana dal and the urad dal bring body to the paste, and a warm, savory crunch to the rice when it is stubbled by the tempered spices. Find these ingredients at your local Indian market, or order them online from Kalustyan's.
Ingredients
For the rice:
1½ cups medium-grain rice
1 tbsp. canola or other neutral oil
For the tamarind water:
½ cups block tamarind paste
1 tbsp. jaggery or brown sugar (optional)
For the spice paste:
1 tbsp. sesame oil
½ cups whole cashews
1 tbsp. urad dal
1 tbsp. chana dal
2 tsp. coriander seeds
1 tsp. black mustard seeds
1 tsp. cumin seeds
1 tsp. fenugreek seeds
1 tsp. whole black peppercorn
3 Byadgi chiles
¼ tsp. asafoetida powder
Kosher salt
For the tempered spices:
1 tbsp. sesame oil
1 tsp. black mustard seeds
¼ cups raw peanuts
1 tsp. urad dal
1 tsp. chana dal
5 Byadgi chiles
2 sprigs curry leaves
Instructions
Step 1
Place the rice in a fine mesh strainer and rinse under cold water until the water runs clear. Drain well, then transfer the rice to a medium bowl, cover with fresh water and soak for at least 30 minutes and up to 2 hours.
Step 2
Fill a medium pot halfway with water, add the canola oil, and bring to a boil over medium-high heat. Drain the rice (discarding the soaking liquid), then transfer to the boiling water and cook until just tender, about 10 minutes. Drain the rice again, then spread the grains out onto a large rimmed baking sheet to cool to room temperature.
Step 3
To a small bowl, add the tamarind, jaggery, and ¾ cup boiling water, making sure the tamarind is submerged. Set aside to soak until the pulp has softened, around 30 minutes. Set a fine mesh strainer over a second small bowl and pass the softened tamarind mixture and all of its soaking liquid through it. Discard any solids that remain, then set the tamarind liquid aside.
Step 4
Meanwhile, make the spice mix. To a medium pot over medium heat, add the sesame oil; when the oil just begins to shimmer, add the cashews and cook, stirring frequently, until toasted and golden, 2–3 minutes. Transfer to a blender or a small food processor, then, to the same pot, add the urad dal and chana dal and cook, stirring continuously, until toasted and fragrant, about 1 minute. Transfer the dals to the blender. To the same pot, one by one, add the spices and toast until fragrant, transferring each to the blender as they are done: coriander (about 30 seconds), black mustard seed (about 1 minute), cumin (about 30 seconds), fenugreek (about 30 seconds), black peppercorn (about 1 minute) and chiles (about 30 seconds). Add the asafoetida powder to the blender, then process to a loose paste, adding 1–1½ cups of water as needed to reach the desired consistency. Set the paste aside.
Step 5
To the same pot over medium-low heat, add the reserved tamarind liquid and cook, stirring frequently, until the mixture turns darker in color and thickens slightly, about 5 minutes. Stir in the reserved spice paste, and bring to a simmer, stirring frequently until the mixture reduces to a wet paste, about 5 minutes. Season to taste with salt, then one cup at a time, begin gently folding in the reserved rice, taking care to evenly distribute the tamarind-spice paste without breaking the grains. Transfer to a large platter and keep warm.
Step 6
Temper the spices: To a small skillet over medium heat, add the sesame oil; when it shimmers, add the mustard seeds and cook, stirring occasionally, until they begin sputtering, about 1½ minutes. Add the peanuts and dal and cook, stirring frequently, until golden, about 1½ minutes more. Add the chiles and curry leaves and continue cooking until the leaves are crisp and glossy, about 30 seconds. Spoon the tempered mixture over the tamarind rice and serve warm.