Recipes
Thạch Rau Câu (Vietnamese Coconut-Pandan-Coffee Jellies)
A cooling—and vegan!—Southeast Asian treat from Brooklyn baker, Doris Hồ-Kane.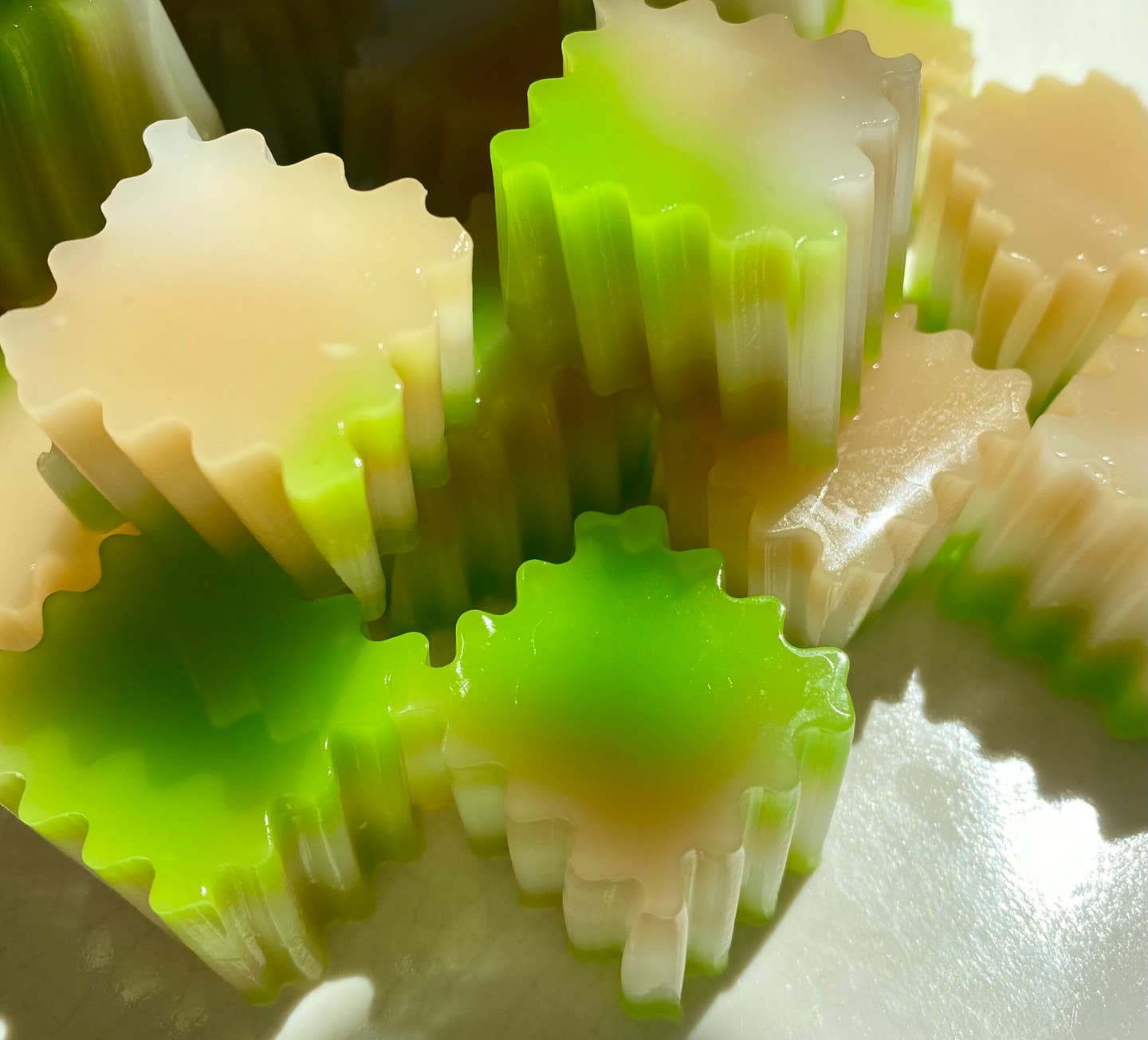 These tasty Vietnamese jellies are set with agar agar, a vegan gelatin-like substance made from seaweed. For this version, Vietnamese American baker and pastry chef, Doris Hồ-Kane swirls three colorful flavors together for a green marble effect.
Pandan, a herbaceous tropical plant, is widely loved throughout Southeast Asia for its mild, malty flavor and strong color. Find fresh or frozen pandan leaves in Asian markets, or otherwise, Hồ-Kane suggests substituting the pandan water in this recipe with a ¼ teaspoon powdered pandan (which is available online). For an added pop of color, a few drops of bottled pandan extract may be added to the liquid.
Hồ-Kane cuts her jellies into cubes using a crinkle cut knife for a decorative presentation, though a straight knife works as well. Enjoy the treats—cut in any shape that you like—on their own, as a topping for ice cream, or even with milk, ice, and a drizzle of sweetened condensed milk.
Ingredients
1 .88-oz. packet powdered agar agar (such as Telephone brand)
3 fresh or thawed, frozen pandan leaves, rinsed well
1 cup sugar
1 tsp. vanilla extract
1 14-oz. can full-fat coconut milk
1 1⁄2 tsp. instant coffee
2–3 drops Pandan extract (optional)
Instructions
Step 1
In a medium pot, stir together 5½ cups room temperature water and the agar agar. Set aside to bloom for 20 minutes.
Step 2
Meanwhile, to a blender, add the pandan leaves and 1 cup cold water. Blend on high speed until smooth, then set a fine-mesh strainer over a medium bowl and strain the pandan water, pressing on the solids to extract as much liquid as possible. Discard the solids and set the liquid aside.
Step 3
Over medium heat, bring the agar agar mixture just to boil; turn the heat down to maintain a simmer and cook, stirring frequently, for 10 minutes to dissolve and activate the agar agar. Turn off the heat. Add the sugar and vanilla extract and stir until dissolved. Add the coconut milk and stir until completely incorporated. Working quickly, evenly divide the agar liquid into three medium bowls. Leave one bowl plain. In the second bowl, whisk in the instant coffee until dissolved. To the third bowl, add ⅓ cup of the reserved pandan mixture (save the rest for another use) and a few drops of pandan extract (if using) and stir until uniform in color. Alternating between the three mixtures, slowly pour into a 9-by-13 glass baking dish without stirring. Set aside at room temperature until solidified and completely cooled, about 2 hours. Cover with plastic wrap and refrigerate until chilled and very firm, at least 5 hours or overnight.
Step 4
When you are ready to cut the jellies, run an offset spatula or thin knife along the edges of the pan. Invert onto a large cutting board and gently tap the bottom of the pan to release. Slice into cubes (or any shape that you like) and serve chilled. Store leftovers in an airtight container in the fridge for up to 3 days.