Recipes
The Winemaker's Roast Duck with Shallots and Concord Grapes
Serves

serves 4-6

Cook

2 hours 40 minutes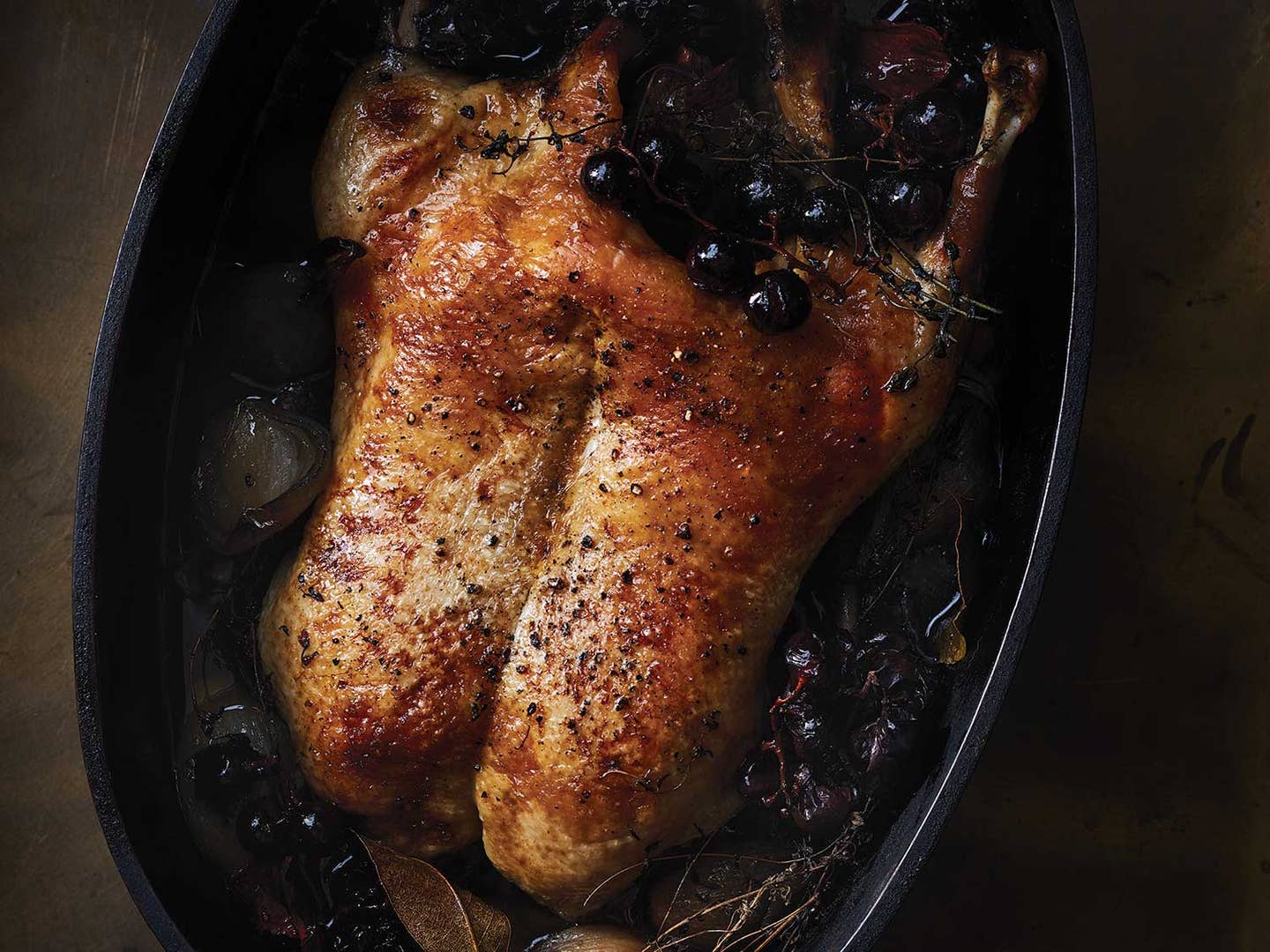 I borrowed this method and these ingredients from a classic chicken recipe often made during the wine harvest with big bunches of red wine grapes. As the bird steams and braises in a terra-cotta roaster or Dutch oven, it releases its own fat and juices that make a rich sauce with the roasted grapes and shallots. Because it's made in one pot and results in tender, juicy meat every time, this is a perfect duck dish for beginners. Choose the darkest, plumpest grapes you can find such as Concord or muscat. Serve with crusty bread, la cruchade, or creamy potato purée.
Ingredients
1 whole duckling (4–4¼ lb.)
1 tsp. kosher salt
Freshly ground black pepper
1 lb. dark, juicy red grapes, such as Concord or muscat, left on their stems in clusters
12-15 medium whole shallots, peeled (10 oz.)
2 bay leaves
1 bunch fresh thyme (12–15 sprigs)
Crusty bread, for serving (optional)
Instructions
Step 1
Preheat the oven to 400°. Meanwhile, trim the excess fat from around the cavity of the duck, then rub the duck all over with the salt, inside and out. Season generously with black pepper.
Step 2
Separate the grapes into a few large clusters. In a large, oval Dutch oven or terra-cotta roaster, scatter the shallots, bay leaves, and half of the thyme. Place the duck in the pot on top of the shallots, then nestle the grape clusters and the remaining thyme around the duck (the duck and vegetables should fit rela­tively snugly in the pan). Pour 2 cups of cool water into the bottom of the pot and cover with a lid.
Step 3
Transfer the pot to the oven and roast for 1 hour and 30 minutes. Uncover the pot and continue cooking until the skin is crispy and evenly browned, 40–50 minutes more.
Step 4
Remove the pot from the oven and carefully transfer the duck to a cutting board. Let cool slightly, then cut into pieces and arrange on a serving platter. Garnish with the shallots and grapes, and drizzle with the pan juices (strained if desired). Serve immediately.