Recipes
Wood-Roasted Apples With Burnt Cinnamon Caramel
Serves

serves 8

Cook

1 hour 40 minutes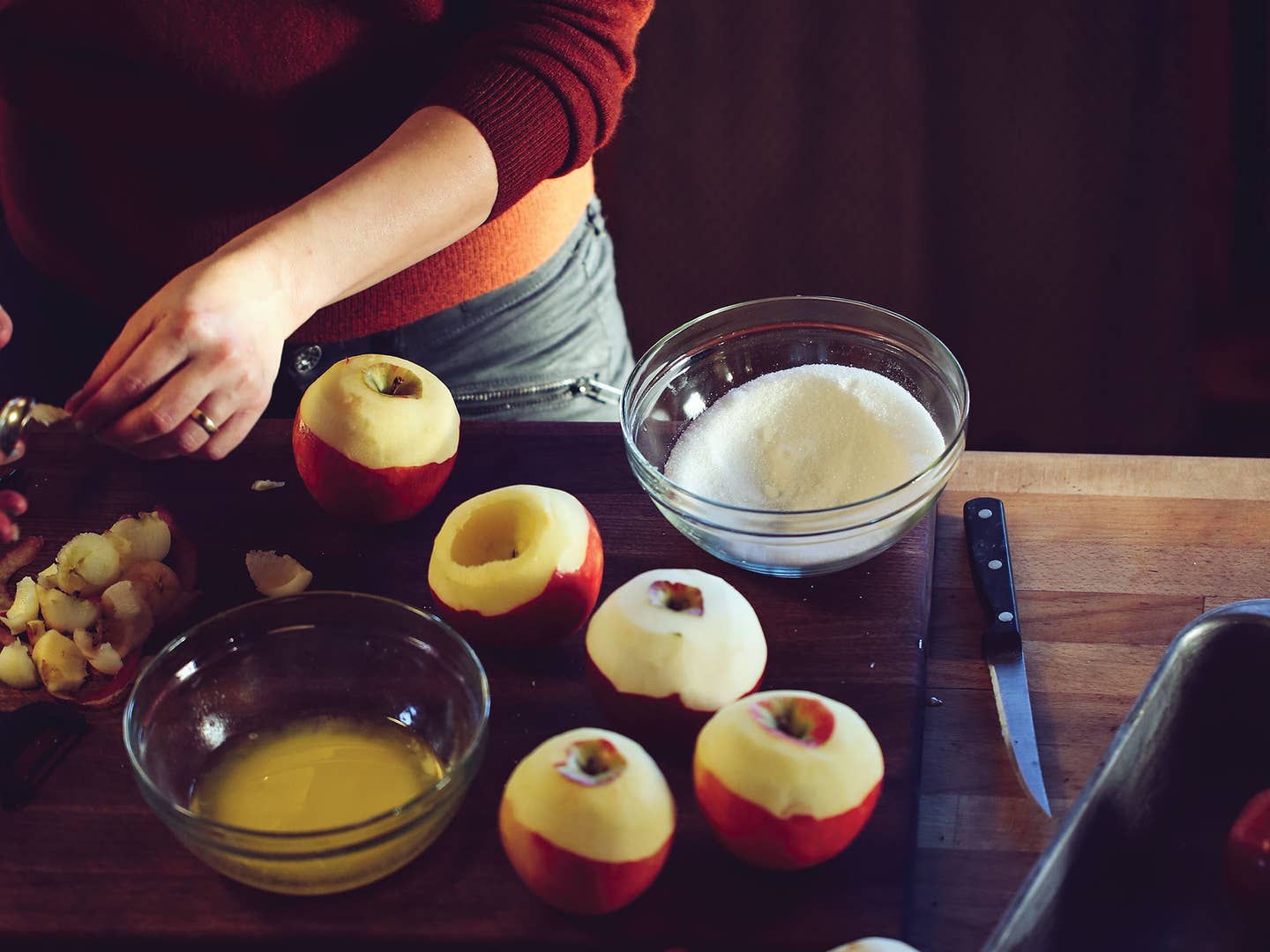 Cooking time will vary according to the apple variety you choose, but be sure to use a sturdy, very tart apple such as Honeycrisp or Zestar. The smokiness and char from the wood fire, together with the theater of roasting apples over the hot coals, really makes this dessert, but in a pinch you can roast the apples on a baking sheet at 400° uncovered for 30–35 minutes.
Each year, deep in Minnesota's northwoods, Amy Thielen invites a close-knit band of friends to hunt her land, and fortifies them with lusty, late-fall dishes like venison and sauerkraut that rival any turkey and stuffing
Ingredients
For the caramel
6 cinnamon sticks
1 cup heavy cream
1 vanilla bean, split and scraped
1 cup sugar
1 tbsp. maple syrup
6 tbsp. (3/4 stick) unsalted butter
1 tbsp. rye whiskey
3⁄4 tsp. kosher salt
For the apples
4 tbsp. (1/2 stick) unsalted butter
1⁄4 cup sugar
8 large, tart apples (3 lb.), such as Honeycrisp or Zestar
Nonstick cooking spray
Vanilla ice cream, for serving
Instructions
Step 1
Make the caramel: Lay the cinnamon sticks directly on the flame of a gas burner set to medium-low heat. (Alternatively, you can toast the sticks in a dry cast-iron pan over medium heat). Using tongs, rotate them to toast evenly, allowing for some burnt spots but not many, and blowing out any fires as you would with a marshmallow.
Step 2
Transfer the toasted sticks into a small saucepan, and add the heavy cream and vanilla bean; bring to a simmer. Turn off the heat and transfer the mixture to a heatproof bowl. Cover tightly with plastic wrap and let steep until cool.
Step 3
Set a small bowl of water with a pastry brush next to the stove. In a medium (4-quart) saucepan, combine the sugar, 1⁄4 cup water, and maple syrup and bring to a boil. Let cook, brushing the perimeter of the boiling sugar with the wet pastry brush to help dissolve any crystals clinging to the edge, until dark amber, about 8 minutes. Add the cream mixture and the butter and cook, stirring frequently, over medium-low heat, until the clumps of caramel dissolve, about 10 minutes. Add the rye whiskey and salt and simmer for 1 minute more.
Step 4
Into a medium heatproof bowl, pour the caramel through a fine-mesh sieve (you should have about 11⁄2 cups). Set aside. (Caramel can be kept at room temperature for up to 4 hours, or covered with plastic wrap and refrigerated for up to 2 weeks. Bring to room temperature before using.)
Step 5
Make the apples: When ready to serve, prepare a wood fire in a fire pit (or a charcoal fire in a grill).
Step 6
Melt the butter in a small saucepan, and place the sugar in a medium bowl. Lay out 8 double-layered squares of aluminum foil (about 16 inches each), and spray each lightly with nonstick cooking spray, rubbing to coat evenly.
Step 7
Peel the top inch of each apple. Using a melon baller, scoop out the stem and seeds, leaving at least the bottom 1⁄2 inch of the seed cavity intact and leaving an opening for the ice cream on top. Roll the apples in the melted butter and then the sugar, and place each in the center of a double-layered foil square. Fold up the edges loosely (so that you can check them later).
Step 8
Rake the fire to make an even bed of glowing red coals. Nestle the apples into the coals and let cook, rotating twice during cooking to expose different parts of the apple to the hottest spots, 20–25 minutes. Apples should be tender and gently charred, but not falling apart.
Step 9
Remove to a dish and let rest until the foil is cool enough to handle. Unwrap the apples (reserve the cooking juices) and set each one in the center of a shallow bowl. Reheat the cinnamon caramel as needed, adding any accumulated apple-cooking juices if desired.
Step 10
Top each apple with a scoop of vanilla ice cream and a generous dollop of warm cinnamon caramel, and serve immediately.