Nicaraguan "Rundown" Seafood Soup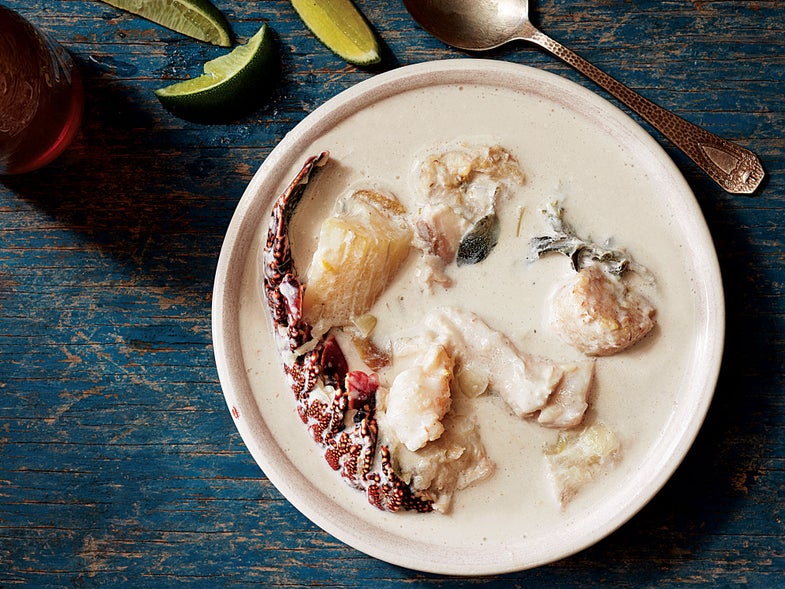 Nicaraguan rundown showcases tubers and fresh seafood in a slightly sweet coconut milk broth, and on Little Corn Island, the local seafood always makes an appearance, as the dish is meant to be a catchall for whatever the cooks find at the market. If you can't find conch, you can replace it with an equal weight of cherrystone or topneck clam meat. Add it when you add the lobster and mackerel so that it doesn't get tough.
Featured in: Nicaragua's Little Corn Island Delivers Central American Flavor Without the Tourist Traps
Yield: serves 8
Time: 1 hours 45 minutes
Ingredients
6 cups unsweetened coconut milk
1 lb. conch meat, cut into 1/2-inch cubes
6 cloves garlic, finely chopped
2 large Cuban oregano leaves (available at garden nurseries) or 1 standard oregano sprig
2 green bananas, peeled and each cut crosswise into 4 pieces
1 green plantain, peeled and cut crosswise into 8 pieces
1 yellow plantain, peeled and cut crosswise into 8 pieces
1 medium cassava root, peeled and cut into 2-inch pieces
1 medium malanga or taro root, peeled and cut into 2-inch pieces
1 small yellow onion, roughly chopped
Kosher salt and freshly ground black pepper
2 (8-oz.) skinless king mackerel fillets, each cut into 8 pieces
4 rock lobster or Maine lobster tails, halved lengthwise
Lime wedges, for serving
Instructions
In a large Dutch oven, combine the coconut milk with 4 cups water and add the conch, garlic, oregano, bananas, both plantains, cassava, malanga, and onion. Season with salt and pepper and bring to a boil. Reduce the heat to a steady simmer and cook, stirring occasionally, until the liquid reduces and the vegetables are just tender, about 1 hour.
Add the mackerel and lobster and cook until the seafood is tender, about 10 minutes. Remove the pot from the heat, season with salt and pepper, and serve with lime wedges.