Salt-Baked Cornish Game Hens with Shallots and Orange Sauce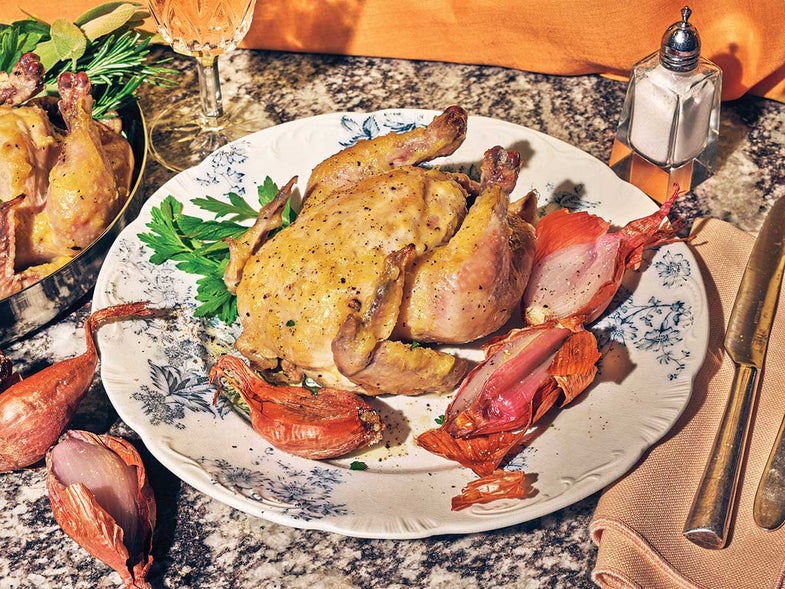 Stuffing these petite birds with winter herbs creates an aromatic steam that flavors the meat as it cooks. A second round of roasting and a layer of sauce leaves them juicy and sweet.
Featured in: Salt Baking is the Key to Juicier Birds, Meats, and Seafood »
What You Will Need
Salt-Baked Cornish Game Hens with Shallots and Orange Sauce
Try this updated chicken à l'orange tonight: Petite Cornish hens—stuffed with winter herbs, baked in salt, then laquered with sweet orange glaze.
Time: 1 hour, 30 minutes
For the hens:
Four 1-lb. Cornish game hens
Freshly ground black pepper
2 cups herbs, such as parsley, thyme, rosemary, and sage, chopped
6 lb. (19½ cups) coarse sea salt or coarse kosher salt
4 large egg whites
20 medium shallots
For the orange sauce:
2 medium shallots, peeled and finely chopped
1⁄4 cup extra-virgin olive oil
1 tbsp. all-purpose flour
1 cup orange juice
1 cinnamon stick
Instructions
Preheat the oven to 425°F. Line a rimmed baking sheet with foil.
Prepare the hens: Rinse the hens and pat dry. Season the cavities with pepper, and stuff each with ½ cup of the herbs. Stuff each of the cavities with a ball of foil to keep salt from entering, then pull the legs closed and truss with kitchen twine.
In a large bowl, add the salt, remaining herbs, and egg whites; mix with your hands until the salt feels like slightly damp sand. Spread about half of the salt in an even layer about ½-inch thick across the baking sheet, patting it down evenly. Arrange the hens 2 inches apart on the salt and distribute the 20 whole, unpeeled shallots around them. Cover completely with remaining salt, patting it down in an even layer. Gently, and without shifting the packed salt, transfer to the oven, and bake until the hens are just cooked through and the salt forms a hard, lightly browned shell, 40 minutes.
Meanwhile, make the sauce: In a medium pot, heat the oil over medium heat. Add the chopped shallots and cook until softened, 2 minutes. Stir in the flour, orange juice, and cinnamon stick. Bring to a boil and cook, stirring constantly, until thickened, about 2 minutes. Remove and set aside.
Remove the baking sheet from the oven and raise the heat to 450°F. Use a wooden mallet or hammer to carefully crack the salt shell. Uncover the shallots and transfer to a bowl; keep warm. Pull the large chunks of crust away from the hens, then brush away any salt granules that cling to the skin. Discard the twine, foil, and herbs. Gently wipe away any remaining salt.
Transfer the hens, breast-side up, to a large cast-iron skillet. Brush with the sauce and bake, basting occasionally, until the sauce is thickened and glossy, 8–10 minutes. Peel the shallots and serve warm with the hens.