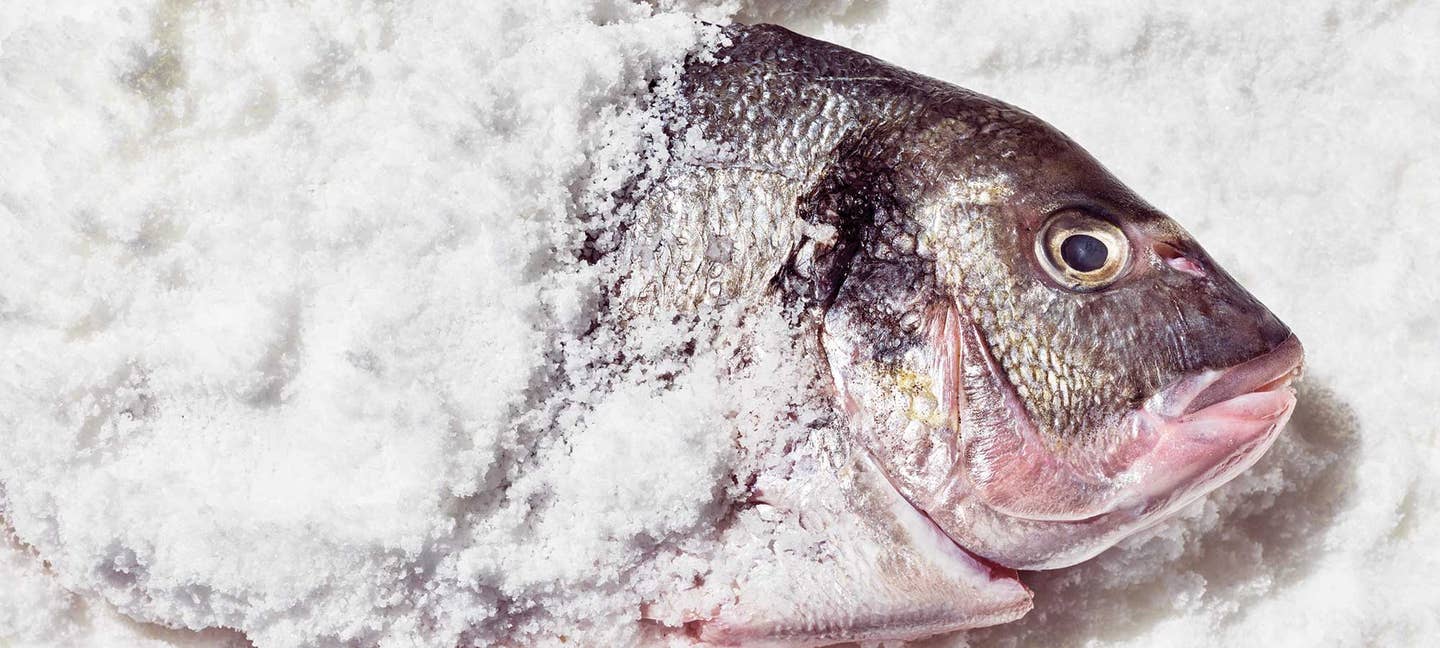 Techniques
Salt Baking is the Key to Juicier Birds, Meats, and Seafood
This old fishermen's technique from Menorca, Spain, works with whole fish, shrimp, and more
On the edge of san pedro del pinatar, a fishing village in the Murcia region of Spain's Mediterranean coast, a vast, irregular grid of salt flats juts out into the sea. Seawater floods them each spring, then evaporates each summer, when workers come to rake out the white- and pink-tinged crystals and pile them in glistening mounds to dry in the sun. These salt flats, or salinas, were created during the Roman Empire and have been in use ever since, providing sal to help season, conserve, and even bake—as is the case for one of Murcia's most famous dishes, dorada a la sal. The region's fatty, succulent sea bream, or dorada, is baked whole in a crust of extra-coarse salt, which hardens into a snug shell during baking, allowing the bream to steam entirely in its own juices. The result is a moist, flavorful fish with tender white flakes (and, no, it doesn't taste too salty).
As I've learned during my time living and cooking in Spain, salt baking is widely adaptable and works wonders with whole shrimp and sardines, young chickens or Cornish hens, and even meaty or robust vegetables such as eggplant or onions. It adheres perfectly to the general theory of cooking along the Spanish coast, where the goal is to heighten, rather than disguise, the natural flavors of the freshest ingredients.
Locals credit Spanish fishermen with the creation of this dish: During their days at sea, they'd place a whole fish on a marble slab, bury it in salt, and cook it over a small fire. It was simple and practical, and involved just two abundant and accessible ingredients.
Salt baking small fowl like Cornish hens, young chickens, or even duck legs helps to retain moisture and keep the meat succulent. A second salt-free bake provides a lacquered skin without the risk of drying out the meat.
Shellfish aren't traditionally salt-baked in Spain, but the shells and heads make a natural protective barrier that prevents shrimp and lobster tails from absorbing too much salt.
Although the quantity of salt required might seem startling at first, rest assured you can tuck a whole meal's worth of sides around your main course. Root vegetables like onions, shallots, or potatoes will roast down to a perfectly seasoned, no-fuss side dish as they bake. Scatter veggies—skins and all—around the centerpiece, leaving at least an inch between them, before burying it all beneath its blanket of salt.