Sausage and Arugula Pasta Salad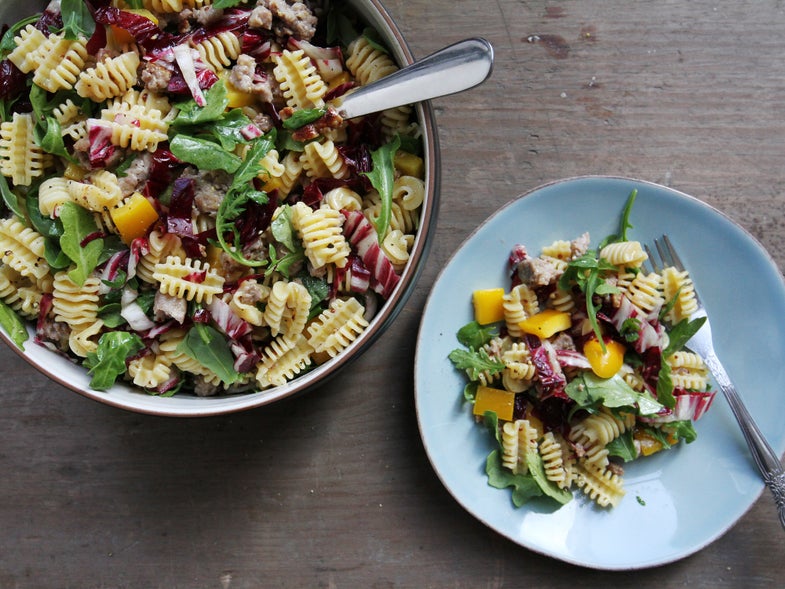 Pasta salads are essential summer food: they travel well; they're easy to adapt to whatever produce you have on-hand; and they're simple to make in large portions, making them perfect dishes to carry to parties, picnics, and barbecues. I came up with this version when faced with an abundance of Italian sausages, peppers, and arugula in our test kitchen; you can toss in whatever meats and vegetables you like. The mustard vinaigrette goes well with just about anything, so don't be afraid to make this salad your own. —Farideh Sadeghin, test kitchen director
Sausage and Arugula Pasta Salad
Simple, fresh, and full of flavors, this pasta salad is the perfect addition to any barbecue or picnic.
Time: 20 minutes
Ingredients
1 lb. sweet Italian sausage, casings removed
1⁄4 cup red wine vinegar
1 tbsp. Dijon mustard
1 tbsp. whole-grain mustard
1⁄4 cup olive oil
1 lb. radiatore pasta
Kosher salt and freshly ground black pepper, to taste
4 oz. baby arugula
2 oz. thinly sliced radicchio
1 yellow bell pepper, cored and diced
Instructions
Heat a 10" skillet over medium-high; add sausage and cook, using a wooden spoon to break up into small pieces until browned, 16–18 minutes. Remove from heat and place sausage in a large bowl.
Whisk vinegar, mustards, salt, and pepper in a bowl; continue whisking and slowly drizzle in olive oil. Place vinaigrette bowl with sausage.
Meanwhile, bring a large pot of salted water to a boil. Add pasta and cook, stirring occasionally, until just al dente, about 9 minutes. Drain pasta and run under cold water to cool. Toss pasta in bowl with sausage, vinaigrette, arugula, radicchio, yellow pepper, salt, and pepper.