Sautéed Green Beans with Peaches and Bacon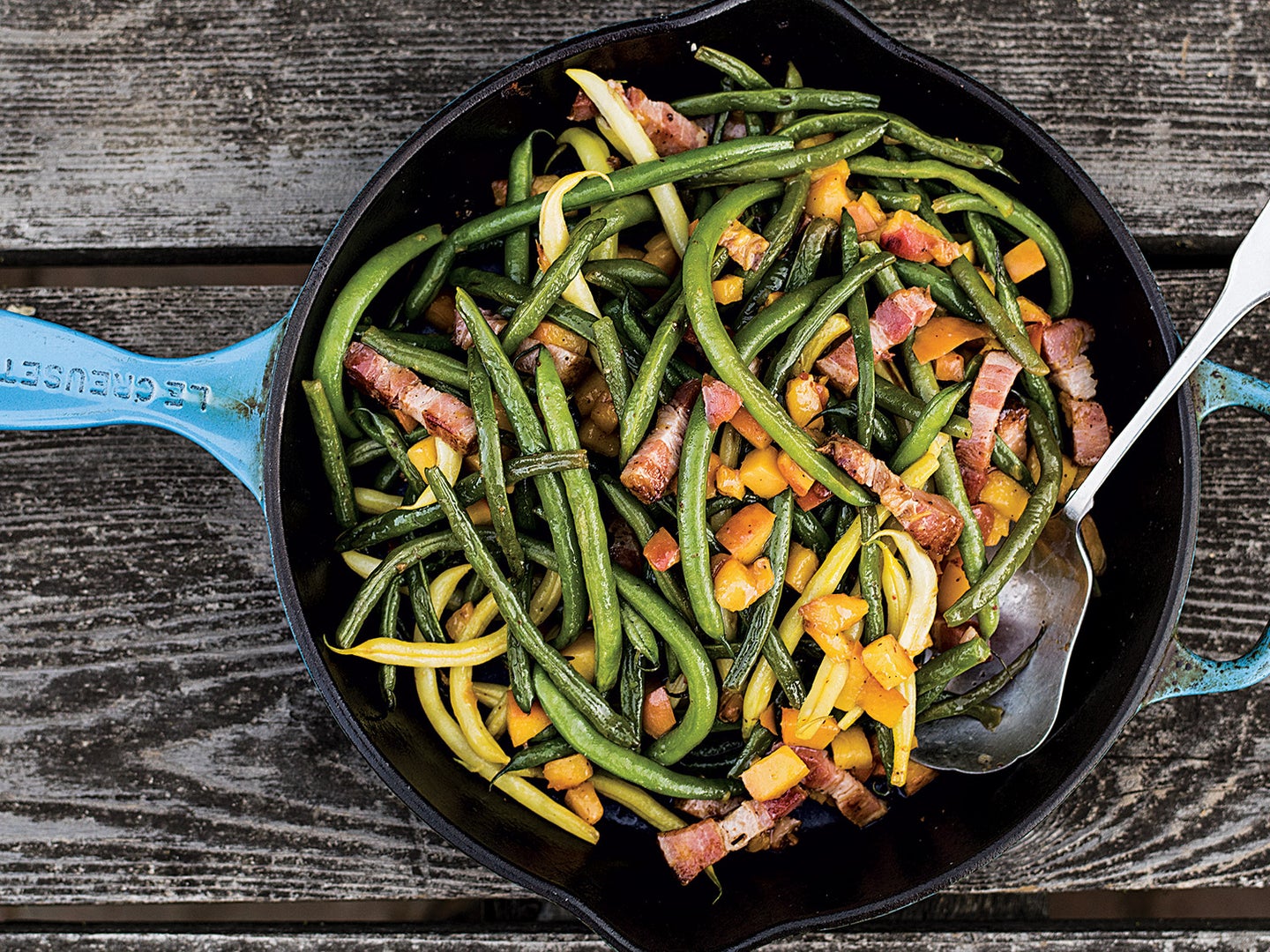 Smoky bacon complements the sweet peaches and fresh beans in this summery, one-pan side dish. When Elias Cairo, the chef and charcutier behind Portland's Olympia Provisions, makes it, he uses a friend's home-cured bacon. Nueske's brand bacon is a close alternative, but any good, thick-slab bacon would be delicious here.
Featured in: Portland Chef Elias Cairo Is as Serious About Fishing as He Is Eating
Equipment
Yield: serves 6
Time: 20 minutes
Ingredients
4 slices thick-cut bacon, cut in ¼-inch strips
2 Tbsp. extra-virgin olive oil
½ medium red onion, finely chopped
½ medium yellow onion, finely chopped
1¼ lb. green beans, trimmed
2 Tbsp. apple cider vinegar
Kosher salt
Freshly ground black pepper
1 large firm-ripe peach or nectarine, chopped into small pieces
½ lemon or lime, for squeezing (optional)
Instructions
In a cast-iron skillet over low heat, add the bacon and cook until crispy, about 7 minutes.
Using a slotted spoon, remove the bacon pieces to a small plate and set aside. Discard all but 1 tablespoon of the bacon fat, and add the olive oil to what remains. Add the red and yellow onion to the skillet, and stir to coat with the fat. Add the green beans, vinegar, and a pinch each of salt and freshly ground pepper, and cook, stirring occasionally, until the beans are crisp-tender, 4–6 minutes. Stir in the peaches and cook just until warm, 1 minute. Add the prepared bacon pieces, then taste and adjust the salt as needed.
Serve hot, before the bacon fat seizes up. Squeeze with lemon or lime, if desired.