Give Your Old Fashioned an Upgrade with the Best Cocktail Cherries
Garnish like a pro.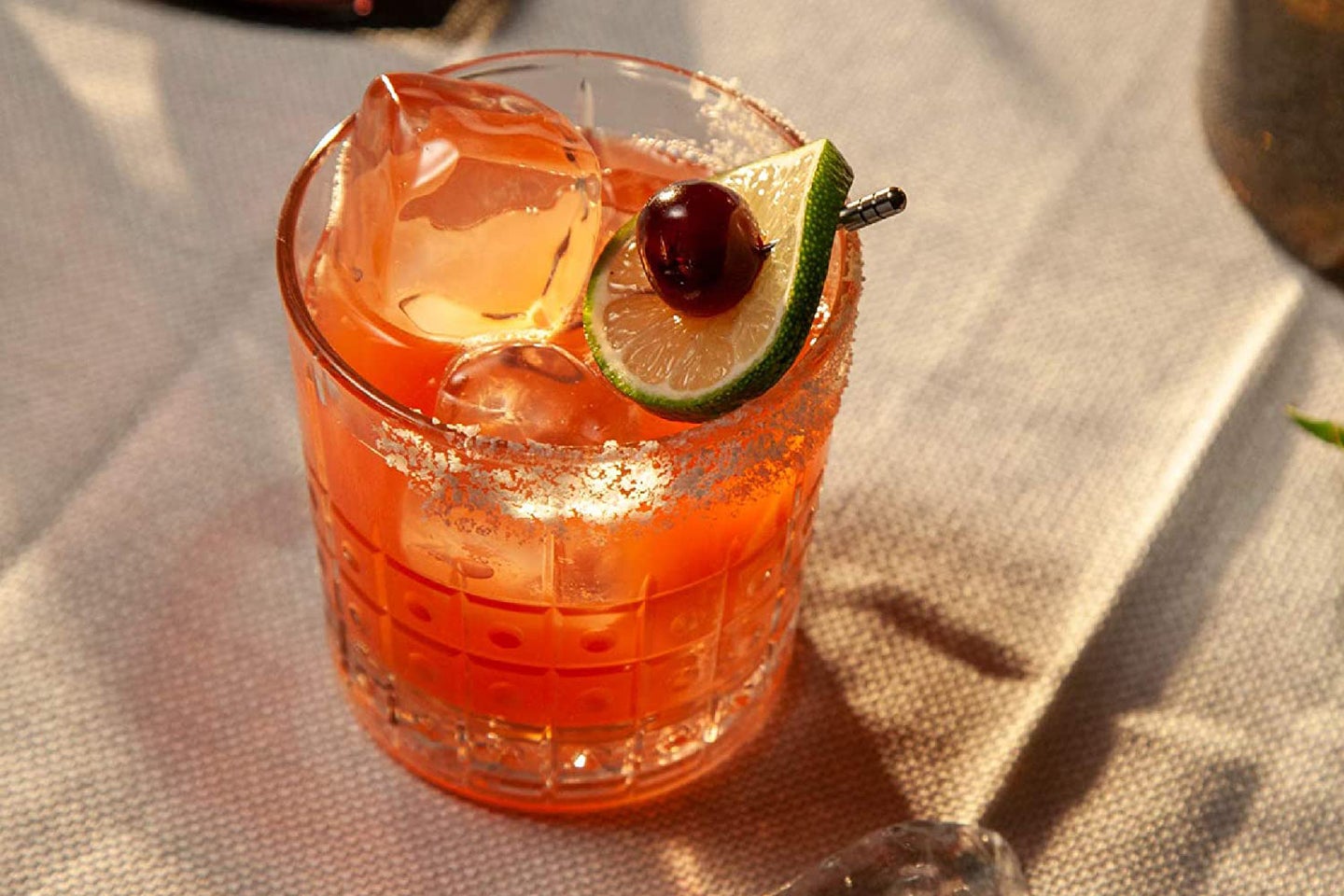 We may earn revenue from the products available on this page and participate in affiliate programs.
Think you know cocktail cherries? Think again. Those saccharine-sweet, cheery red orbs sitting atop a hot fudge sundae aren't necessarily the best thing for behind your home bar. 
According to Robert F. Moss, author of Southern Spirits: Four Hundred Years of Drinking in the American South, prohibition made the original maraschino cherries—imported from Europe and preserved in spirits—illegal in the United States. However, the U.S. Department of Agriculture eventually allowed cherries preserved in other ways to be sold under the maraschino name, and things went downhill from there. What resulted was the American version of the Maraschino cherry—sweetened with sugar, flavored with almond extract, and dyed bright red. 
"Plump, day-glo red cherries may be the requisite topping for kids' ice cream sundaes, but such cartoonish adornments have no business in a proper Manhattan or Old Fashioned," Moss says. "The original Maraschino cherry that graced American cocktails was a different creation entirely. These days, thankfully, American bartenders have much better options when it comes to cherries for cocktails."
And do we ever. Below, we've selected the best cocktail cherries delicious enough to grace your drinks, if you're not in the mood to make your own. The options you'll find below are all pitted and plump, and they'll show you how a carefully-chosen garnish is more than mere window dressing. 
Features to Keep in Mind
Types of Cocktail Cherries: There are essentially two distinctions when it comes to cherries: first, their steeping liquid, and second, whether or not they come with a stem. Cherries may be preserved in spirits or in syrups, and should say so on the label. Go for stemless versions if muddling is required, and if you're purchasing from a small company or market stand, make sure the cherries are pitted. 
Ingredients: Ideally, you're looking for cherries preserved in natural ingredients, which may include spirits such as whiskey, bourbon, or brandy; citric acid; and even natural fruit coloring. Steer clear of chemicals, artificial dyes, and corn syrup, all of which can add an off-putting flavor to your otherwise-well-crafted cocktail.
Characteristics: The ideal characteristics for a cocktail cherry should be plump, firm, and bursting with cherry flavor, which will have almond undertones sometimes enhanced with almond flavoring. Cherries are naturally a deep red (or even darker, depending on the variety), and that hue will only deepen with preservation, especially in brown spirits—in other words, anything neon is a no-no. Mushy is not preferred; neither is overtly sweet. 
Our Top Picks
Not only are they priced very reasonably at $28 for two 13.5-ounce jars, but bartenders we spoke with felt that Jack Rudy Cocktail Co. makes what are the most solid non-homemade option when it comes to cherries soaked in bourbon. The quintessential cocktail for cherries is the Old Fashioned, and although there are plenty of recipe variations out there, it's quintessentially made with bourbon, so these cherries are a match made in heaven. They work well with any whiskey drink, though, and can make for a memorable dessert garnish, too.
Wisconsin, we see you, and we know your Old Fashioneds are built with brandy, not bourbon. That's why these cocktail cherries, steeped in American brandy that's distilled in Louisville, Kentucky, should be one of your top choices: They'll make your cocktail of choice sing its own special note. However, don't stop there. These cocktail cherries are ideal for glasses that require that certain je ne sais quoi cherry garnish, including cocktails with sweet vermouth.
"I make my own bourbon cherries," says Alba Huerta, owner of Julep in Houston (and author of a cocktail book of the same name), "but when I run out, I use Filthy Black cherries. They are a bigger cherry, which is what I like about them, so it makes for a really beautiful garnish, but they are also super delicious." Slow cooked in copper pots, these wild Amarena cherries come 45 to a jar and are the only garnish ever nominated for a Tales of the Cocktail Award—the Oscars of the cocktail world—so it's safe to say they're a favorite of those in the know.
The original maraschino cherries imported into the U.S. hailed from Croatia, so if you're into cocktail history or crafting some of the old recipes, Maraska might be your top choice. Whole and "minus the mush," they are packed in Marasca cherry syrup, so make sure to drain your spoon of syrup before applying the cherry garnish to keep your drink's preferred consistency and mouthfeel. You can also opt for a slotted spoon to ensure that you save all that precious syrup. Pro tip: Use it in between cake layers for a sweet no-waste option.  
No need to hide this jar in a cabinet. The distinctive blue-and-white ceramic container holds the classic Fabbri cherries, made in Bologna, Italy since 1915. They are small, plump, and have a good almond flavor, which lends them as much to cocktail inclusion as to topping gelato or building a Black Forest cake. "I think these are simply great, and they look good sitting on my bar at home, too," says Moss. The syrup is a bonus, since when the cherries are finished, it can be saved and used as a flavoring on its own. Since it's non-alcoholic, Fabbri syrup is fun to experiment with making soda fountain–style cherry fizz drinks or cherry milkshakes with the kids. 
These cherries, grown in Oregon's Willamette Valley at Tillen Farms, are snappy and crisp—miles away from mushy. Now under the Stonewall Kitchen umbrella, these Bada Bings are what Miles Macquarrie, co-owner and beverage director for Kimball House in Decatur, Georgia, and Watchman's Seafood and Spirits in Atlanta recommends for home cocktail crafting. "We try to make enough of our own to last the year," he notes. "It never works, but we try. So when we run out, we use these Bada Bings. They have a stem on them, they are sitting in a naturally flavored juice, and the texture of the fruit is really good. It tastes like a cherry and not like a piece of candy."
Ask the Experts
How long do cocktail cherries last?
Cocktail cherries are by nature preserved, so depending whether that's in syrup or spirits, the shelf life will be months (at least) or even longer. The alcoholic ones, as well as the Fabbri option, are meant to remain on the bar, but refrigeration is advised for the others. And if you have little room on your bar cart, by all means store your cocktail cherries in the fridge. 
What about "extra cherries"?
Bar guests with a sweet tooth might ask for extra cherries in their cocktails. While that's up to the discretion of the bartender, be advised that extra cherries add extra sweetness to a cocktail and can skew its balance. Stick with one unless you're making a Shirley Temple, and from there, go skewer or go home.