The Best Stand Mixer to Fulfill Your Great British Bake Off Fantasy
Give your arms a break from mixing with these magnificent multitaskers.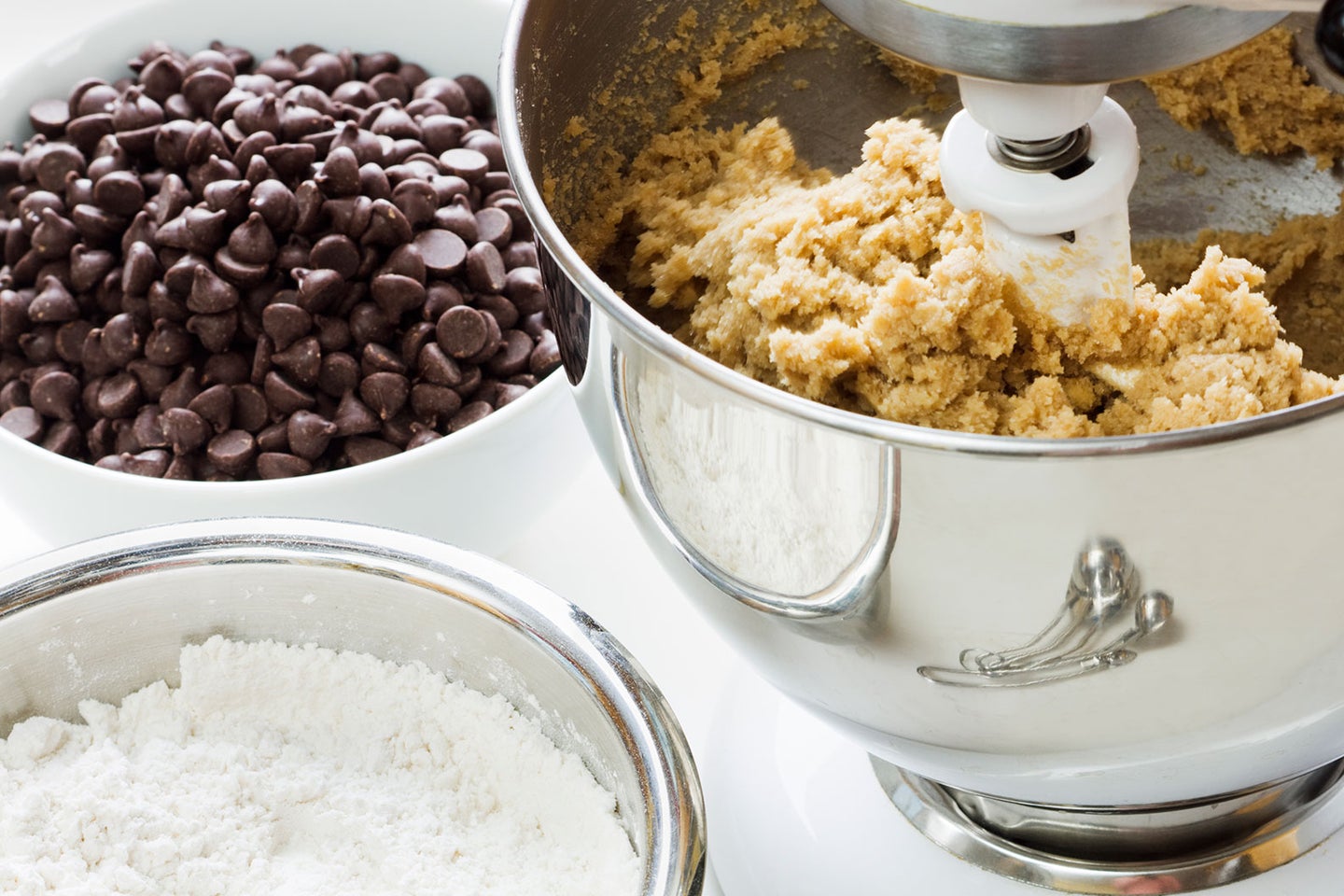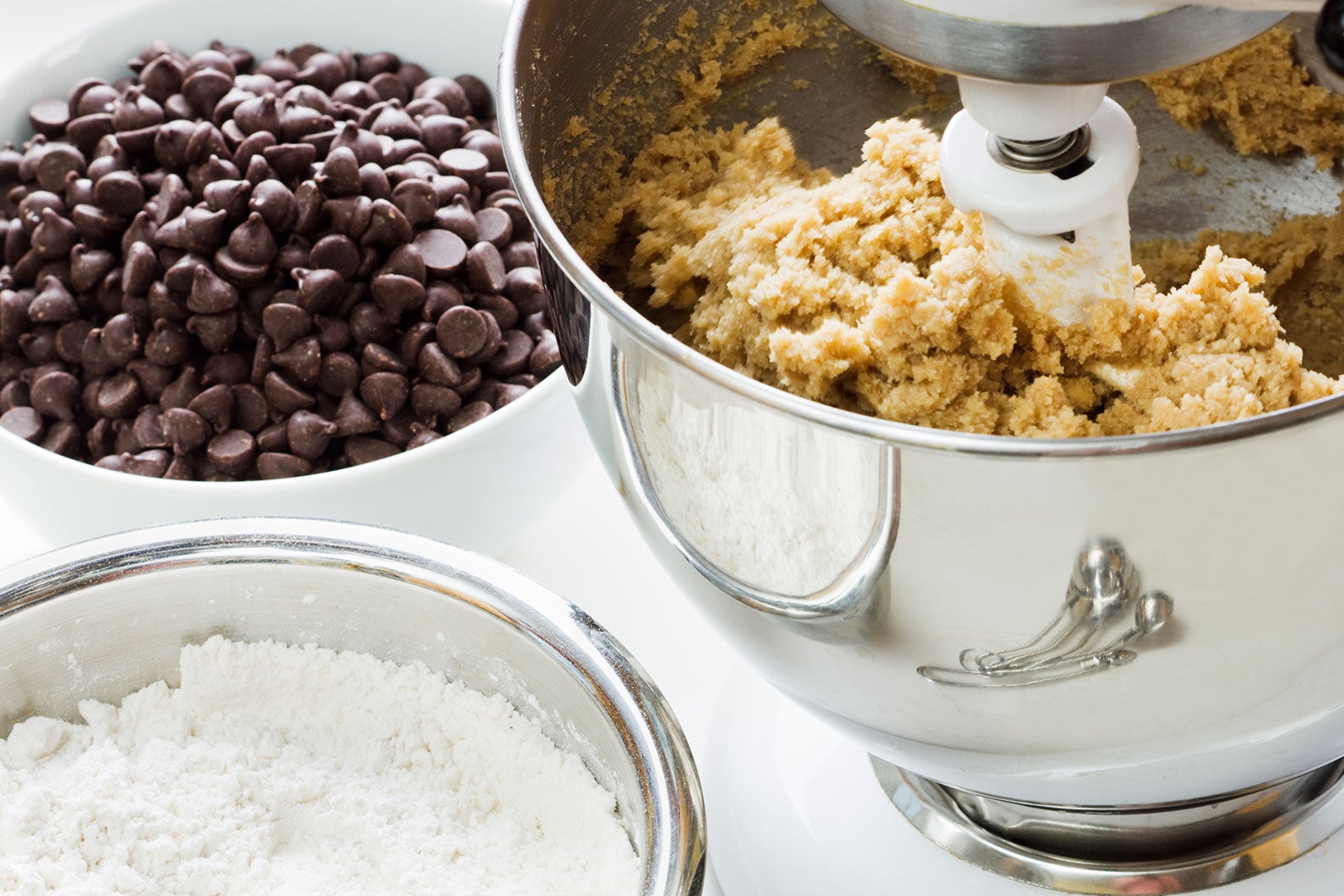 In a different lifetime, I worked for a high-end bakery that specialized in European-style cakes and pastries. Every day, I gazed longingly at our commercial Hobart mixer. It had a 10-gallon capacity bowl that, when full of cookie dough, took two people to move. I had similar feelings about our dough sheeter, but that's a different article entirely. Now, of course I didn't need a commercial-grade stand mixer. I was just in love with the idea of owning a stand mixer. Any stand mixer!
I don't work at that bakery anymore, but I finally have my own stand mixer. I use it for everything, including holiday baking, just-because baking, whipping egg whites for meringues and buttercream frosting, and kneading loaf after loaf of bread. During the fall and winter months, I use my stand mixer at least a few times a week, particularly around the holidays.
If you're here reading this, I have to assume you're in the market for a new stand mixer, or maybe your first one, which is very exciting! It can also be a little overwhelming to assess all the brands and models out there. I'm here to help. Over the past couple of weeks, I selected seven different stand mixers and ran each one through a series of tests to determine which ones are the best on the market.
I used each mixer to make a particularly stiff batch of chocolate chip cookie dough, a loaf of enriched white bread with a 20-minute mixing and kneading time, a batch of meringue, and a batch of whipped cream. Why these tests, specifically? They're all fairly common tasks that bakers use their stand mixers for, and they test key features (which I get into below). Here's how those stand mixers measured up.
Our Top Picks
Volume of bowl: 5 quarts | Material: Stainless steel  | Wattage: 325W | Number of speeds: 10 | Item weight: 27 pounds | Included attachments: Coated flat beater, coated dough hook, 6-wire whip, pouring shield
Pros
---
Strong motor works just as well whipping cream as mixing dense dough
Compatible with many KitchenAid attachments like a pasta roller and food grinder
Comes in a variety of colors
Cons
---
Heavy
Size and shape make it difficult to store in small kitchens
Why we chose it: An iconic American brand that lasts generation and holds up to heavy use. 
It was absolutely no surprise to me that this was the top performing stand mixer across the board. KitchenAid is a consistently top-rated stalwart in the industry, beloved by home cooks and pros alike. My mom got this model 18 years ago, and it's still going strong without need of repairs or replacement, despite regular to heavy use (especially whenever I go visit and bake her favorites because I'm the best son).
The fresh new test model performed well across all four tests. It never struggled against the dough and barely shuffled across the counter when I left it kneading on high for 10 minutes, though it did get just a little warm to the touch by the end of the kneading time, but not enough to be a concern. It also made quick work of heavy cream and egg whites without making a big mess. It's a superb machine through and through, especially for the price.
This is a tilt-head style mixer, which means the motor casing is on a hinge that you can lock in place during mixing and unlock when it's time to remove the attachment. For me, personally, the bowl is a bit small for my usual batch of cookie dough, but that's only because I make enough to last a few months for our household. If, like me, you need a little more room for bigger projects, there are some great options in the KitchenAid family, or you can go for my Best Upgrade pick below. KitchenAid also offers the largest selection of colors of any brand, so you can match your new workhorse to your kitchen's aesthetic.
Volume of bowl: 5 quarts | Material: Stainless steel, plastic  | Wattage: 450W | Number of speeds: 12 | Item weight: 15.9 pounds  | Included attachments: whisk, flat beater, spiral dough hook
Pros
---
Suction cup feet for stability
Sturdy construction
Compatible with Hamilton Beach attachments for pasta, etc.
Why we chose it: A lighter, powerful stand mixer for about half the price of a KitchenAid. 
This mixer had one of my favorite features: A series of suction cups on the base to keep it stable and secured to the counter. Since it was the only mixer with this feature, I did some additional tests to see what else it would stick to. It adhered beautifully to laminate countertops, marble and granite surfaces, and my oversized maple butcher block. It stayed secure through every test, only shaking itself loose when I ran it at full power during the bread kneading test. After some trial and error, I found that it would stay secure and still do a good job of kneading in the allotted time when set to 7, which was ideal. Like the winning KitchenAid model, this is a tilt-head style mixer. The housing for the motor is plastic, which is fine, though not as nice as the solid metal construction of the KitchenAid, and I found for most tasks I had to use higher power settings than recipes recommended. At almost half the price of my Best Overall pick, though, this is an outstanding value.
Volume of bowl: 7 quarts | Material: Stainless steel  | Wattage: 500W | Number of Speeds: 10 | Item weight: 29.8 pounds | Included attachments: whisk, dough hook, flat beater, shield
Pros
---
Large bowl for mixing big projects
Stable, wide base when mixing dense doughs
Customizable knobs and attachments
Quiet motor
Why we chose it: A serious piece of equipment for a serious home cook, Wolf's industrial-strength quality translates perfectly into a countertop stand mixer.
What an absolute beast of a machine. The 7-quart capacity is a dream for those enormous batches of cookies I make, but also great for doing double-batches of bread. The whisk attachment had the most wires out of any of the models, which seemed to help with the egg white and heavy cream tests. The base is super wide and flat, so the machine stayed completely stable on every test, and the motor was the quietest of all models tested despite being the most powerful. The outer casing is brushed stainless steel, which gives the machine an elegant, professional look that's still easy to clean. I was surprised to see that this model doesn't have a tilt-head top, or a bowl-lifting leather, but actually uses a spiral track built into the base so you can spin the bowl in one direction to lower it, and the opposite direction to raise it. While other models use a small metal flap to cover the accessory port, which tends to rattle at higher power settings, Wolf uses a thoughtful magnetic locking cover. You can also switch out the power knob—a dark red knob comes already attached, but Wolf sends a black knob and metallic silver knob in the box so you can swap it out. At $1,000 at the time of publication, this is the most expensive model I tested, but it looks and feels worth the cost, especially given how well it performed in all of the tests.
Volume of bowl: 5 quarts | Material: Alloy steel  | Wattage: 600W | Number of speeds: 10 | Item weight: 19.42 pounds | Included attachments: Flat beater, flat beater with flexible edge, dough hook, whisk, pouring shield
Pros
---
Attractive retro design
Planetary mixing capability that allows beater to reach every part of the bowl
Strong and stable when mixing at high speeds
Why we chose it: Not only is it prized for its sleek, retro design that's available in many colors, it is a powerhouse in the kitchen. 
I have a big soft spot for SMEG's commitment to their retro aesthetic, but that's not the only reason their stand mixer made it to the top. This pretty face actually performed really well, even compared to the Best Overall pick. Its all-metal construction gives it enough weight and stability to keep it from moving too much, even during the more stressful bread and cookie tests. It comes in several colors across two styles, solid and two-tone, with the latter featuring a silver base and a variety of colors for the motor head casing. This mixer comes with two paddle attachments, one standard, and one with flexible edges, which is helpful for wetter mixes, like cake and brownie batter. This machine also had the longest chute on the splash guard, which made it so much easier to pour ingredients into the bowl. I almost never use those splash guards because I just find them inconvenient and in the way, but the SMEG model almost converted me. It's not that much more expensive than the KitchenAid Artisan 5-quart, so if this is your aesthetic, it's well worth the investment.
Runners-Up
This is the KitchenAid I have in my home kitchen, and I absolutely love it. It has a more powerful motor than the Best Overall pick, so it usually makes shorter work of most projects, including whipping cream and egg whites. This is a bowl-lift style mixer, meaning the motor casing is stationary and you use a lever to move the bowl up and down, which I personally prefer. My only real complaints about this machine after years of owning it are that it doesn't always do the best job of whipping really small amounts of egg whites or heavy cream because the bowl is so big. After four years of consistent, heavy use, I did have to replace two of the gears in the motor because we were out of warranty, and I didn't want to have to pay to have it repaired, but the process was simple enough, and it performs as well as it ever did before.
The next model up from the one I own, with a slightly more powerful motor and a glass mixing bowl. It performs about as well as the 600, though I do really like the aesthetic of the glass bowl over the standard metal bowls. Like the SMEG mixer, this one comes with an additional paddle attachment with flexible edges, which is a nice bonus.
A perfectly fine little machine, though it is, indeed little. That may not be a deal-breaker for some home cooks. Heck, it might even be ideal if you're not making very big batches of anything and just want something a little smaller that takes up less counter space. It also comes with a cute handle on the top so you can lug it around with ease instead of having to awkwardly cradle it every time you move it. This machine does struggle with tougher tasks, especially in the bread dough test, and it does have a sort of cheap feel to it, especially compared to some of the higher-end machines. It doesn't feel built to last, but it's also the least expensive model I tested by a considerable amount at just $110 at the time of publication.
Features to Keep in Mind When Shopping for Stand Mixers
Size
Many stand mixers have a 5-quart capacity bowl, which should get the job done for most home chefs. If you're baking for a crowd, we've got some upgrade options that cost a little more but offer greater flexibility for those big projects. Note that most stand mixers can be calibrated to adjust the height of the mixing attachment—be sure to read your mixer's instructions thoroughly before using for best performance.
Weight
Given the sizable motors and heavy steel construction of these powerful mixers, weight should be a consideration. Our picks range from around 16-30 pounds, a hefty range. Think about where the mixer will live in your kitchen, and how often you'll be using it. If your only storage option is the top shelf of a closet, a 30 pound KitchenAid may not be your friend; however, if it will be stored on the counter for frequent use and won't be moved often, a heavy mixer should be fine.
Design
We're not just talking aesthetics here, though that can be a factor for some folks. A well-designed stand mixer should be sturdy and stable, whether mixing up a stiff batch of cookie dough, whipping egg whites or heavy cream, or kneading bread dough for as long as 20 minutes. If a stand mixer gets too hot to touch, or nearly rocks itself off the counter when performing tough tasks, that's a problem!
Power and Speed
Tied to design, I looked for stand mixers that were powerful enough to make huge batches of stiff cookie dough and knead bread doughs without the lamentable sound of grinding gears and a struggling motor, but also fast enough to quickly bring egg whites and heavy cream to stiff peaks without making a mess. The top performing stand mixers did all of those tasks consistently well and without those worrying audio cues.
Attachments and Extras
Mixers typically come with a starting set of flat beater, whisk, and dough hook; many also include a pouring shield for adding in wet and dry ingredients without fear of splashing over the sides of the bowl. In addition to these attachments, some brands—like KitchenAid, Hamilton Beach, and Wolf—also fit attachments like pasta rollers and cutters, food grinders, ice cream makers, juicers, and more. These attachments screw into the machine's drivetrain and power an array of other gadgets, doubling the appliance's abilities. 
Ask the Experts
Q: What stand mixer do professional chefs use?
As I mentioned above, I have the KitchenAid Professional 600 in my home kitchen. As far as I've seen from fellow pros, KitchenAid seems to be the preferred brand across the board, though I've also seen Wolf stand mixers in test kitchens.
Q: Which brand has the most accessories?
KitchenAid, by a huge margin. I can't speak to the quality of every accessory they make, but I've used the meat grinder and ice cream bowl attachments. The meat grinder is pretty great.
Q: Should I get a hand mixer or a stand mixer?
Hand mixers are small, less powerful, and rely on the user to continuously hold the mixer in the bowl of ingredients as they're mixed. A stand mixer is a heavy-duty appliance that can take on beating egg whites for many minutes and thoroughly mixing dense bread dough just as easily as it can mix a box of cake mix. However, a hand mixer is inherently easier to store and more convenient for many small tasks. So, which should you choose? As avid cooks, we tend to say "both," because each one has its own benefits. But, if you can only choose one, a stand mixer will take care of every mixing need, from the smallest batch of cupcakes to a hefty batch of pasta dough.   
Q: How do I clean my stand mixer?
Most stand mixer bowls are stainless steel, and therefore dishwasher-safe on the top rack. While many attachments—flat beater, whisk, dough hook—are dishwasher-safe as well, make sure to double check manufacturer instructions before sending them through the wash. As for the stands themselves, simply wipe clean with a damp cloth after use to get rid of any leftover flour, batter, or stickiness.
Our Take
KitchenAid has been producing quality stand mixers for over a century, so it's hard to argue against their quality. Two weeks of testing aside, I can also speak to the longevity of a KitchenAid mixer. My mom has owned hers for 18 years, and I've had mine for about seven. Both are still going strong, and I know folks with KitchenAids that are even older.
By the way, the original manufacturer of those first KitchenAid mixers in 1919?
Hobart.
Every product is independently selected and vetted by editors. Things you buy through our links may earn us a commission.