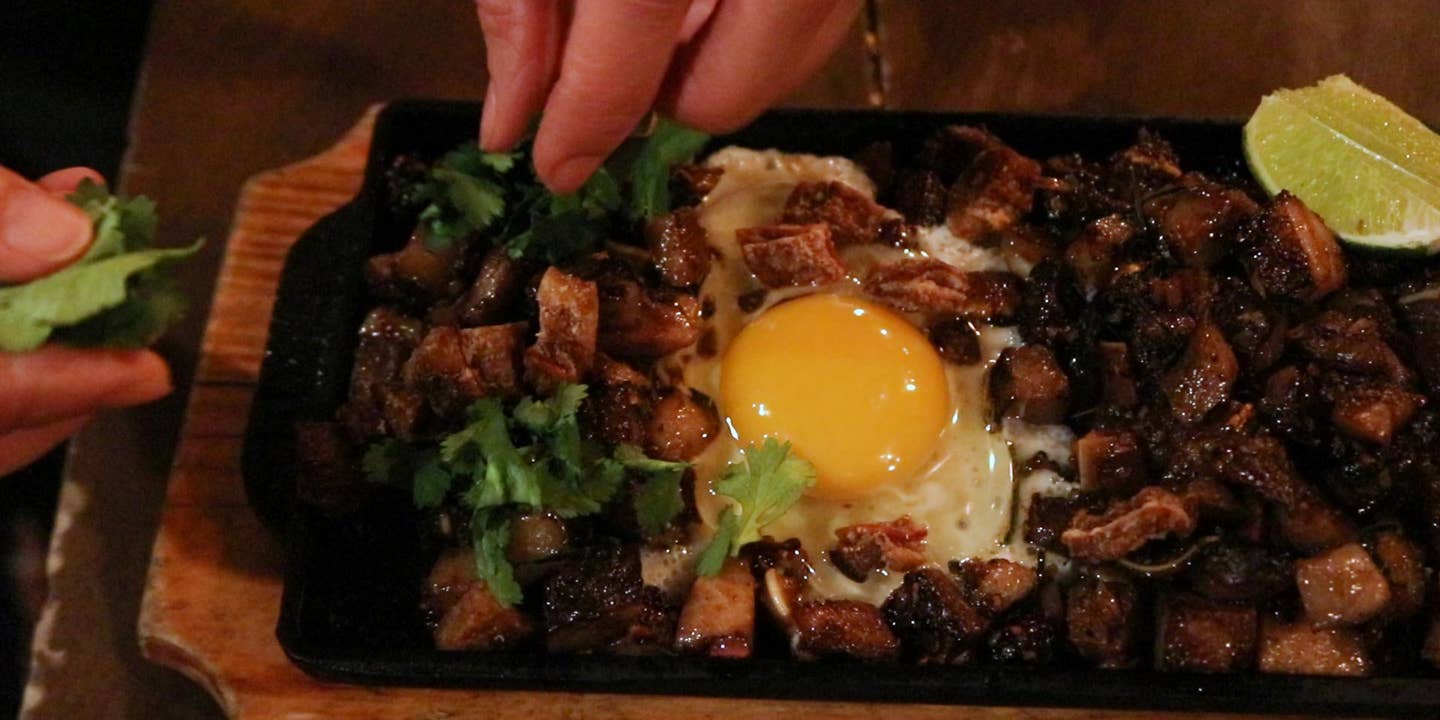 Techniques
How to Cook (and eat) a Whole Pig's Face
Chef Leah Cohen from Pig&Khao in New York City shows us how she makes her rendition of sizzling sisig, a traditional Filipino dish with a long history
Nights out in Metro Manila are much like the days: hot, humid, and the slightest bit sticky, especially if you find yourself in a crowded bar. And while cocktails and hard liquor are as big in the Philippines as they are anywhere else, Filipinos tend to cool down by popping the cap off of an ice-cold bottle of San Miguel beer, best served with a fatty plateful of sizzling hot sisig.
Pork sisig is one of the most sinful and savored dishes in Filipino cuisine. All Filipino food places—from fancy fine-dining restaurants and mall food courts, to side-street turo turo joints and dingy bars—are sure to have the sizzling crowd pleaser on their menu. The meaty dish is a deconstructed pig's head, complete with ears, cheeks, jowls, and (sometimes) tongue, braised, grilled, sautéed with peppers, and served on a hot plate, finished off with a raw egg and a squeeze of calamansi. And although the filling appetizer is (like any other Filipino dish) enjoyed with a hearty helping of rice, it is largely considered a pulutan (munchies for drinking/ beer food).
Sisig has a long history that dates back to the Spanish occupation. But the modern rendition that all Filipinos and non-Filipinos recognize today as "sisig" originates from what some consider one of the culinary capitals of the Philippines: Pampanga. It is in the Kapampangan city of Angeles where you can find sisig's birthplace—a small roadside eatery called "Aling Lucing's."
As the dish became a national phenomenon, people started developing variations that make use of everything from liver and pork belly tor crunchy chicharron. There's also chicken sisig, seafood sisig, and even tofu sisig.
Pig&Khao in New York City's Lower East Side is known as more of an Asian fusion restaurant, but they stick to a relatively traditional recipe, except for the squeeze of lime instead of calamansi (it's ok, lime is tough to find in the city) and the cilantro garnish. Watch as owner Leah Cohen shows us how she prepares her favorite sizzling Filipino food.