Recipes
Slow-Cooked Spicy Chicken with Hard-Boiled Eggs (Doro Wat)
Serves

serves 4

Cook

2 hours 40 minutes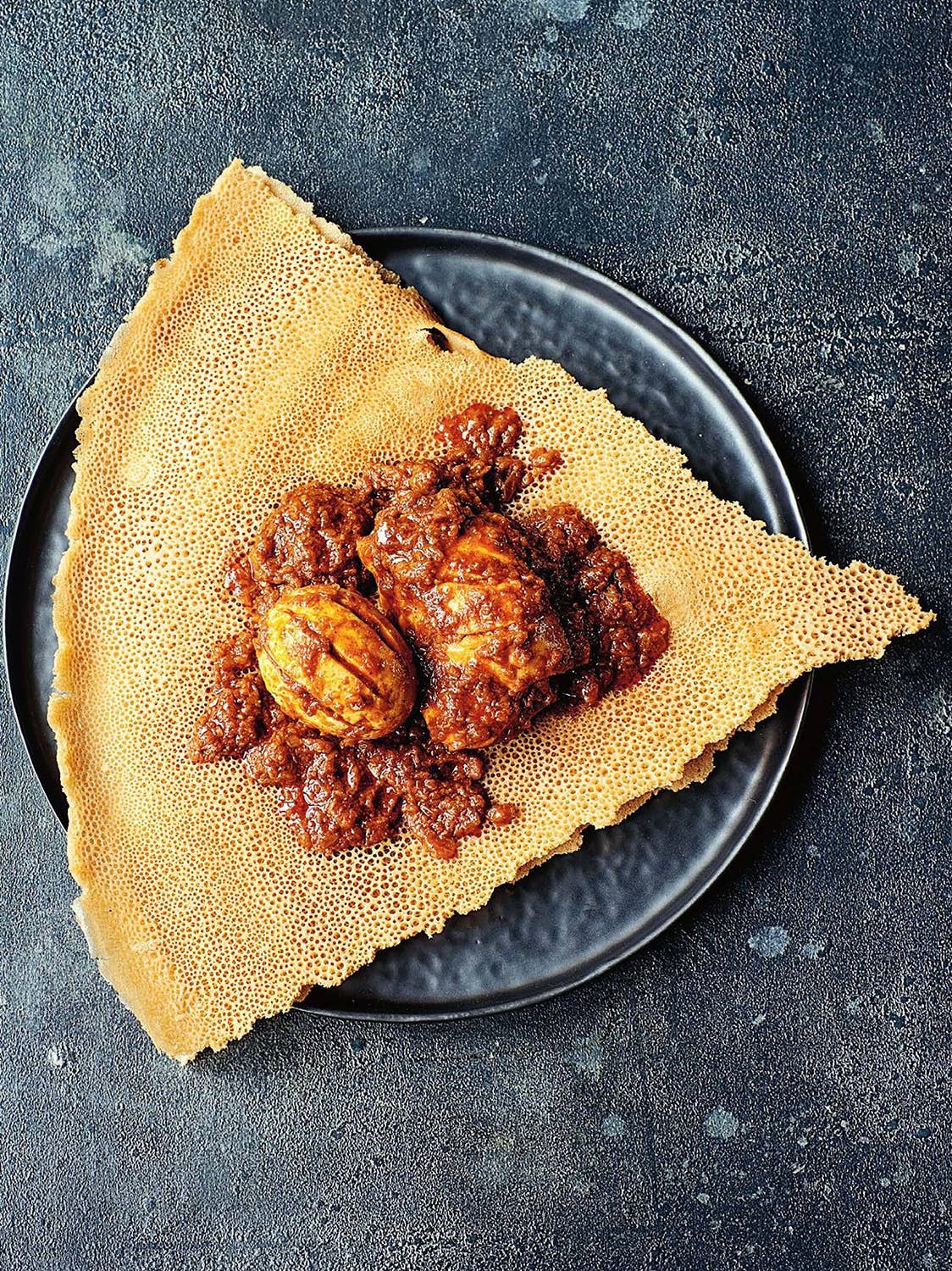 Ethiopia's most famous dish is usually made using a whole chicken, a dozen eggs, and many pounds of onions. But doro wat is largely about the sauce. Resist the temptation to overwhelm it with too much meat, and be sure to finely chop the onions (a food processor is ideal) to give the sauce its body and texture.
Ingredients
1⁄3 cup berbere spice blend
4 medium red or yellow onions (1 lb.)
3 Tbsp. sunflower or vegetable oil
3 Tbsp. Spiced Clarified Butter or clarified butter
5 medium garlic cloves, finely grated (1 Tbsp.)
1 tsp. fresh ginger, peeled and grated
Kosher salt
2 chicken legs (1 lb. 6. oz), skin removed, split at the joint into drumsticks and thighs
1⁄2 tsp. mekelesha spice blend 4 hard-boiled eggs, peeled and slashed 4 times lengthwise
Injera or another flatbread, for serving
Instructions
Step 1
In a small bowl, make a paste by blending the berbere with 3 tablespoons of cold water. Set aside.
Step 2
Finely chop the onions. Transfer to a medium, heavy-bottomed pot or Dutch oven over medium-low heat, and cook, stirring frequently, until soft and translucent, 18–22 minutes. Stir in the oil and 2 tablespoons of the niter kibbeh, add the garlic and ginger, and cook until aromatic, 45–60 seconds. Stir in the berbere paste and season with kosher salt. Add ¼ cup of water and continue cooking over low heat, stirring well, until fragrant, about 5 minutes. Add 1–2 tablespoons more water as needed to prevent scorching.
Step 3
With a sharp knife, score the chicken pieces on each side with a pair of shallow slits. Add the pieces to the pan, stirring a few times to coat in the sauce. Add 1½ cups cold water, and bring to a simmer over medium-high heat. Cover and cook until the meat is very tender, regulating the heat to maintain a strong simmer, 30–40 minutes.
Step 4
Transfer the chicken pieces to a plate, cover with foil, and set aside at room temperature while you finish the sauce. Turn the heat to medium-low, cover the pan, and cook, stirring and scraping the bottom of the pot regularly, until the sauce is thick and concentrated, 55–60 minutes. Uncover the pot, add the mekelesha, and cook for an additional 15 minutes. Add 1–2 tablespoons of water as needed to keep the consistency moist. Return the chicken to the pan and add the hard-boiled eggs, stirring gently to coat the proteins in the thick sauce without breaking apart the eggs. Continue cooking until the eggs and chicken are hot, about 5 minutes.
Step 5
Transfer to a platter of injera or other flatbread. Drizzle the meat with the remaining tablespoon of spiced butter, and serve hot.