Buttermilk Fettuccine with Spiced Tomato Sauce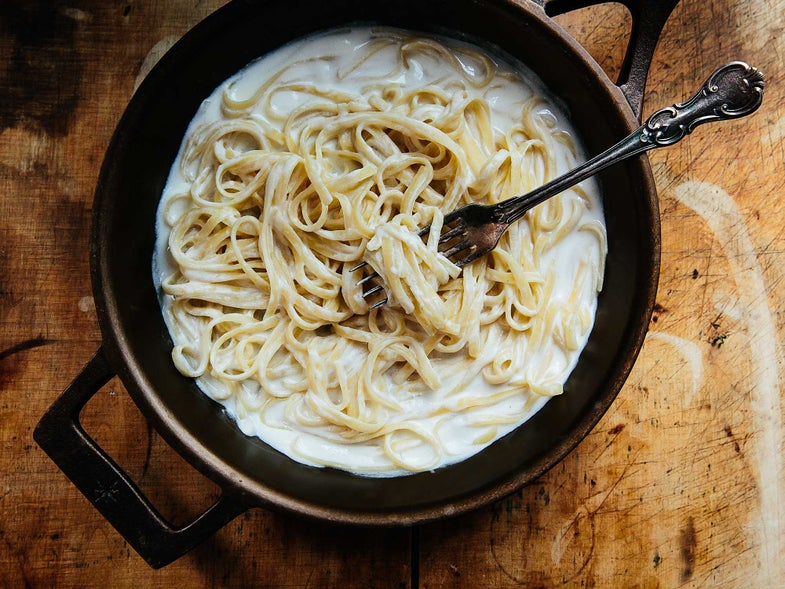 At Bros' in Lecce, chef Floriano Pellegrino finishes lightly cooked pasta in fresh buttermilk before dousing it with slow-cooked, cinnamon-spiked tomato sauce.
Yield: serves 4-6
Time: 1 hours 15 minutes
Ingredients
1 28-oz can whole peeled tomatoes
2 tbsp. extra-virgin olive oil
1 tbsp. minced shallot
1 whole bay leaf
1 whole cinnamon stick
2 tsp. chopped raisins
1 cup finely chopped white mushrooms
Kosher salt
pinches sugar
2 1⁄2 cups cups buttermilk
1 lb. fettucine
Instructions
In a blender, coarsely purée the canned tomatoes and their juices and set aside.
In a large skillet set over medium heat, add the olive oil. Once hot, add the shallot and cook, stirring, until fragrant, 1-2 minutes. Add the tomato purée, bay leaf, cinnamon stick, raisins, and mushrooms. Season with a pinch each of kosher salt and sugar, then bring to a simmer. Lower the heat to low and continue cooking until the mushrooms are softened and the sauce is thickened slightly, about 1 hour.
Meanwhile, bring a large pot of salted boiling water to a boil. When the sauce is ready, add the fettuccini. Cook until the pasta is flexible and but still somewhat crunchy at the center, 5-6 minutes. Drain the pasta, rinse under cold running water and set aside.
Add the buttermilk to the large pot and set over medium-high heat. Once simmering, add the partially cooked fettuccine and cook, tossing constantly with tongs, until al dente, 5-6 minutes. Drain the pasta, toss with the tomato sauce, and serve immediately.