Recipes
Sichuan-Style Marinated Cucumbers
Pair the mouth-numbing spice of this lightly pickled salad with a cold drink.
Serves

serves 2-4

Cook

45 minutes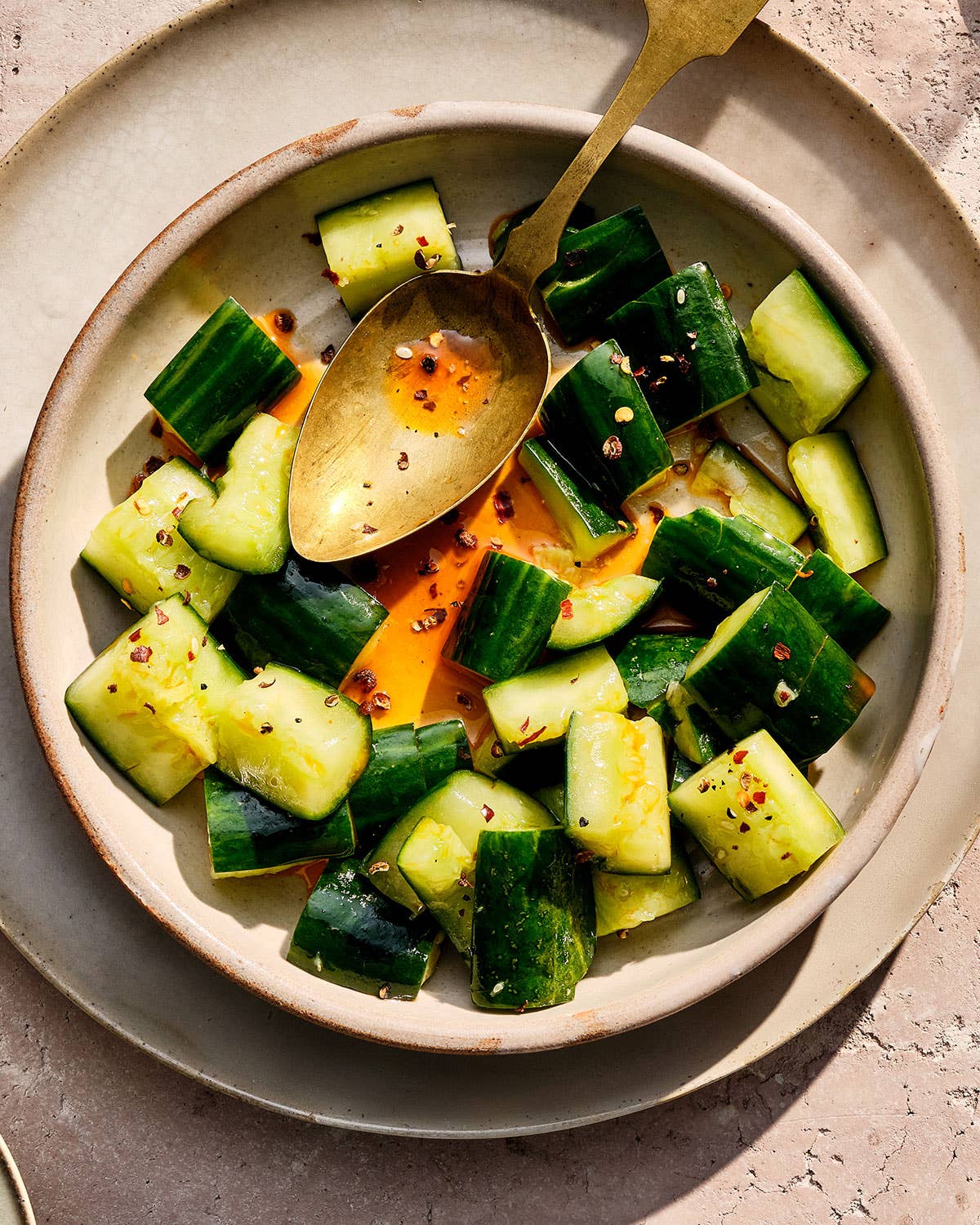 This tangy salad from chef Dan Holzman and cookbook author Matt Rodbard was inspired by a trip to Lu Wei Shabu Shabu, a hidden gem of a restaurant in Flushing, Queens, the epicenter for Chinese cooking in New York City. This lightly pickled salad makes for perfect drinking food, as smashed cucumbers soak up a spicy marinade of rice vinegar, chile flakes, and mouth-numbing Sichuan peppercorns.
Ingredients
2 large hot house cucumbers (1½ lbs.)
3 tbsp. rice wine vinegar
2 tbsp. kosher salt
1 tbsp. sugar
¼ cups vegetable oil
5 cloves garlic, coarsely chopped
1 tbsp. crushed red chile flakes
1 tsp. Sichuan peppercorns
1 tsp. toasted sesame oil
Instructions
Step 1
On a work surface, use a rolling pin or heavy can to gently pound each cucumber until it begins to split. Cut each cucumber lengthwise into quarters and then cut crosswise into 1-inch pieces. Transfer the cucumbers to a bowl and toss with the vinegar, salt, and sugar until evenly combined. Cover with plastic wrap and refrigerate for 30 minutes.
Step 2
In a small saucepan, heat the vegetable oil and garlic over medium-low and cook, stirring, until fragrant, 12–14 minutes. Stir in the chile flakes and peppercorns and remove the pan from the heat. Let the oil cool and then strain into a medium bowl, discarding the solids.
Step 3
Retrieve the cucumbers from the fridge, then lift and squeeze them gently to drain the excess liquid. Transfer the cucumbers to the bowl with the chile oil, add the sesame oil, and toss to combine. Serve cold.