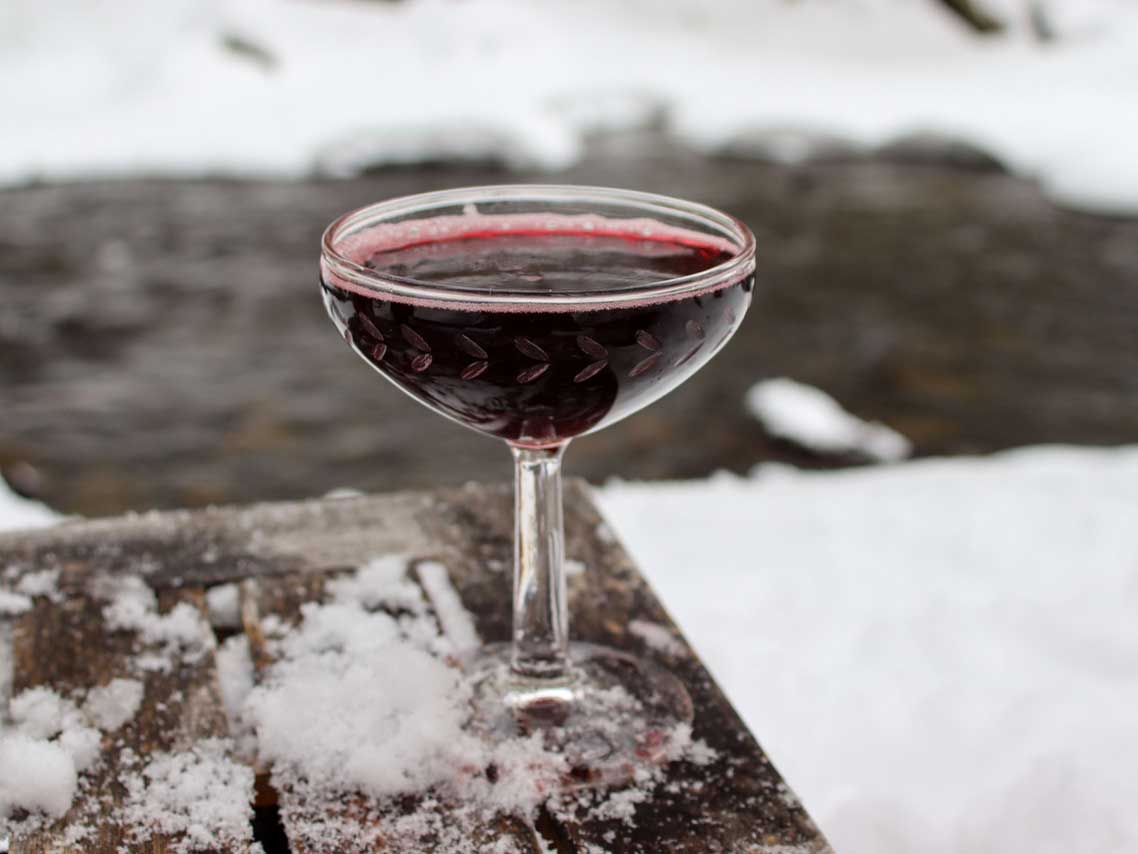 Drinks
How to Add Chocolate to Your Cocktails, According to Bartenders
From chocolate liqueurs and mole bitters to toasted cocoa nib infusions—chocolate is a versatile, not-necessarily-too-sweet ingredient that offers romance and intrigue to an at-home Valentine's Day cocktail.
Believed by the ancient Aztecs to be a powerful aphrodisiac, cacao, and chocolate, remain synonymous with romance—and that's especially true on Valentine's Day. For those looking to lean into the spirit of the holiday (no actual Valentine required), it's worth remembering that chocolate needn't be cloyingly sweet or overpowering in drinks. It's not just boozy milkshakes and choco-tinis; in fact, you can make plenty of complex and sophisticated cocktails with chocolate, whether through liqueurs, bitters, or a simple infusion.
First, consider that chocolate doesn't necessarily have to be the star of the drink—cacao can play an excellent supporting role, too. A highly versatile and aromatic ingredient, it can be juxtaposed against citrus or used as an accent for nutty, coffee-like flavors in darker spirits.
"Everyone's had a chocolate martini, but they don't think about some of those classic cocktails that use a chocolate component, like a Brandy Alexander," says Alex Negranza, bar manager at March in Houston. "You can use chocolate in small ways, particularly with citrus and salt."
Of course, many chocolate ingredients can also be used to create drinks that are more, well, chocolate-y. The most familiar of these ingredients is classic French creme de cacao, once a key component of dessert and tiki-style cocktails and now a standard bottle in most bars. Offered by brands like Giffard, Bols, and Mozart, it's typically made by a process that includes distilling cacao and then macerating that distillate with more cacao. There are different varieties as well: the white version—which is actually clear—is distilled (and sometimes flavored with vanilla) to create a lighter, more milk chocolate-y flavor, while dark or brown creme de cacao derives bittersweet notes from percolated cacao beans.
These old standards can make great mixers, but nowadays, there's no shortage of new, high-quality chocolate liqueur on the market. Made using natural ingredients and a lighter hand with the sugar, these elevated versions have the potential to change everything you thought you knew about the category. "After working as a bartender, I realized that most of the chocolate liqueurs I encountered were very sweet, often creamy, and many left a corn syrupy, artificial aftertaste—so, there was definitely room for improvement," explains Natalie Bovis, founder of Organic Mixology, which offers a standout dark chocolate and sea salt liqueur that can be stirred into a chocolate Manhattan, splashed into cold brew, or in the European tradition, enjoyed chilled for dessert.
Ready to get started? Here are some bartender-approved tips for using chocolate in cocktails—plus a few recipes you can try at home. Of course, don't be afraid to go wild and experiment on your own. After all, it is Valentine's Day.
Use chocolate liqueurs or bitters to amp up your cocktail
There's never been a better time to be in the market for chocolate liqueur. If your preference is for a thicker, more viscous version, try Bouvery CV Chocolate Liqueur—dubbed a "chocolate vodka" for its base of neutral corn spirit that's fused with organic cocoa and sweetened with cane sugar. Another quality option is Copper & Kings' Destillaré Intense Chocolat, which is made by blending and finishing copper pot-distilled American brandy, Caribbean cacao, and honey in oak barrels. When creating cocktails using this heavier style of chocolate liqueur, Lucinda Sterling of Seaborne in Brooklyn's Red Hook recommends incorporating fortified wines (think sherry or vermouth) that are "dry enough to cut through the richness."
For a lighter sipper, opt for Organic Mixology's Dark Chocolate & Sea Salt Liqueur, which touts a mere 5 grams of cane sugar per serving, pleasant berry notes, and a hint of salinity. This is the chocolate liqueur to add to a retro espresso martini, or to use in more straightforward stirred cocktails—say, a Negroni that dials down the vermouth and Campari by a quarter-ounce each, then makes up the difference with a quarter-ounce of chocolate liqueur instead. I was also particularly (and pleasantly) surprised by a recommendation from Florence Fabricant of the New York Times for a "3-2-1 cocktail of dark rum, chocolate liqueur, and elderflower liqueur."
And then there's bitters. Negranza points out the House of Angostura's recently-released cocoa bitters—made with cacao nibs sourced from Trinidad and Tobago, where the company is based—as a solid standby. He also shouts out Seattle-based Scrappy's Bitters, which partnered with bean-to-bar chocolatier Theo Chocolate to produce a toasty, lightly spiced chocolate flavor. There are plenty of recipes that call for a few drops of these potent elixirs, but I particularly love the Don Lockwood—an old fashioned variation featuring a split base of bourbon and single malt Islay scotch, finished with two dashes each of classic Angostura and chocolate bitters.
Infuse your spirit with toasted cacao nibs
First, secure cacao "nibs," or crumbs of fermented, dried cacao beans. Good-quality cacao can be purchased online from bean-to-bar chocolate makers like Dandelion and Raaka, or from your local spice shop. Then, decide what kind of spirit you want to infuse: Whiskey, brandy, and rum work great for this, but I also love cacao infused into a grassy, medium-bodied blanco tequila like El Tesoro—which offers just a whisper of vanilla. Before starting your infusion, lightly toast the cacao nibs in a dry skillet as you would whole nuts or spices; transfer the warm cacao to a glass jar, fill with your chosen spirits, cover tightly, and set aside for three days.
When it comes time to strain (and, ahem, drink) your infusion, consider the ultimate application. "If I'm shaking a cacao-infused spirit in a cocktail, I don't mind having a little bit of residual solids since I'm going to fine-strain the drink anyway and it adds to the body of the drink," Negranza explains, "but if I'm going to sip it, I'll set up a Chemex coffee filter and strain it that way to remove all solids."
Shave, melt, or garnish some chocolate directly onto the drink
If you've already made a cocktail with chocolate liqueur or chocolate-infused spirits, consider capping off the experience with some chocolate shaved over the surface, melted and stirred directly into the mix, or served on the side or atop the glass as a garnish. And who wouldn't love to see a cocoa nib biscotti or brownie alongside that drink?