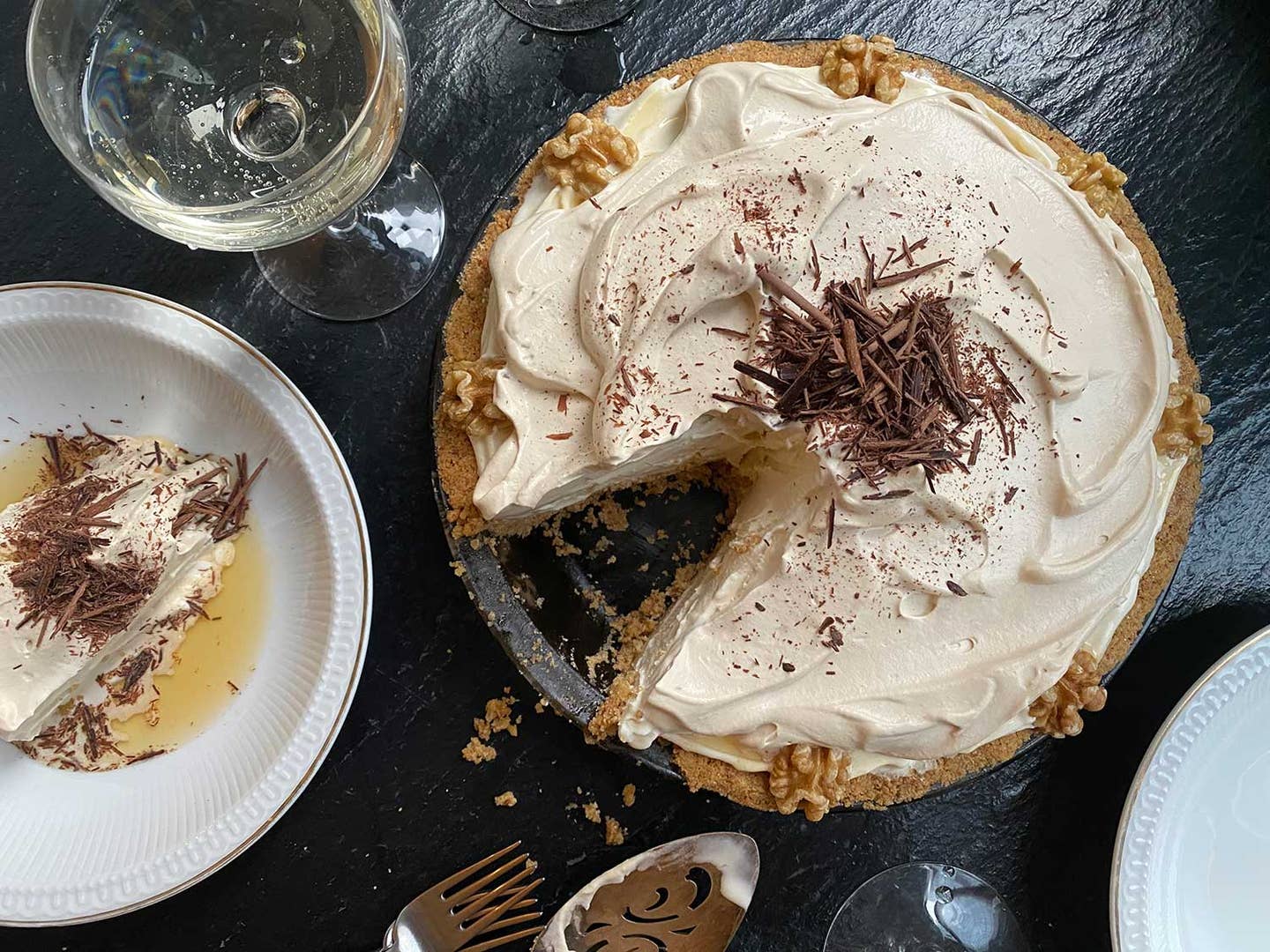 Drinks
Boozy and Easy
This simple ice cream dessert—a new take on a classic—is retro glamour in a pie shell
My mother's cousin, Aileen, introduced me to the recipe for Lalla Rookh, along with the gift of 12 crystal coupe glasses. A tipsy frozen dessert of dark rum, ice cream, and vanilla, Lalla Rookh was popularized in the late 19th century and often made a dramatic entrance presented in leggy parfait glasses, champagne coupes, or long-stemmed flutes. Easy to prepare, it is unfussy yet elegant—not unlike Aileen.
As a young 20-something working in Manhattan, I lived in close proximity to Aileen and would occasionally join her for dinners out or for afternoon visits in her Upper East Side apartment. We often sat at her damask-draped dining room table, eating small dishes of Louis Sherry ice cream and nibbling on Danish butter cookies. Glass-fronted cabinets stretched up to the ceiling in the sliver of a galley kitchen, while wandering houseplants sunned themselves in the solitary window. Kitchen drawers were meticulously organized with gadgets from Hammacher Schlemmer and Macy's. Crossing the black and white checkerboard foyer into the living room, the walls were flanked by bookshelves, many dedicated to an encyclopedic collection of hardbound cooking magazines from the 1940s and 50s.
Aileen was a career woman, well versed in the field of advertising. She enjoyed entertaining and was accustomed to hosting elaborate dinners with an eclectic mix of guests. It was not unusual for food critics, politicians, artists, and magicians to circle her table. She liked to toss the words "darling" and "sweetheart" with the same ease used to drape a favorite kitchen towel over her shoulder. One afternoon over bowls of cherry vanilla, Aileen used her teaspoon to gesture towards a set of stemmed glassware. "Darling," she whispered, almost conspiratorially. "Those glasses are for Lalla Rookh. One day they will be yours." She paused before continuing. "Buy the very best vanilla ice cream you can and the very best dark rum."
As promised, Aileen's gift eventually took up residency in a glass-fronted cabinet in my own kitchen, along with her extensive collection of cookbooks and magazines that became my irreplaceable (and weighty) culinary library. It was in her volume of The Hotel St. Francis Cook Book, written in 1919 by Victor Hirtzler, where I happened upon an early version of Lalla Rookh. Hirtzler, who served as the popular head chef at San Francisco's swanky St. Francis Hotel for more than twenty years, offered a recipe calling for a "pony [one ounce] of Jamaica rum added to a quart of vanilla ice cream."
Lalla Rookh's exact origins, however, are fuzzy. Named for the heroine of a series of romance poems penned by Thomas Moore in 1817, Lalla Rookh is also a cocktail. George J. Kappeler, head bartender at New York's Holland House Hotel, was likely the first to publish a recipe for the sweet, creamy beverage. In his 1895 compendium, Modern American Drinks, the Lalla Rookh is made of vanilla cordial, brandy, rum, fine sugar, and cream served over crushed ice. It is unclear whether this was the inspiration for the dessert, or if the rum-laced sundae came first. Either way, the treat's popularity was likely due to its ease of preparation and its decadence.
In reimagining the dish, opting for a pie plate instead of glassware makes this a dessert designed for sharing. Vanilla ice cream and a splash of dark rum cozy up to toasted walnuts and buttery cookie crumbs. The crust can be filled hours ahead, and a melon baller or small ice cream scoop makes easy work of hollowing out pockets for the rum. A drift of espresso-spiked whipped cream provides the perfect nightcap for this far-from-humble pie. With little more than room in your freezer and a few top-notch ingredients, Lalla Rookh remains a simple yet elegant delight.