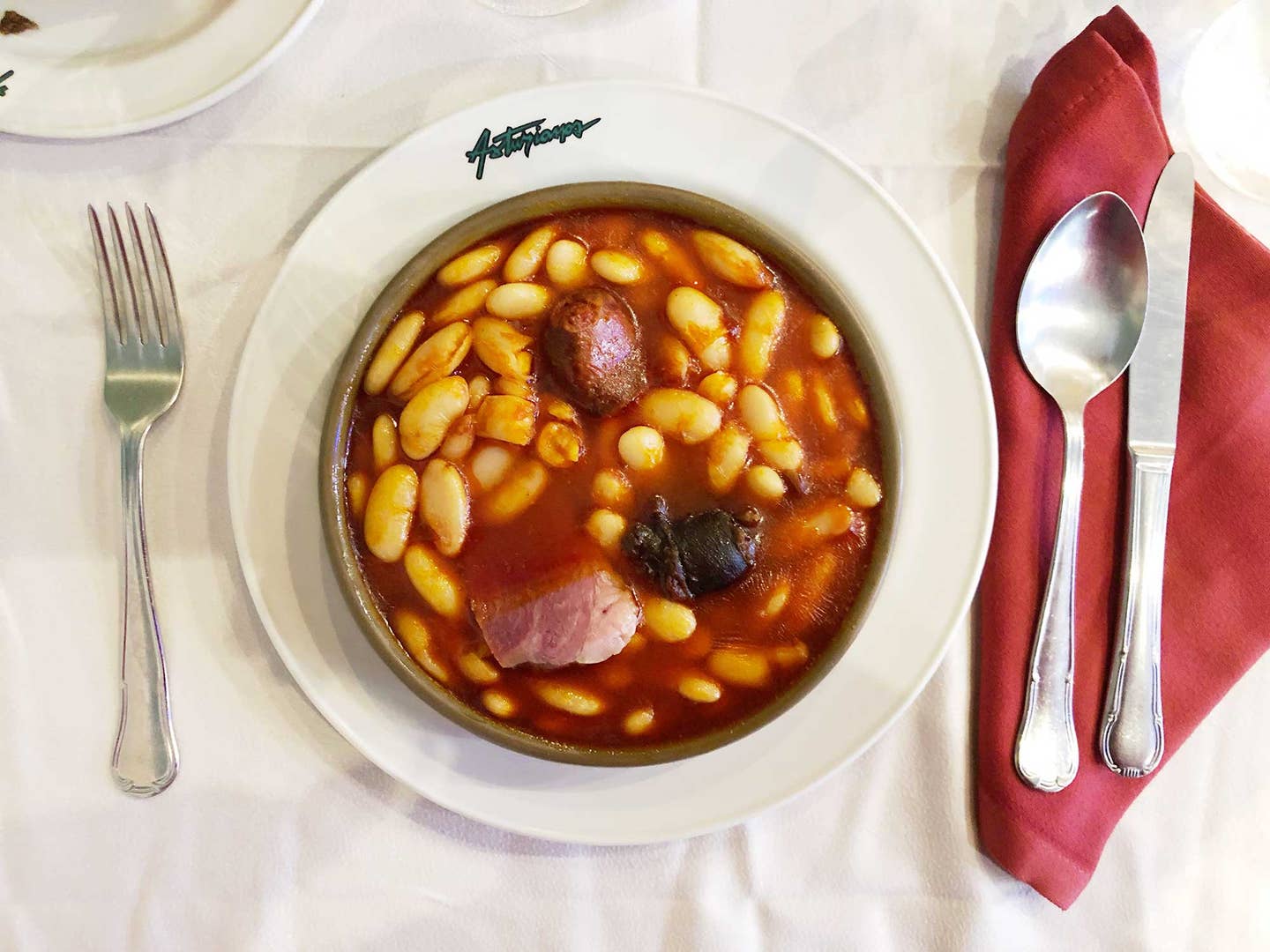 Recipes
Spanish Fabada Is an Easy, Satisfying Bean Dish for Cassoulet Lovers
Cozy up with this rich, smoky stew brimming with chorizo and buttery white beans from Asturias—any night of the week.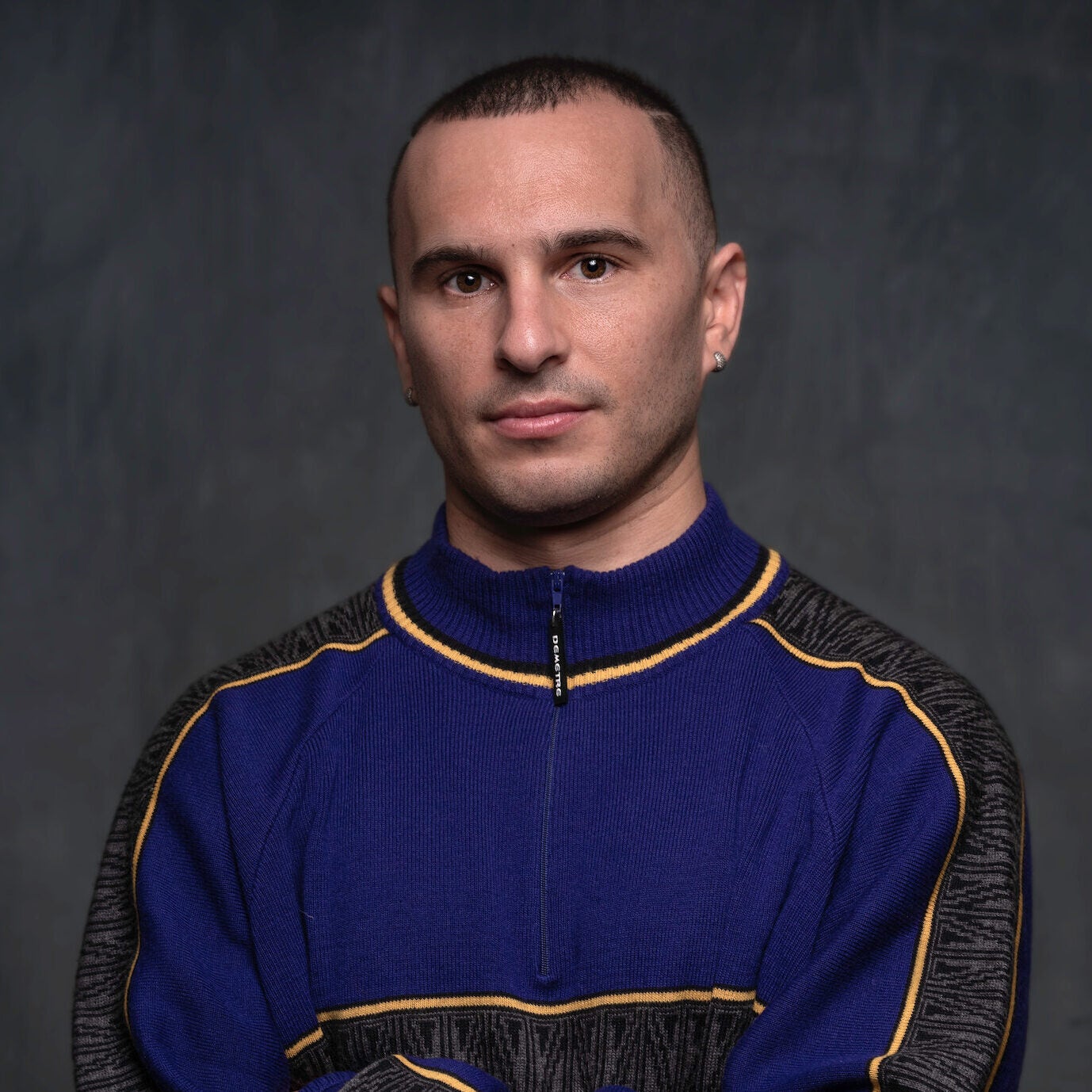 ---
Spain is bean country. In Castile, whole meals revolve around giant judiones, butter beans cooked in thick, bacon-scented stock. In Catalonia, botifarra sausages would be nothing without their sidekick of soupy mongetes. And in the Basque Country, locals ladle out metric tons of earthy alubias de Tolosa, so treasured that they go by the moniker "black pearls." But only one regional pot of beans is a truly national obsession, as integral to Spain's culinary canon as paella, gazpacho, and potato omelet: fabada asturiana.
Fabada is a sight to behold. Plump, white beans measuring an inch in length swim in a brilliant orange broth that brims with hunks of chorizo, pancetta, and blood sausage. Inhale, and the signature smokiness of pimentón (Spanish paprika) tickles your nostrils like a campfire. Dig in, and every ingredient is virtually spreadable: The meat calves with the gentlest nudge of a spoon, and the beans, a near-skinless variety, melt into a thick, luxurious cream the moment they meet your lips. If you like cassoulet, you'll love fabada. It's leaner, smokier, and—crucially—takes a fraction of the time to prepare.
Fabada is eaten across Spain nowadays, but its birthplace is Asturias, the rural northern region that one could mistake for Switzerland with its dewy peridot hills, roving blond cattle, and medieval towns cloaked in fog. To stave off the bone-chilling cold, locals there made hearty soups and stews with whatever meats and legumes they had on hand. That's how fabada was born, as a nourishing antidote to harsh climes and grueling workdays in the fields. Yet despite the stew's medieval appearances—the jet-black blood sausage, the hacked-up meats—it's a relatively recent invention. Beans and peppers (and, in turn, pimentón, the spice that gives chorizo its smokiness) are American imports, and the first known mention of fabada dates to 1884, which is recent in Spanish culinary terms.
Fabada stood apart from the country's other umpteen stews made with legumes and pig parts. This wasn't any old pot of beans—Asturian chorizo and morcilla (blood sausage) imparted an unmistakable smokiness, and the beans, Asturian fabes de la Granja, were larger and more buttery than virtually any other variety. Today, de la Granja beans bear their own denomination of origin and fetch around $23 per pound stateside, a reflection of the fact that they're still planted and harvested by hand in small plots of land that, if placed side by side, would cover less than one square mile. Look for the beans online; Despaña is a reliable source.
Julia Bombín has been making fabada seven days a week for 52 years. She's the chef at Taberna Asturianos in Madrid, a century-old restaurant that the El País food critic dubbed the fabada temple. According to Bombín, to make a good fabada, "the beans have to be true fabes de la Granja from Asturias—no cutting corners." Once you source those, the rest is a cinch. There's no gauntlet of confiting and boiling and frying and baking as with cassoulet.
In fact, fabada is made in a single pot: The (pre-soaked) beans simmer for an hour or two with aromatics and a bit of pancetta, and then the chorizo and blood sausage are thrown in as the beans fully soften, releasing just enough fat to flavor the broth. Most of the "work" is plain old pot-watching. "Just be careful to cook the beans over low heat, and keep an eye on them; otherwise, they break," Bombín offers as a tip.
There are a few other fabada dos and don'ts to bear in mind. Chorizo and morcilla—blood sausage—are musts, but you can play with the other proteins so long as they're of the porcine variety. Some cooks like to toss pancetta, jamón (ends and hocks), pig ear, pigtails, or bacon into the broth. Spice-wise, a pinch of saffron is optional, and a bay leaf or two can't hurt. Onions are also discretionary, but they lend a fragrant, sweet undertone to the broth. (Garlic, traditionally, is heresy.)
Bombín's final word of advice to a first-time fabada maker? Slow down and observe. "Cooking, after all, is patience," she said.