Recipes
Gazpacho Andaluz
The definitive Spanish chilled soup.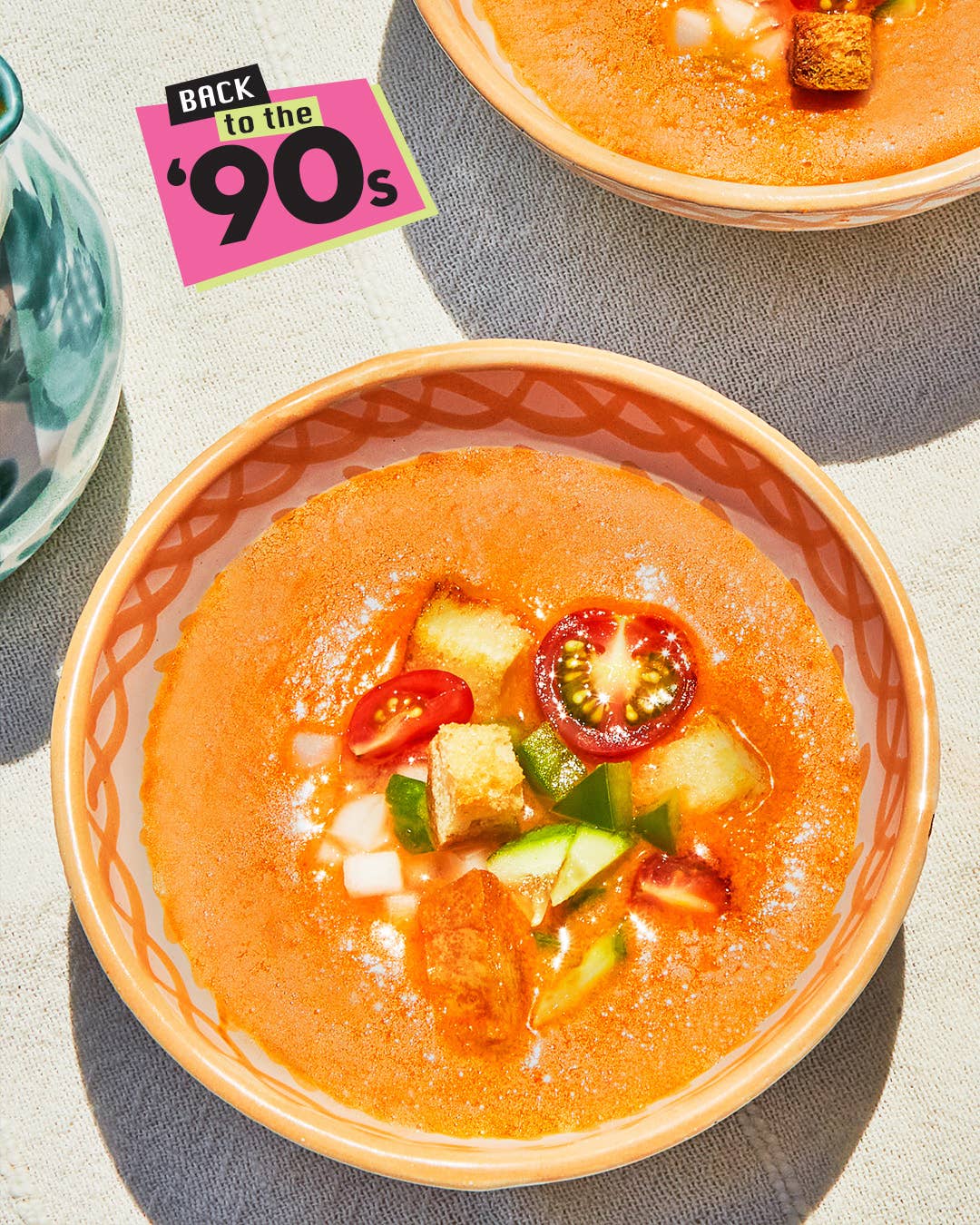 Gazpacho andaluz, the popular chilled soup that hails from Andalusia, Spain, is a zesty blend of tomatoes, cucumbers, garlic, olive oil, and vinegar that takes on a velvety texture thanks to the addition of bread. In Spain, it's generally puréed to a smoothie texture (this recipe falls in that camp), while in the United States, a chunkier version that came into vogue in the 1990s remains more common. Top the soup with minced hard-boiled egg and cured Spanish ham, or keep things vegan and sprinkle over an extra handful of crunchy chopped veggies.
Ingredients
For the Soup
1 slice country-style bread, about 1" thick, crusts removed
2 small cucumbers, peeled, seeded, and coarsely chopped
2 lb. very ripe tomatoes, seeded and coarsely chopped
1 garlic clove, peeled and chopped
2 tbsp. sherry vinegar
1⁄2 cup extra-virgin olive oil
Kosher salt
Optional Garnishes
1⁄2 green pepper, seeded and finely chopped
1⁄2 cucumber, peeled, seeded, and finely chopped
1 cup ½-inch croutons
1⁄2 small white onion, peeled and finely chopped
1 small tomato, seeded and finely chopped
Instructions
Step 1
To a small bowl, add the bread and enough cold water to submerge. Set aside to soak for 30 minutes.
Step 2
Use your hands to squeeze all of the moisture out of the bread, discarding any soaking liquid. Place the bread in the bowl of a food processor, then add the cucumbers, tomatoes, garlic, vinegar, olive oil, and 1 cup cold water. Process until very smooth. Place a fine mesh strainer over a large bowl and strain the vegetable puree, pressing on the solids with the back of a wooden spoon to make a completely smooth soup. Season to taste with salt, then cover and refrigerate for at least 2 or up to 24 hours.
Step 3
Serve in individual glasses, or in soup bowls with optional garnishes on the side.