Recipes
Justin Wilson's Rabbit Sauce Piquant
You'll be in front of the stove for a while, but it's worth it.
Serves

serves 6-8

Cook

5 hours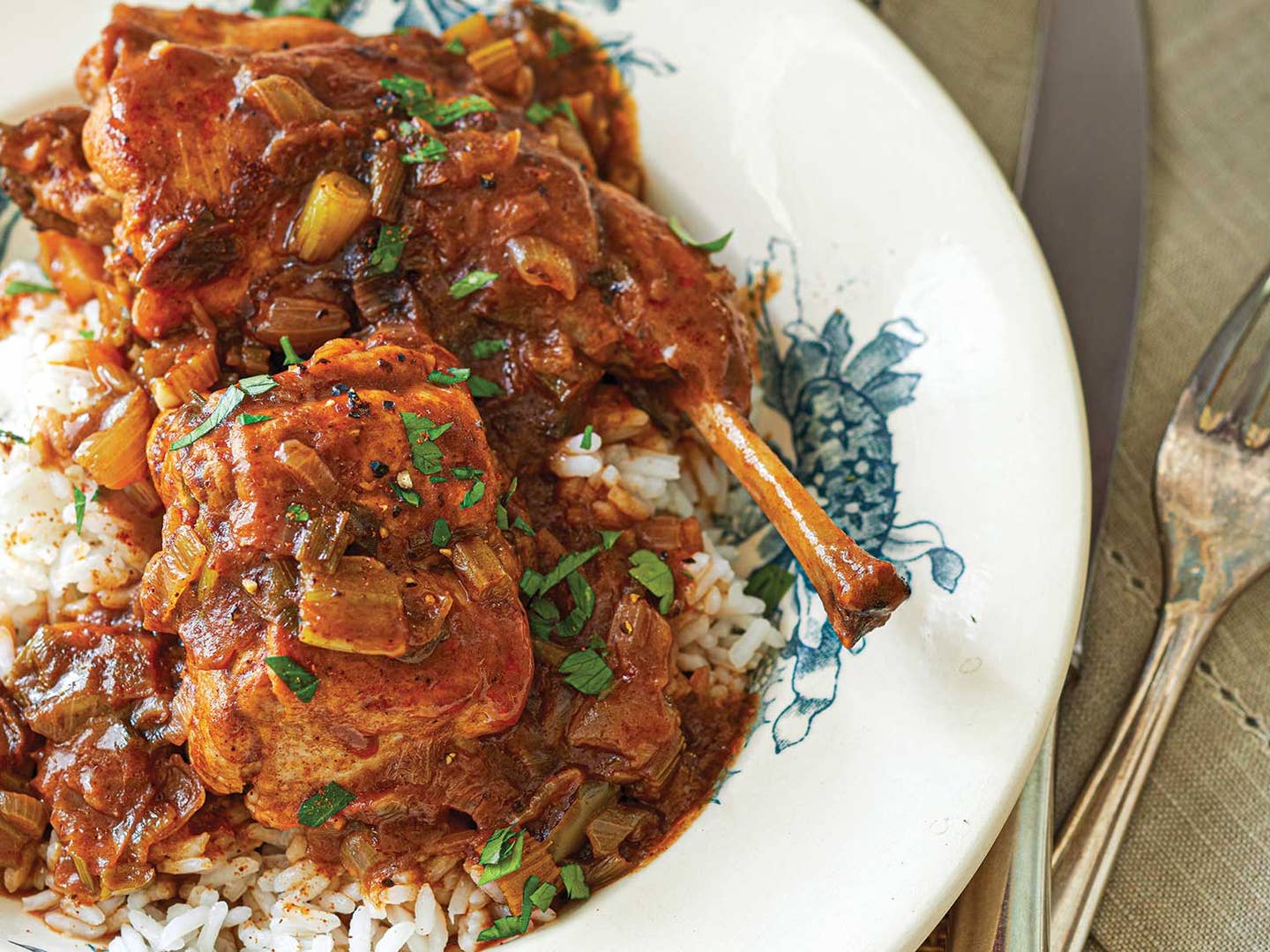 Ingredients
1 4½-lb. rabbit, cut into 8 pieces by your butcher*
Kosher salt and freshly ground black pepper
1⁄2 cup bacon fat (or canola oil)
1 cup olive oil
1 cup all-purpose flour
2 cups canned tomato sauce
8 small yellow onions, coarsely chopped (about 8 cups)
1 large green bell pepper, coarsely chopped (about 1½ cups)
2 large celery ribs, coarsely chopped (about 1 cup)
8 medium scallions, coarsely chopped (about 1 cup)
2 cups dry white wine
juice of 2 lemons (about 1/2 cup)
1 tbsp. Worcestershire sauce
1 garlic clove, minced (about 1 tsp.)
1⁄4 tsp. Angostura bitters
Cayenne pepper, to taste
Chopped parsley, for garnish
6-8 cups steamed long-grain white rice, to serve
Instructions
Step 1
Season the rabbit pieces with salt and black pepper. In a large Dutch oven, over medium-high heat, cook the bacon fat or canola oil until smoking. Working in batches, add the rabbit to the pot and cook, turning with tongs occasionally, until browned all over, 11 minutes per batch. Transfer the meat to a platter and set aside. Discard the bacon fat or oil.
Step 2
Make the roux: Return the Dutch oven to the stove and set over medium-low heat. Add the olive oil, then whisk in the flour and cook, stirring continuously with a wooden spoon, until the roux is a rich, chocolate-brown color, about 1 hour. Next, stir in the tomato sauce, then add the onions, bell pepper, and celery. Cover and cook, stirring and scraping the bottom occasionally, until vegetables are softened, about 1 hour. Stir in the scallions, add the reserved ­rabbit pieces, then cover and continue cooking, 30 ­minutes more.
Step 3
Increase heat to medium, then stir in the wine, lemon juice, Worcestershire, garlic, and bitters. Bring to a boil, then turn the heat to low, cover, and simmer until the rabbit is very tender, about 2 hours. Season to taste with more kosher salt, black pepper, and ­cayenne; top with chopped parsley and serve over rice.