Recipes
Taiwanese-Style Tomato and Egg Noodles
Pantry staples and a little time are all you need for this quick and easy noodle soup.
Serves

serves 4

Cook

30 minutes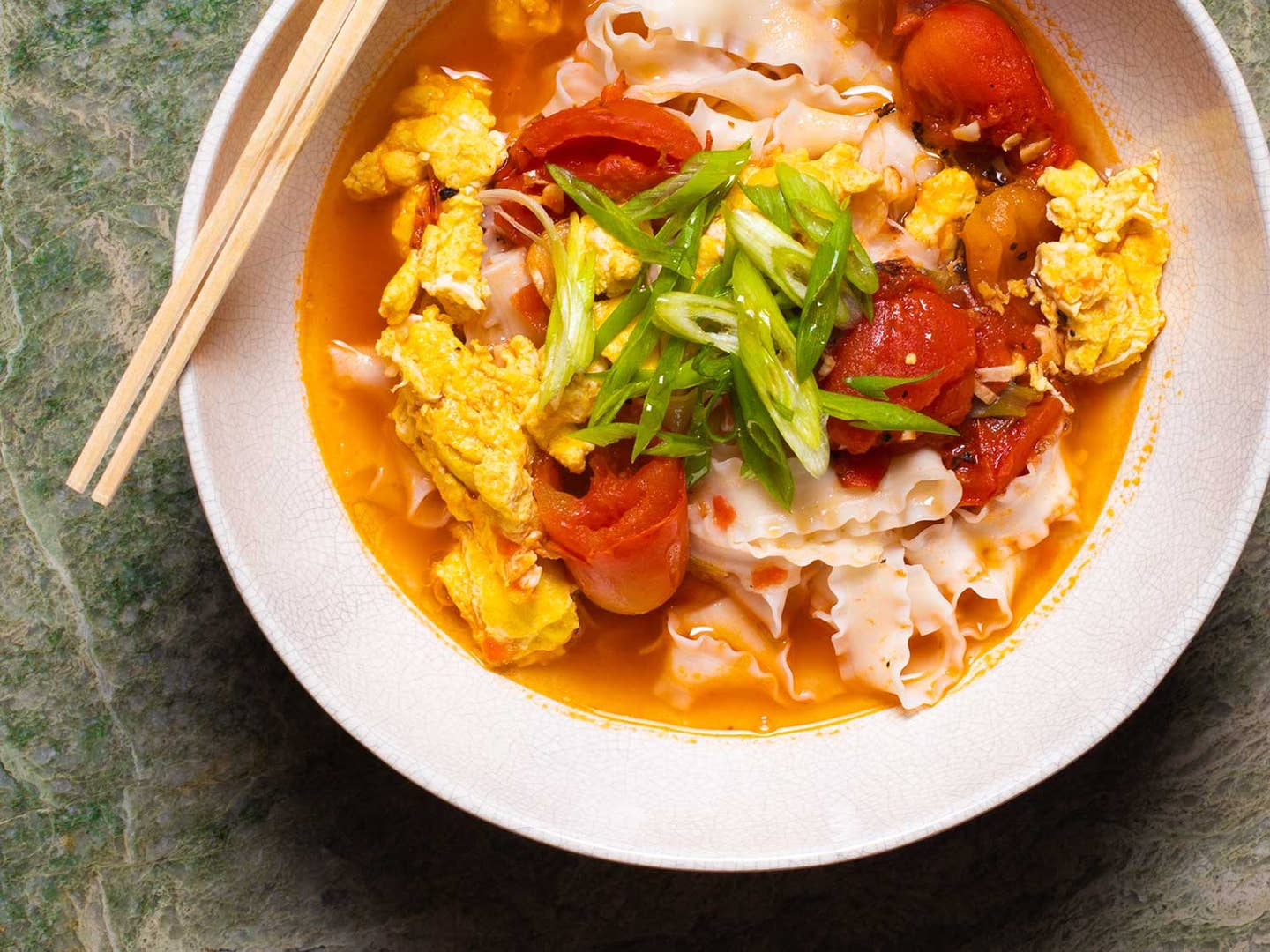 Taiwanese cuisine can be as complicated as the Asian island nation's politics and history, many of its most popular dishes coming out of patterns of immigration, colonization, and ascendancy. Though this casual noodle dish is served with an aromatic broth made of tomato and egg (a classic combination in Taiwanese home cooking), Japanese influence can be seen in the use of Hondashi, a powdered dashi stock that many Taiwanese cooks rely on for adding umami to home-cooked meals. Taiwanese-style noodles come in a variety of thicknesses and can be found in most Asian grocery stores. Fresh tomatoes are common in Taiwanese cooking, but here are swapped for canned to make this all-season version pantry-friendly.
Ingredients
1⁄4 cup plus 2 Tbsp. canola oil, divided
4 large eggs, lightly beaten
1⁄3 cup thinly sliced fresh ginger
3 Tbsp. finely chopped garlic
1⁄2 cup thinly sliced scallions, divided
One 28-oz. can whole, peeled tomatoes
Four 1 ¾ oz. bundles dried Taiwanese-style sliced noodles (about 1-inch thick)
3 Tbsp. sesame oil, plus more for drizzling
1 tsp. Hondashi (instant dashi powder)
1⁄2 tsp. finely ground white pepper
Kosher salt
Instructions
Step 1
To a large pot over medium heat, add 3 tablespoons canola oil. When the oil shimmers, add the eggs and cook, stirring and folding gently with a wooden spatula to scramble until cooked, about 2 minutes. Transfer the eggs to a small bowl and set aside.
Step 2
In the same pot over medium heat, heat the remaining 3 tablespoons canola oil. When the oil shimmers, add the ginger and cook, stirring frequently, until lightly browned, 1–2 minutes. Add the garlic and half of the scallions and continue stir frying until fragrant and the ginger turns golden brown, 5–7 minutes more. Turn the heat to high, then add the canned tomatoes. Using a wooden spatula, coarsely crush the tomatoes into chunks, then add 8 cups cool water, the reserved eggs, sesame oil, Hondashi, and white pepper. Bring to a boil, then lower the heat to simmer and cook until the flavors come together, 10–15 minutes. Season to taste with kosher salt and keep the broth hot while you cook the noodles.
Step 3
Meanwhile, bring a large pot of generously salted water to a boil over high heat. Drop the noodles into the boiling water and cook, stirring occasionally, until tender, about 3 minutes. Drain the noodles and divide between 4 large soup bowls. Ladle the tomato and egg soup over the noodles, garnish with the remaining scallions, drizzle with additional sesame oil, and serve hot.