Recipes
Yellow Mole with Fish and Cactus Paddles (Mich Mole)
Tomatillos, cactus paddles, and dried fish lend depth and brightness to this fragrant Mexican sauce.
Serves

serves 8

Cook

2 hours 20 minutes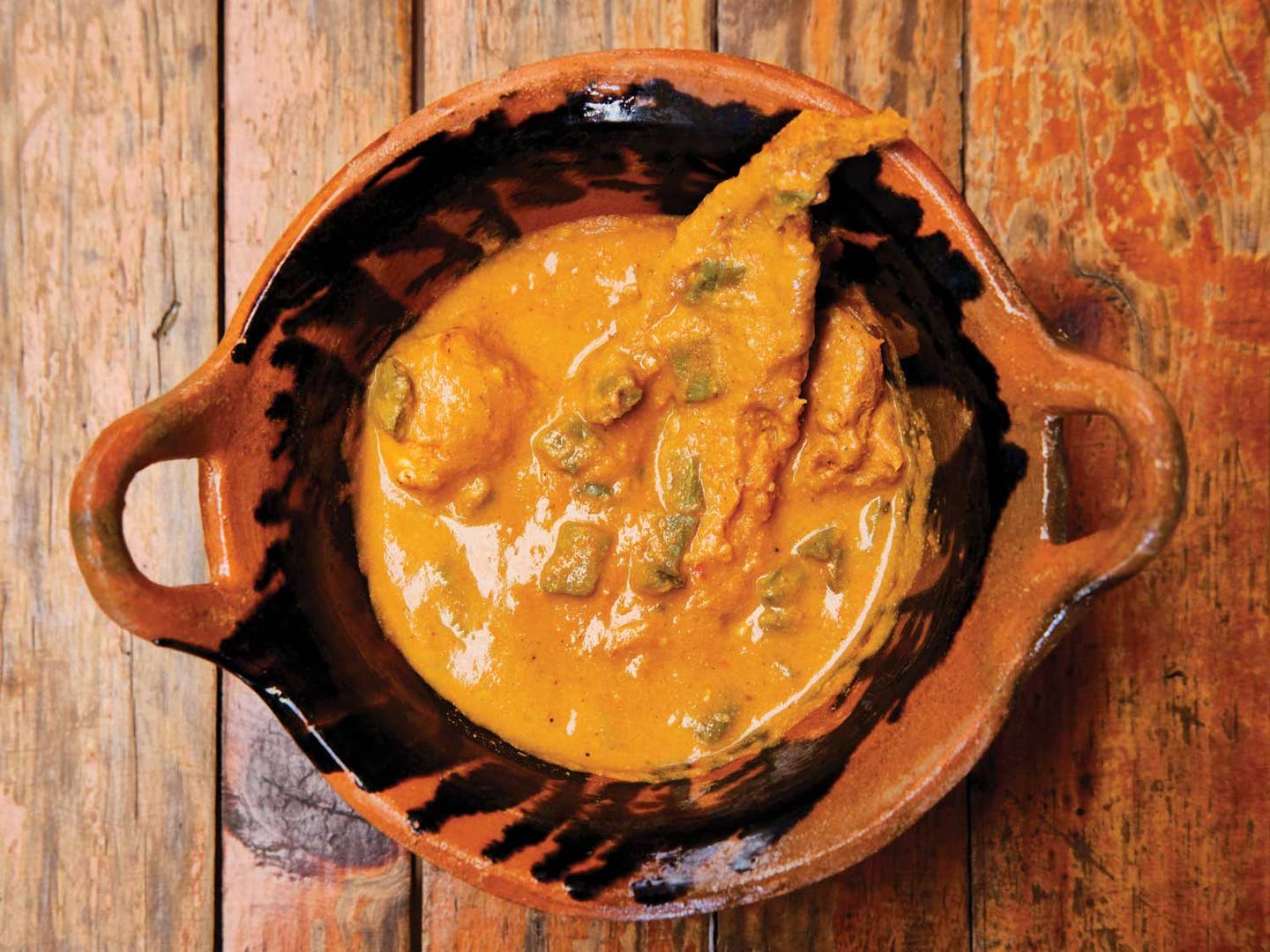 This mole, called mich, from the Nahuatl word for "fish," includes fresh nopales, or cactus paddles, in addition to a dried fish from Chiapas that can be found in Latin American grocery stores in the U.S. As with many moles, the chefs at Milli use a starchy ingredient to thicken theirs—in this case, animal crackers, which also lightly sweeten it. Don't be put off by the quantity of jalapenos; cooking tames their heat.
Ingredients
10 oz. nopales, cleaned and cut in ½-inch pieces (2¼ cups)
Kosher salt
5 medium garlic cloves, divided
2 Tbsp. white wine vinegar
2 lb. 10 oz. vine-ripe tomatoes (about 7 medium)
1 lb. 12 oz. tomatillos
1 lb. jalapeños (about 20)
¾ cup sesame seeds
3 Tbsp. canola oil, divided
½ cup roasted, unsalted peanuts
9 animal crackers (1 oz.)
2 Tbsp. finely chopped white onion
Eight 4-inch pieces pescado bandera salado (or substitute salt cod or salt pollock), soaked for 1 hour, changing the water every 15 minutes
Corn tortillas, for serving
Instructions
Step 1
In a medium pot, add the nopales and enough water to cover them by 3 inches. Salt generously, add 1 garlic clove and the vinegar, then bring to a boil over medium heat. Lower the heat to maintain a strong simmer, and cook until the nopales are tender, 30–35 minutes. Drain, discarding the cooking liquid. Transfer to a small bowl.
Step 2
Meanwhile, in a large pot, add the tomatoes, tomatillos, jalapeños, and enough generously salted water to cover by 2 inches. Bring to a boil over medium-high heat. Lower the heat to maintain a strong simmer, then cook until the vegetables are very tender when poked with a paring knife, 12–15 minutes. Remove and let cool slightly, then use a slotted spoon to transfer the vegetables to a blender, and set aside.
Step 3
In a large, dry skillet over medium-high heat, add the sesame seeds and cook, stirring frequently, until fragrant and toasted, about 3 minutes. Transfer the seeds to the blender and return the skillet to the stove. Add 1 tablespoon canola oil and, once hot, add the peanuts and animal crackers. Cook, stirring frequently, until toasty, 3–5 minutes. Transfer to the blender. Add the chopped onion and the remaining 4 garlic cloves to the blender, and blend on high speed until smooth.
Step 4
In a large pot or deep skillet over medium heat, add the remaining 2 tablespoons canola oil. Once hot, add the fish and cook, turning occasionally, until lightly seared all over, about 10 minutes. Add the sauce and bring to a boil, then lower the heat and maintain a simmer for 10 minutes. Add the nopales, and cook until the sauce is infused with the flavor of the fish and the nopales are heated through, 10–12 minutes more. Taste and add more salt as needed. Serve with tortillas.