Strozzapreti Pasta with Prosciutto Crudo and Fontina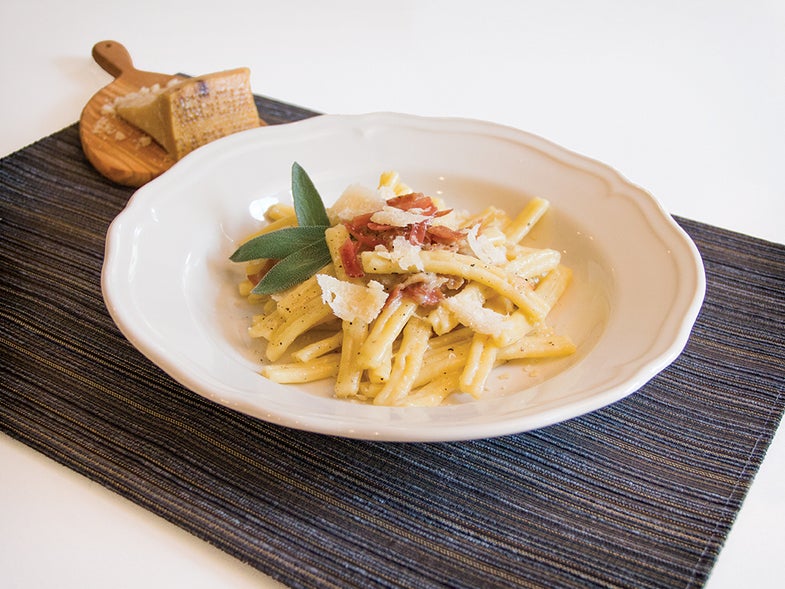 This simple recipe uses three ingredients – pasta, melting cheese, and Creminelli sliced prosciutto – for the ultimate creamy comfort dish
Strozzapreti Pasta with Prosciutto Crudo and Fontina [sponsored]
Sauté strozzapreti with Creminelli prosciutto and fontina cheese to make this creamy and hearty pasta dish.
Ingredients
5 1⁄2 oz. strozzapreti pasta
4 slices Creminelli prosciutto
1⁄4 lb. piece of fontina cheese, rind removed
extra-virgin olive oil
freshly ground black pepper
Instructions
Bring a large pot of salted water to boil. While that's heating, slice or julienne the prosciutto into thin slices. Dice the cheese into 1⁄4-inch cubes.
Cook the strozzapreti pasta until done (cook according to package directions).
While the pasta boils, drizzle 1 tablespoon of olive oil into a large sauté pan set over medium high heat. Briefly sauté the sliced prosciutto. Keep warm until pasta is done.
When pasta is done, drain from the pot and add to the sauté pan with the prosciutto. Over medium high heat, add the diced Fontina and sauté to melt the cheese and blend the flavors.
Serve immediately, topped with freshly ground black pepper.