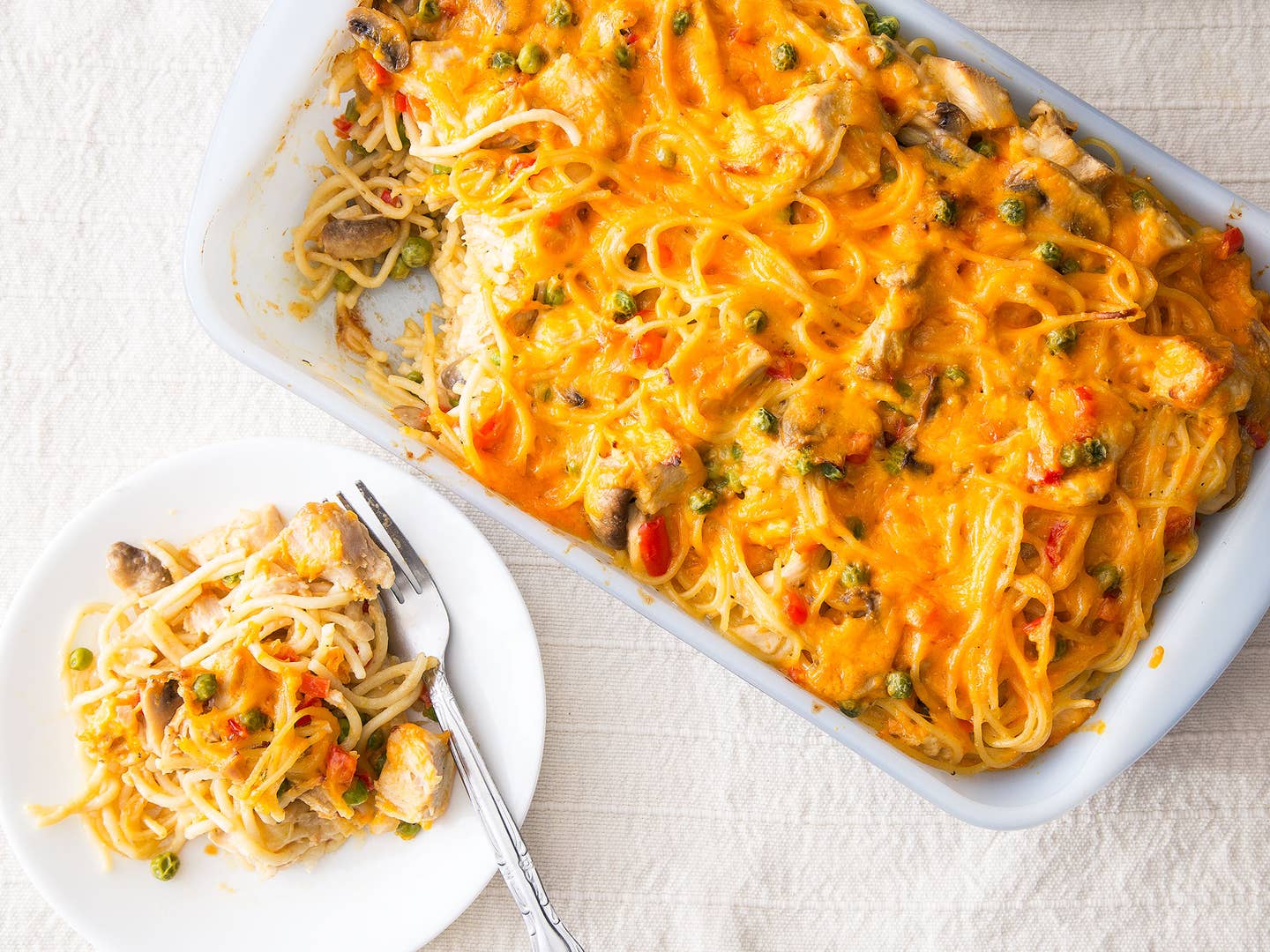 Culture
Send Off Turkey With Tetrazzini
The leftovers dish that's become a tradition all its own
Sure, we've all had turkey tetrazzini. Wait—you haven't? That's a shame. Your parents probably did other cool things with your leftovers like turkey congee or hot brown sandwiches, or maybe they just reheated them for you in the microwave.
Well, my mom used to make turkey tetrazzini, a casserole consisting of leftover turkey with a sherry-spiked bechamel sauce loaded with mushrooms and peas and topped with (and tossed with) cheddar. It's creamy, comforting, easy to make, and easy to love. Though purportedly named after the Italian opera singer Luisa Tetrazzini, this baked noodle dish is American, not Italian, and recipes for it only date back to the early 20th century. I think tetrazzini is something that everyone adapts into their own thing. Some people add ketchup. Others use canned mushrooms and omit the red bell pepper. But this version, with a smattering of colorful vegetables and a sauce enriched by sherry and parmesan, is my favorite.
Thanksgiving is my favorite holiday, and whenever it ends, it almost feels like there is nothing to look forward to. (That's a lie, of course—There's Christmas and New Year's, duh—but it still feels that way.) Except each year, my mom makes turkey tetrazzini for us and some select friends the Saturday after Thanksgiving, after we've tired of the stuffing and mashed potatoes and the gravy has run out. And as silly as it sounds, it's something we all look forward to.
My mom is currently putting together a cookbook of family recipes. This tetrazzini is from my grandmother, maybe even my great grandmother (did they even have ovens that long ago?). My mom does her own take on this, but I opted to share the family's secret version in our privately soon-to-be-published cookbook. You're welcome.