Recipes
Steamed Pork Belly Dumplings with Brown Butter (Manti)
Serves

makes 20

Cook

2 hours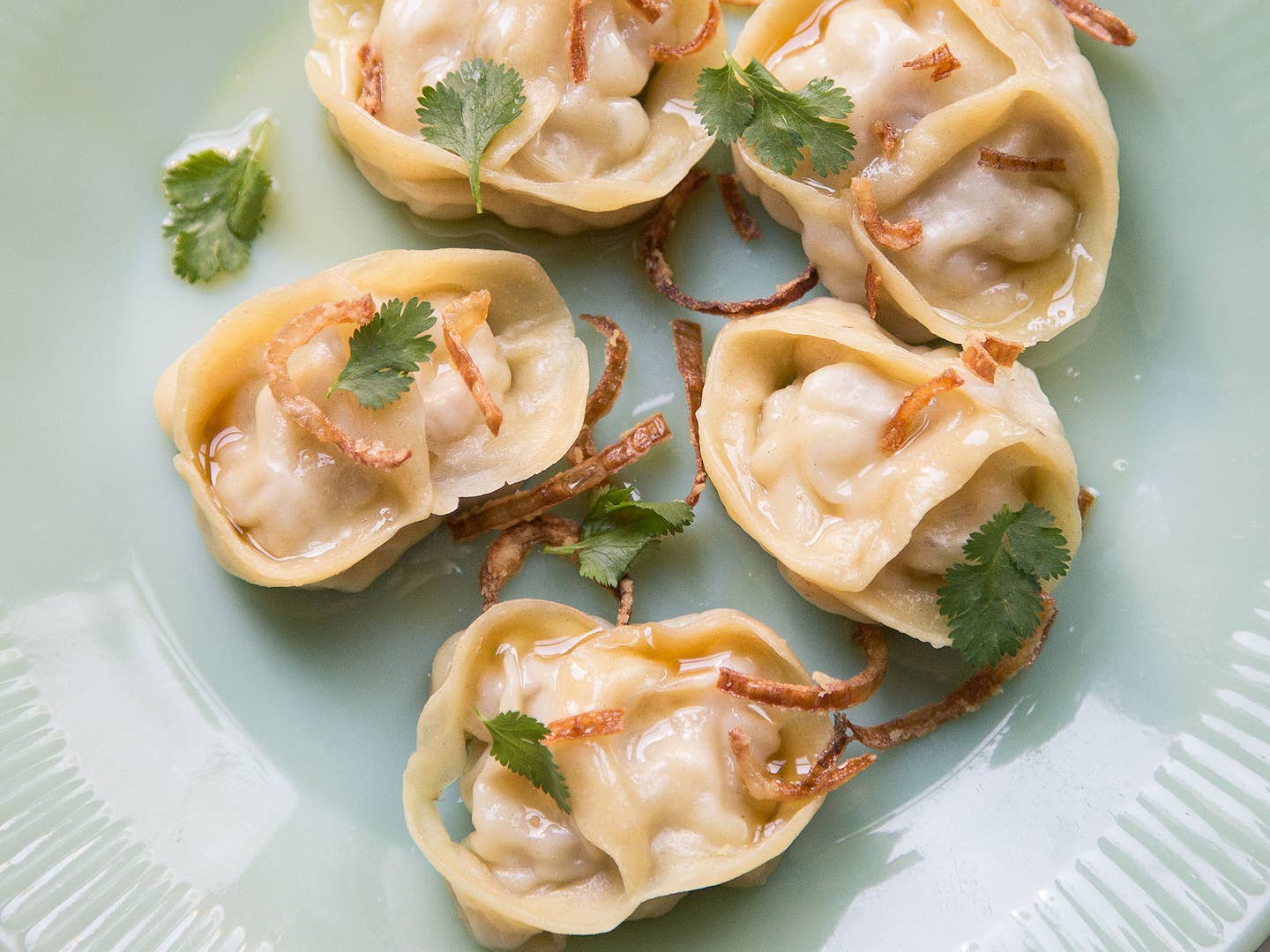 Ingredients
1 large egg, lightly beaten
3 cups "00" pasta flour (13 1/2 oz.), plus more for dusting
8 oz. pork belly, skin removed, finely chopped
1 medium yellow onion, finely chopped
Kosher salt and freshly ground black pepper
8 tbsp. unsalted butter (4 Tbsp. cut into 20 small pieces)
Vegetable oil, for frying
Cilantro leaves, to garnish
Instructions
Step 1
In a medium bowl, whisk the egg with 2⁄3 cup water, then stir in the flour to form a dough. On a lightly floured surface, knead the dough until smooth. Divide the dough into 2 pieces, wrap in plastic wrap, and refrigerate 30 minutes.
Step 2
Meanwhile, in another bowl, combine the pork belly with the onion and season with salt and pepper. Refrigerate the filling until ready to use.
Step 3
Working with 1 dough ball at a time, divide the dough into 10 equal pieces (each about 1 ounce). Using a rolling pin, roll each piece into a 5-inch circle. Place 1 tablespoon of the filling in the center of each circle and top with a small piece of butter. Pull up the "east" and "west" points of the round and pinch them firmly together above the filling. Repeat with the "north" and "south" points, creating an "X" shape of pinched dough. Repeat with the remaining dough rounds to form 20 dumplings total.
Step 4
In a bamboo steamer set over 1 inch of simmer water in a wok, arrange the dumplings in a single layer on each steamer shelf and steam until cooked through, about 45 minutes. Meanwhile, heat the remaining 4 tablespoons butter in an 8-inch skillet over medium and cook until deep golden brown, 6 to 8 minutes.
Step 5
Transfer the dumplings to a serving platter and drizzle the hot brown butter over the top. Sprinkle the dumplings with cilantro leaves and serve while hot.