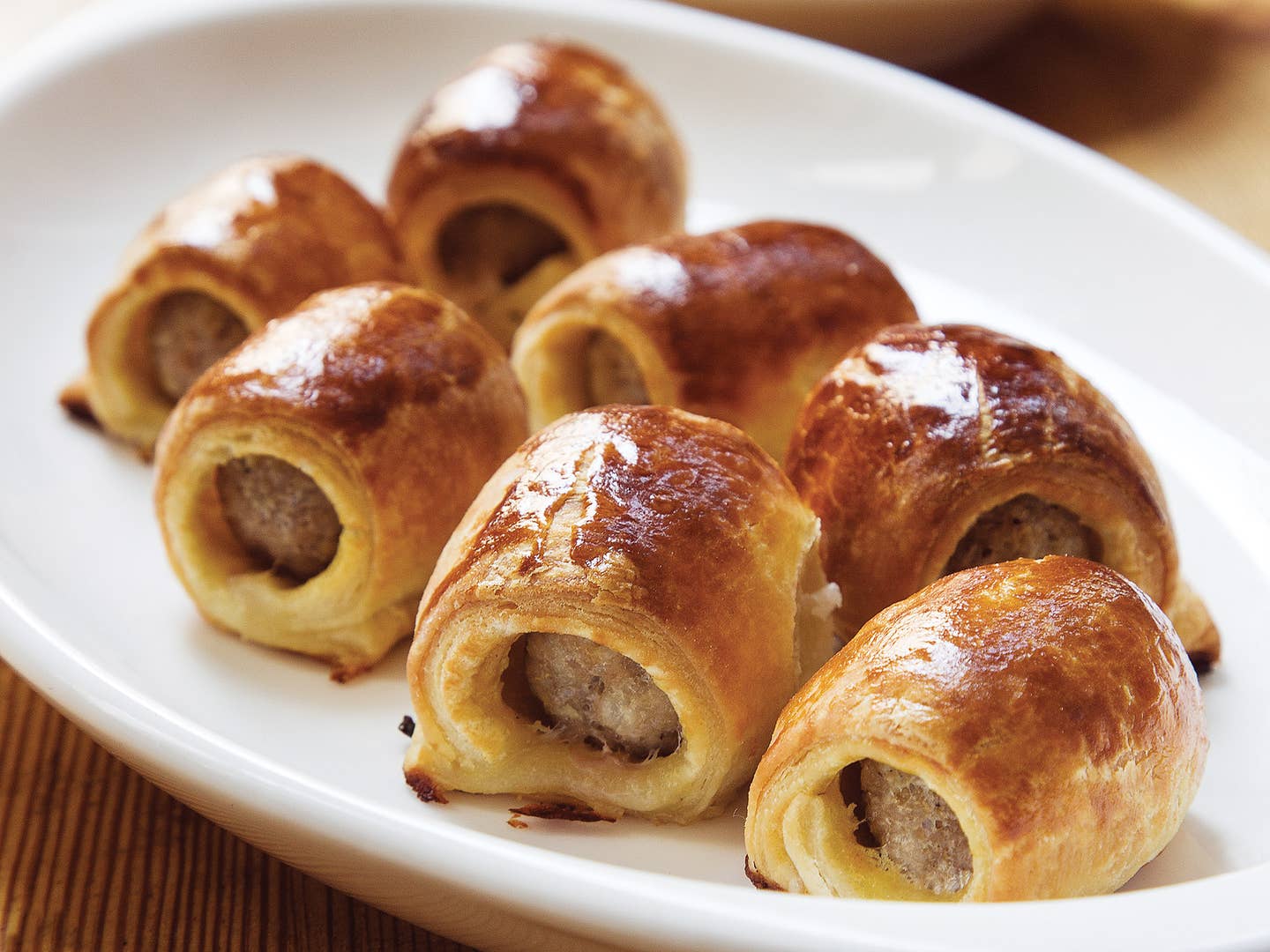 Techniques
How to Engineer the World's Greatest Pigs in a Blanket
The cocktail party standard is about to get a major Franco-American upgrade
Roll link sausages in small squares of pastry dough. Bake them in a hot oven. Fifteen words. That's the entire recipe for "Link Sausages in Pastry" published in Irma Rombauer's original 1931 Joy of Cooking. While it's most likely not the first reference to the party snack that would come to be known as pigs in a blanket, it has the straightforward, imperative tone of an urtext. And in deference to Rombauer's pragmatic approach to recipes and cooking, you really don't need to know much more.
Which sausages? What pastry? Cook's prerogative. While he was growing up in Antibes, France, Laurent's mother wrapped garlic sausages in bread dough and served them for dinner at least once a month. In Toronto, Mitchell's mom wrapped supermarket cocktail wieners in a homemade cream cheese pastry—the same she used for rugelach—and served them as hors d'oeuvres at "fancy" parties. So we wondered, with our combined years of experience running restaurants and writing cookbooks, could there be a version of pigs in a blanket worth making today? Something to serve at a party not just for nostalgia or irony's sake, but because it was special? What might an artisanal pig in a blanket look and taste like?
While pigs in a blanket may seem intrinsically American, just about every culture has something that compares. In England, puff pastry is wrapped around fresh sausage to make what are known simply as "sausage rolls." (The British usage of "pigs in a blanket" refers to hot dogs wrapped in bacon, which the Danish translate verbatim as pølse i svøb and sell from kiosks on the street, bun on the side.) In Hong Kong, fluffy white Cantonese yeast dough swaddles frankfurters that are baked and dotted with mayonnaise to yield yit gau baau, or "hot dog buns." Despite Rombauer's invitation to improvise, in the United States, we are wont to open tins of Vienna sausages, smash open cardboard tubes of premade Pillsbury dough, and make Crescent Dogs, a party sensation since they and the Poppin' Fresh dough boy debuted in 1965.
As is often the case when searching for gastronomic perfection, a quest for pigs-in-a-blanket quintessence brings one to France—Lyon, specifically, whence saucisson brioché hails. To make this classic entrée, a large, coarse-textured garlic sausage known as cervelas (the famous Lyonnaise charcuterie Bobosse produces a fine saucisson à cuire) is encased in a butter-rich brioche dough. The meat-filled dough brick rises and is then baked into a golden loaf. The contrast between the meat, resilient and garlicky, and the bread, delicate and airy, is a large part of the dish's appeal. Though more substantial than standard drinks fare, saucisson brioché has a casual chic about it. More picnic, less party.
Clearly, such subtlety and finesse is not typical of an American pig in a blanket. But what it lacks in refinement, it makes up for in charm, mainly by virtue of its size—a somewhat ironic innovation for a nation devoted to big cars and bigger portions. More than anything, this shrinking down moves the combination of dough and dog from everyday meal to party food, a category in which Americans excel.
The cocktail party itself was helped along by James Beard, who forayed into the food business in 1937 with a catering company that specialized in cocktail parties on Manhattan's Upper East Side. Although his first cookbook, Hors d'Oeuvre and Canapés, did not include a recipe for pigs in a blanket, it did help catalyze the cocktail party craze that started after the repeal of Prohibition in 1933, and peaked in the 1940s and '50s, providing the perfect venue for consuming small, salty, rich foods with drink.
And so we sought to perfect this most apt of cocktail party foods. With a nod to our own pasts, we contemplated bread and cream cheese doughs, to start. We considered puff pastry, croissant, and brioche too, but finally settled on the most American of doughs: the Southern buttermilk biscuit, whose floury, friable texture is unique to our culture. We replaced the baking powder with a combination of baking soda and cream of tartar to alleviate the slight metallic taste of chemical leavening. To elevate the dough, both literally and figuratively, we folded, or "laminated," it, producing layers that rise in a way reminiscent of puff pastry or croissant dough.
Having dressed up the dough so decisively, we went a step further. We rolled up our sleeves and made our own miniature pork sausages. (We also went a little nuts and cultured our own butter and therefore buttermilk—perfect for an accompanying Dijon-buttermilk dipping sauce.) Why leave anything to chance? It goes without saying, the culinary lengths are up to you; homemade sausage (or butter) may not fit into everyone's schedule. Although our recipe has quite a few more words than Rombauer's 15, it isn't difficult. It's certainly original. And the result is a delectable finger food elevated beyond the annals of semi-homemade mid-century cookery.
Our mothers (and James Beard) would be proud.