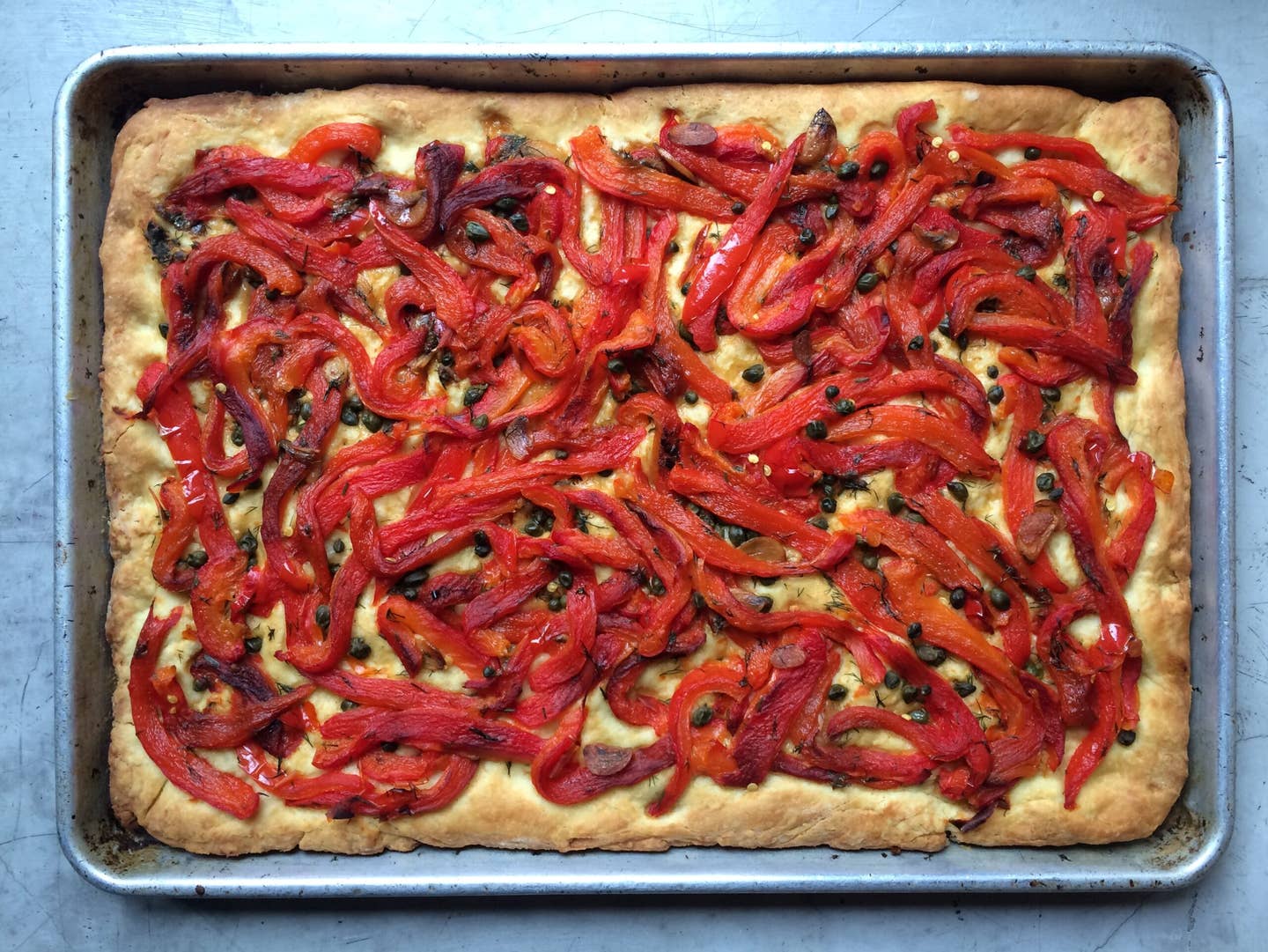 Techniques
What We Learned This Week: July 27-31, 2015
How to make the best fried chicken, cut corn, and enjoy Spanish flatbread
I am a big fan of Mediterranean cuisine, so I was very excited to test a Coca Mallorquina recipe the other day. This summer flatbread comes from Mallorca, Spain, and is topped with marinated roasted peppers, capers, anchovies, and garlic. Reminiscent of the Provencal pissaladière, it is often eaten at room temperature as a snack, sold in markets and at local bakeries. This flatbread is the perfect way to use summer vegetables, and was quite popular with the editors. So next time you are looking for an Italian focaccia, switch it up and try this Spanish relative, recipe coming soon to Saveur.com.
With summer in full force, we have been taking advantage of all the farm-fresh corn at the market. One recipe we tested this week had grilled pork belly over a layer of buttered corn. Going back into the Saveur vault, we found this helpful video from 2012 of food editor Ben Mims, showing us how to easily remove corn kernels from the cob. Stand the corn cob in the center of a Bundt pan and slice down the sides—that way, when you cut away the kernels they get caught in the pan. Truly a great technique to safely remove kernels without losing half of them in the process.
This week we made one of our favorite dishes: Hawaiian Fried Chicken: Crispy chicken thighs with a bright ponzu sauce. The recipe called for katakuriko, a Japanese starch used to dredge the chicken before frying. While originally katakuriko was made from katakuri, a Japanese lily, it is now almost exclusively made from ground potato. The resulting fried chicken was crispy, without being too heavy or greasy. I am obsessed with this starch, perfect for dredging anything before frying or making a slurry to thicken a soup or sauce. It's surprisingly easily to find at any Japanese grocery store.
While some on the kitchen staff were not surprised by the beautiful, bright flesh of yellow watermelon, some of the other Saveur editors were shocked by this colorful variety. The Yellow Flesh watermelon is actually very closely related to its bright red counterpart. The flesh has a sweeter, honey-like taste. It even has the same outer rind, making it impossible to tell the difference without cutting into it. Luckily markets are pretty skilled at labeling the two pretty clearly.
We tested a fried plantain recipe this week—we cut them into pieces, then fried, smashed, and fried them again. We noticed that a third of the plantain pieces got much darker than the others, with a softer texture and sweeter flavor. During the tasting, deputy editor Yaran Noti pointed out that the darker plantains were closer to the authentic Jamaican version he tasted while reporting a story on the island. We realized that while we used green plantains for the recipe, one of them was much riper than the others, resulting in the dark, chewy pieces. The reason is the higher sugar content that causes the plantain to brown while frying. Fried green plantains are crispy and chip-like, referred to as tostones in Latin American countries. Alternatively, the fried ripe plantains are softer and sweeter, referred to as maduros in Latin American countries. While we were looking for ripe plantains for this recipe, try both and see which you prefer.