Recipes
Yellow Tomato Soup with Lamb Meatballs, Yogurt, and Mint
Serves

serves 4-6

Cook

1 hour 40 minutes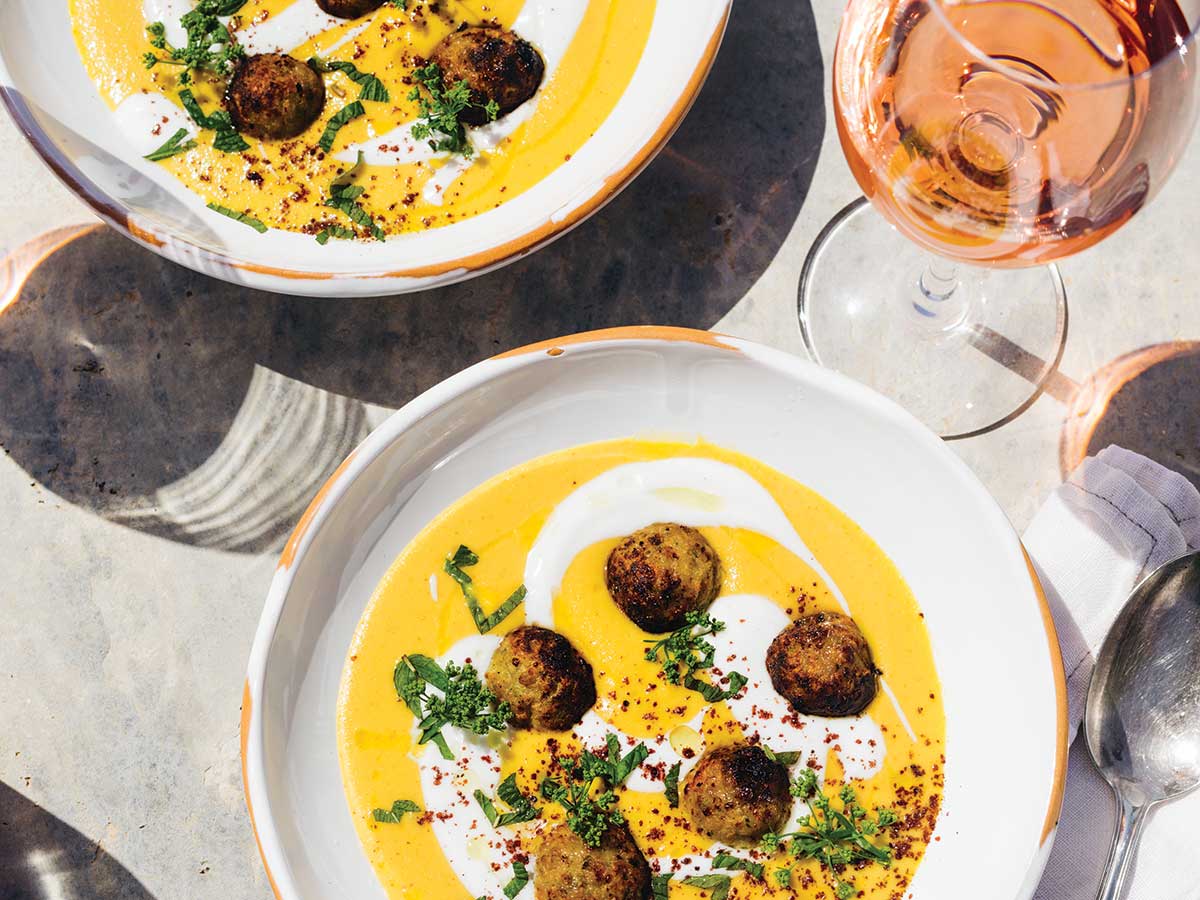 "Spices have always fascinated me. I collect them from all over the world," says Giorgia Goggi, who accents this soup with Middle Eastern sumac and Indian garam masala. If you can't find fresh yellow tomatoes, red will work just as well.
Ingredients
For the meatballs:
10 oz. fatty ground lamb
1⁄3 cup grated Pecorino Romano
1⁄4 cup bread crumbs
1 large egg
2 tbsp. minced Italian parsley
1 tsp. finely grated orange zest
1⁄4 tsp. finely grated lemon zest
1 small garlic clove, grated
3⁄4 tsp. kosher salt
Freshly ground black pepper
For the soup:
1⁄4 cup extra-virgin olive oil
2 medium carrots, diced
1 celery stalk, diced
2 scallions, diced
2 tbsp. finely grated fresh ginger
1 tbsp. finely grated fresh turmeric
1 tbsp. garam masala
2 lb. fresh yellow tomatoes, puréed in a blender (4 cups)
1 14-oz. can coconut milk
Kosher salt
1⁄4 cup plain yogurt
Thinly sliced mint leaves, for garnish
Ground sumac, for garnish
Instructions
Step 1
Make the meatballs: Preheat the oven to 450°F. Lightly grease a piece of foil, then place it on a baking sheet.
Step 2
In a large bowl, add the lamb, Pecorino, bread crumbs, egg, parsley, zests, garlic, salt, and a pinch of black pepper; stir with fingers. Roll into twenty-four 1-inch balls and arrange on the prepared sheet. Bake until lightly browned, 8–10 minutes.
Step 3
Make the soup: In a medium pot, heat the oil over medium heat. Add the carrots, celery, scallions, ginger, turmeric, and garam masala; cook until fragrant but not browned, 5 minutes. Add the tomato purée and coconut milk, and season with salt; bring to a gentle simmer and cook, stirring occasionally, until the vegetables are tender, about 20 minutes.
Step 4
Remove and let cool slightly. Blend, working in batches if needed, until the soup is smooth. Taste and adjust the seasoning as needed. Divide among 4–6 wide soup bowls. Top each with a dollop of yogurt, 4 or 5 meatballs, mint, and sumac if using.