Late Summer Is the Best Time to Make These 12 Sigh-Worthy Pies
Cream or berry, chocolate or cherry, these desserts are the perfect finale to a warm-weather feast.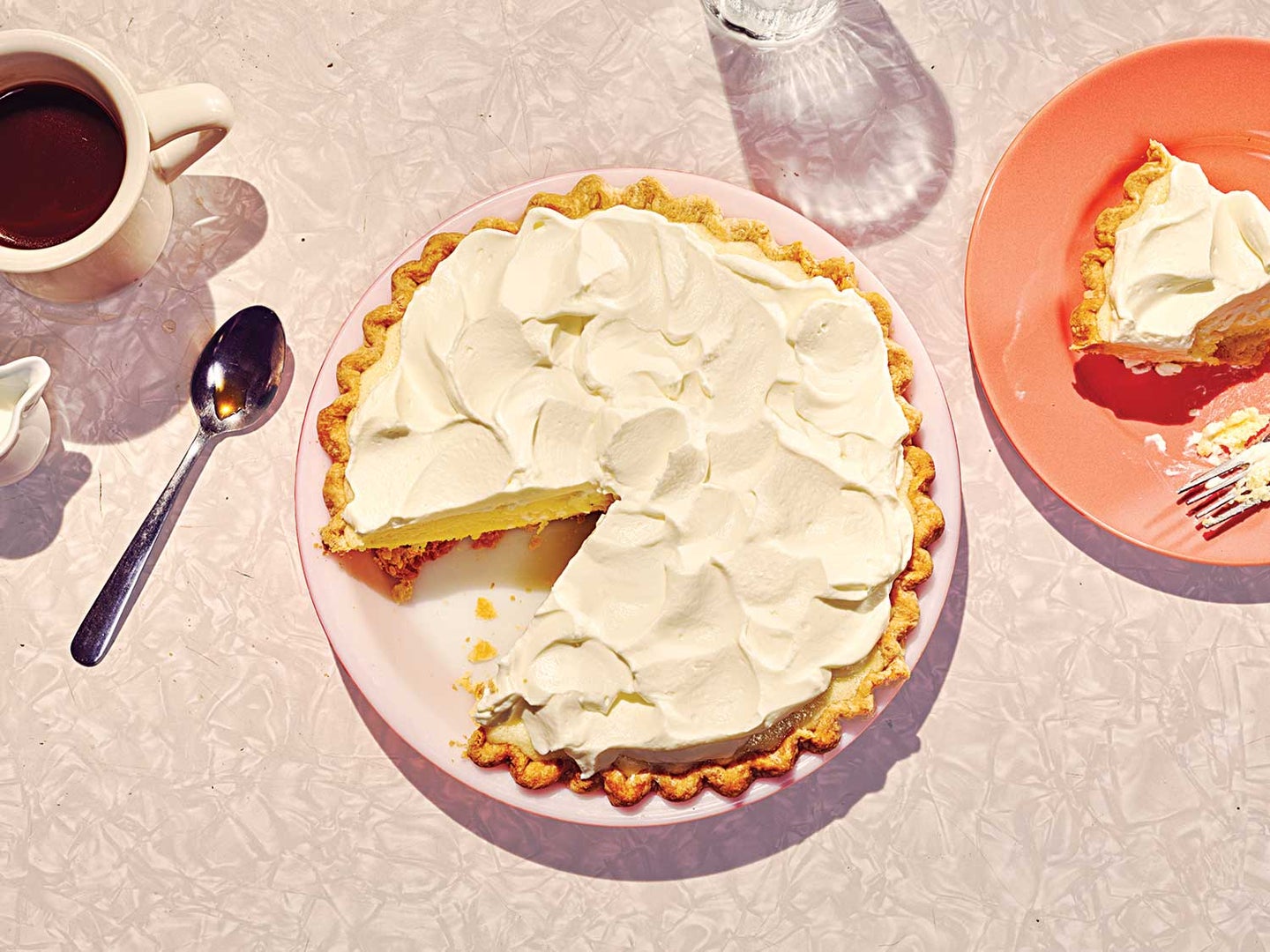 Our test kitchen has baked thousands of pies over the years, refining recipes for shoofly, chess, meringue, and other classics. Berries and stone will soon give give way to pumpkins and apples, but before we say bye bye to summer, consider whipping up a single- or double-crusted wonder (a marble pastry board helps!). With a bit of practice, it'll be easy as, well, you know.  
Next time you crave a slice of Americana, take your pick from our favorite pie recipes from the archives.
This updated Southern classic gets a chocolate boost by adding cacao nibs to the butter crust. The nutty cornbread topping provides a welcome crunch. Get the recipe >
Originally an old-fashioned dessert and cocktail from New York, this boozy freezer pie of vanilla ice cream and rum has a digestive biscuit crust studded with toasted walnuts. Get the recipe >
In Takotna, Alaska, where Iditarod dogsled racers stop for pie, locals freeze wild blueberries for baking in the long winters. Checkpoint coordinator and pie master Nell Huffman adds a dash of nutmeg and cinnamon to her berry filling. Get the recipe >
Known in the Heartland as "Hoosier Pie," 19th-century Amish and Shaker settlers introduced this recipe with a creamy nutmeg-dusted custard filling. In summer, serve it with fresh berry compote or a dollop of dulce de leche ice cream. Get the recipe >
Bakers Erin Patinkin and Agatha Kulaga of Ovenly in Brooklyn shared this recipe for a grab-and-go berry treat that doubles as a breakfast tart. Get the recipe >
A diner classic from Modern Snack Bar on Long Island's North Fork, this lemon meringue pie has a cloudlike topping piled sky high over lemon curd filling. Get the recipe >
In many parts of the country, late summer means plum season. In this recipe, the ripe, juicy fruit gets a tart lift from the last of the season's blackberries. Almond extract lends a floral, nutty note. Get the recipe >
Sweetened with grape jelly, this late-summer fruit pie is a favorite at big family picnics on a ranch in Oklahoma. Get the recipe >
The mother of Cincinnati restaurant critic Keith Pandolfi was known for this custard-filled pie topped lovingly with mounds of whipped cream. Get the recipe >
Sour cherries from Michigan's fruit belt are the sweet-tart secret to this bubbly number enclosed in a buttery crust. Get the recipe >
Adapted from an easy Pennsylvania diner recipe, this pie's chilled citrusy filling is more mousse than meringue. Get the recipe >