Go Make Ajvar, the Roasted Pepper and Eggplant Condiment That Goes With Everything
A sweet and smoky spread worth making in bulk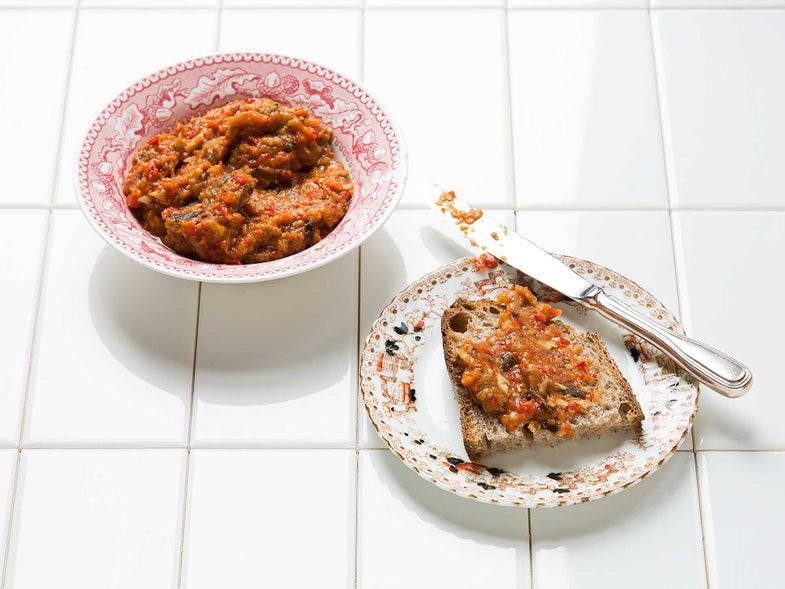 Condiments are truly the unsung heroes of the kitchen. Ketchup is a trustworthy standby, always ready to jump in and amp up a rack of ribs. In Spain there's romesco sauce, the zesty, nutty companion that goes well with nearly everything, but especially on this roast beef sandwich. Then there's ajvar, a roasted pepper and eggplant spread that is just as versatile as a bottle of Heinz.
This Balkan-style condiment is smoky and sweet, a combination of garlic, red bell peppers, and eggplant. You can often find it jarred in specialty stores, but it's so easy to make you don't need to seek it out. Slather it on dark rye bread, serve it with sausage, add it to a cheese plate, or just treat it like ketchup and put it on a burger.
This version comes to us from chef Tim Wiechmann of Cambridge's now shuttered but well-received Playska, a Balkan-style sandwich shop. Start by roasting eggplant and red peppers, skin side up, in a 500 degree oven, alongside garlic and drizzled with olive oil, until lightly charred. Let the vegetables cool, then transfer to a food processor and purée until smooth. The sauce can be kept in the refrigerator for up to two weeks, so you can continue to be creative with how you enjoy it.