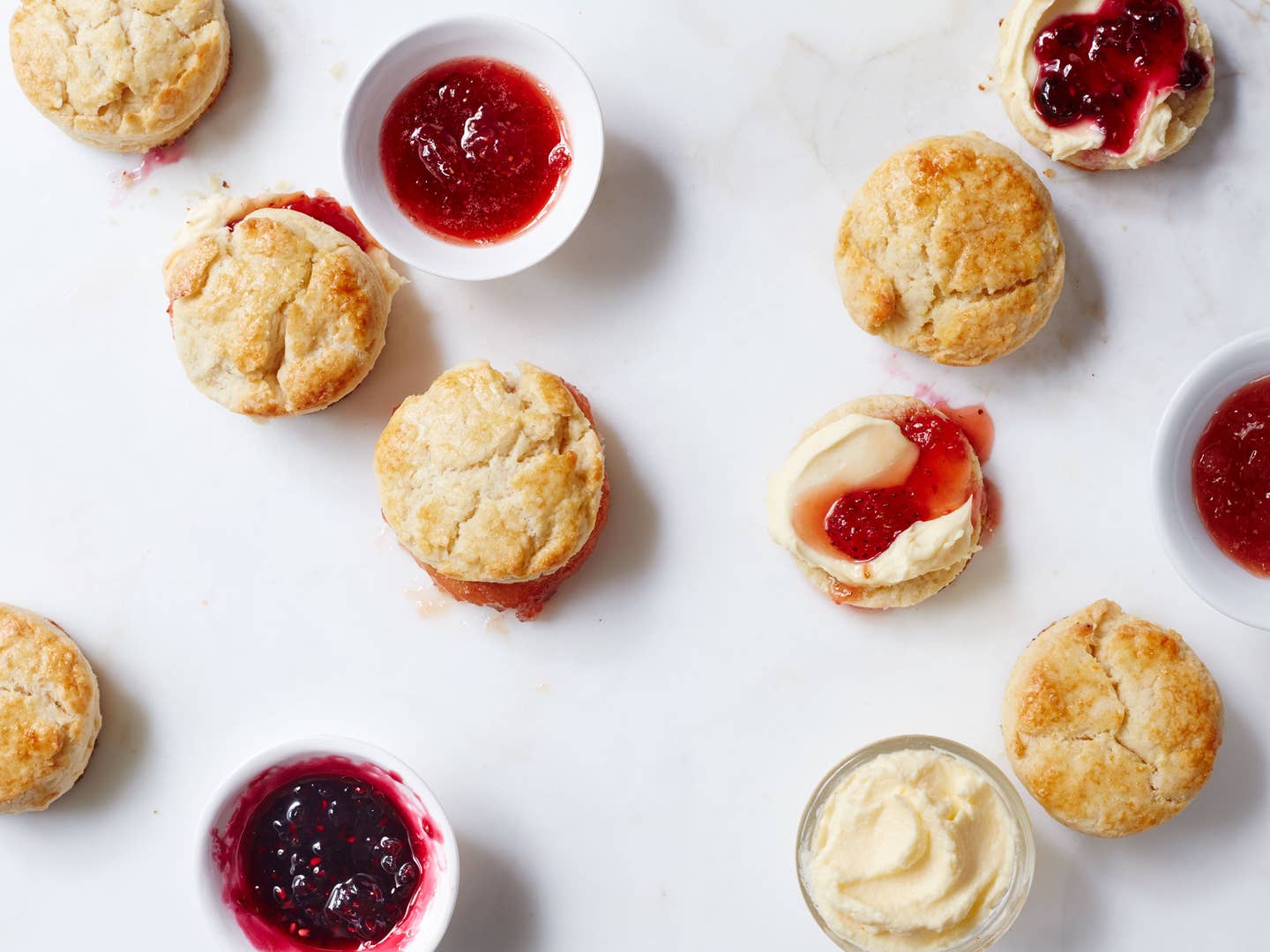 Recipes
An American-Inspired Scone on English Soil
Can a hybrid pastry please both the Motherland and upstarts alike?
Is there anything better at around four in the afternoon than a warm little scone with a bit of cold clotted cream and a dot of jam? No, there isn't. As an American baker working in London, I fell in love with the teatime ritual the day I landed here. After the fog of jet lag, I threw myself into studying the world of British pastries. I was familiar with scones from America, the big triangular doorstop-sized kind my mom used to make in California, shot through with chocolate chips or dried fruit or even wisps of cheese—more cake-like than biscuit-like, really—but what I found in Britain was something altogether different, altogether more refined and intriguing: smaller rounds, not too rich, not too sweet, with a smattering of raisins perhaps but usually plain, each bite flaking off pleasantly in the mouth with a little heft before disintegrating on the tongue.
Hooked, I needed to learn more, so I got out my trusty books—like the Constance Spry Cookery Book, which I treat as a sort of British baking bible—and hit the road for scone research trips, from Devon in the west, where the clotted cream is legendary (it's also known as Devonshire cream), to Suffolk in the east, scribbling and nibbling as I went.
The final product I put on my bakery's menu turned out a bit richer than the run-of-the-mill British scone—I couldn't help myself and added heavy cream to the dough like my mom does at home—so of course I got nervous sending my scones out into the mouths of my British customers. In these parts, everyone has a very clear taste memory of teatime, how grandmum made her treats and laid them out, and they don't think they want anything that varies from that memory—even if grandmum's scones tasted like sandpaper and they had to choke down bites between sips of tea. But to my relief, when the piping hot little rounds came out of the oven that afternoon, people flocked to the bakery and haven't really stopped since.
Well, there was one proper British lady who came in, ordered a scone, took a bite, then shuffled over to the counter and cried, indignantly, "This is not a scone!" I calmly explained to her that it was a hybrid between an American scone and a British one, and she sort of harrumphed. But as she was shuffling her way out, I spied her scarfing up the last few bites. Victory.