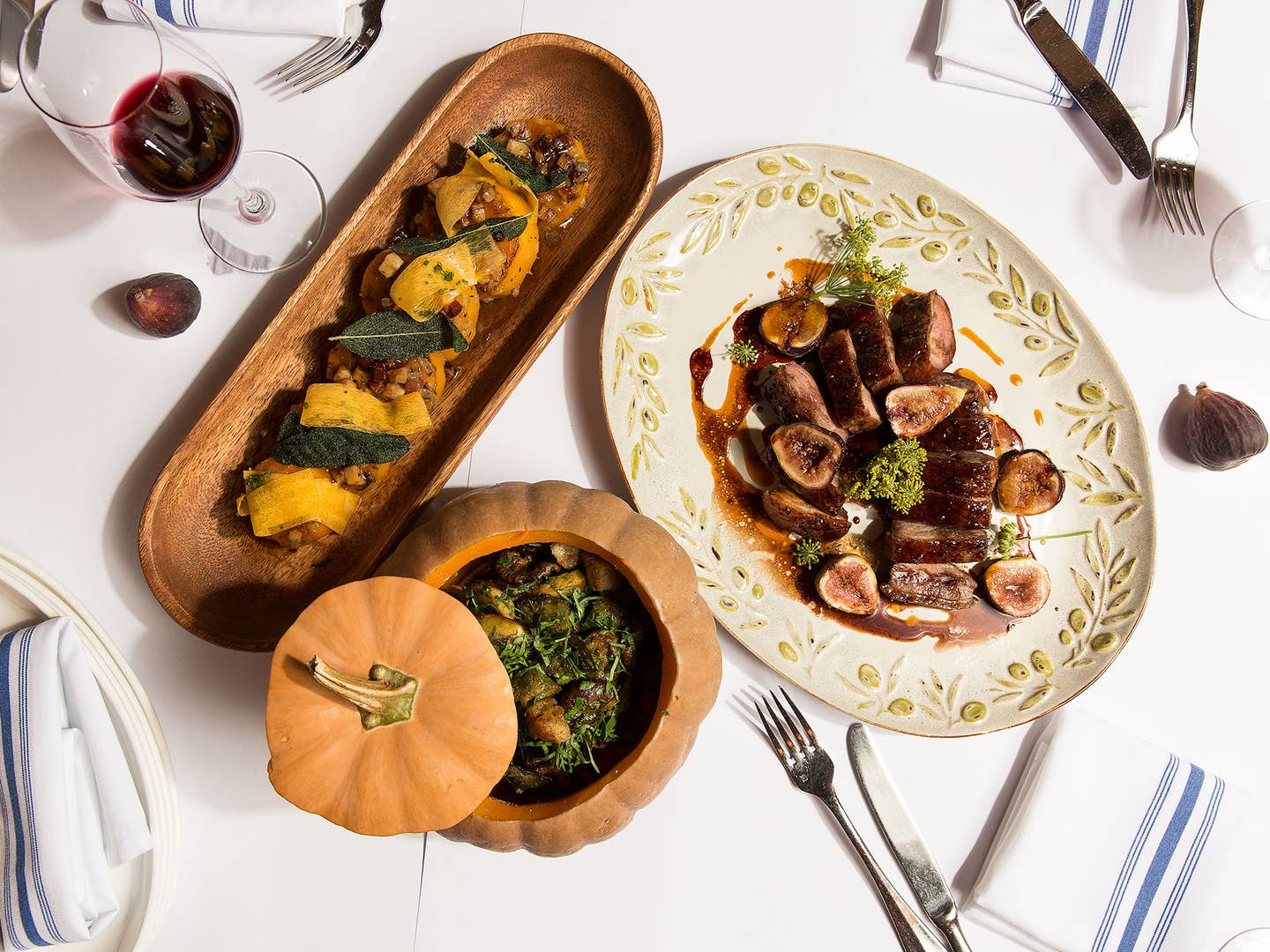 Recipes
How Andrew Carmellini Does a Fall Dinner Party
A full spread that won't need an army of prep cooks
Summertime cooking and its effortless tomato salads are all well and good, but fall is when we hunker down and cook. Now's the time to break out the Dutch ovens and casseroles, to blitz our salads with cheese and brown our butter for, well, everything. And with fall cooking comes big batches, which of course means one thing: It's time to throw a party.
So we asked New York chef Andrew Carmellini for some inspiration on doing fall entertaining right, for one clear reason: The man is the king of making the fancy unfussy—and vice versa. The cooking at his Lafayette, Bar Primi, The Dutch, and Locanda Verde may look Instagram-perfect on a plate, but it's never about style over substance. Roast chicken is roast chicken. Pasta is carbs the way carbs should be. That's an ethos we take well to heart when cooking for crowds at home; food should be good but no more complicated than it needs to be.
With that in mind, here is Carmellini's fall dinner party menu made especially for us, from hors d'oeuvres to starters to mains and dessert. You won't find these exact dishes at any of his restaurants, and you won't need an army of prep cooks to make them. All the more reason to make them your own.
Fall Radishes with Boursin Dip
Crisp radishes add a bitter crunch to this creamy soft cheese spread flecked with dill, parsley, and chive.
Grilled Scallops with Pomegranate Browned Butter and Toasted Hazelnuts
You can use a grill pan on the stove if need be, but this is one excuse to get the grill going one more time. Use the biggest scallops you can find and brush them with nutty browned butter tinged with tart pomegranate.
Roast Duck with Port and Figs
Rich, fatty duck gets a double dose of sweetness from port wine and jammy figs.
Butternut Squash Boulangère
Braised squash with bacon and onions is an easy crowd-pleaser with loads of deep, caramelized flavors.
Roast Mushrooms with Escargot Butter
Roast vegetables fill out any fall spread, but a dose of extra-savory herb compound butter (like you'd slather over snails) makes them special.
Whole Wheat Mille Crêpe Cake
Layer nutty whole wheat crêpes with delicate honey whipped cream for a light but impressive dessert.
This spiced apple cocktail is easy to make in big batches—and just as easy to drink.