Chicory Recipes
The chicory family is packed with delicious greens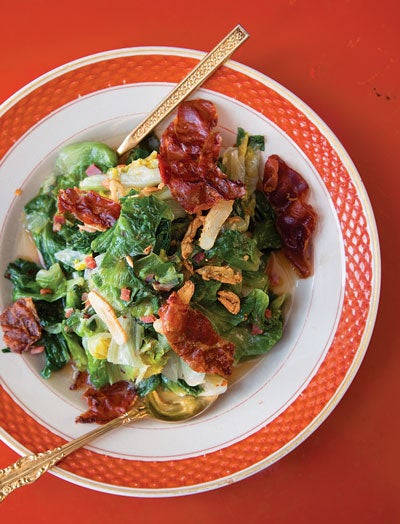 Members of the chicory family such as endive, escarole, radicchio, and frisée are great for adding a pleasant, slightly bitter freshness to all sorts of dishes. The greens are a little strong on their own, but wonderful team players. From pasta to deviled eggs to—especially—crunchy salads, we've rounded up our favorite chicory recipes.
Bitter, red radicchio is a great ingredient in arugula salads, complementing the pepperiness and adding a pop of color. Try mixing arugula and radicchio with fennel, walnuts, and parmesan cheese and dressing it simply with lemon juice and olive oil. Our tricolore salad also features arugula, radicchio, and fennel, this time with pecorino cheese and a grapefruit-saba vinaigrette.
Crisp and nutty, endive is another delicious member of the chicory family. Use it in a salad with Comte cheese, chopped walnuts, and a sherry vinaigrette. Endive also holds up well to cooking—try steaming it, grilling it, and making it into a salad with a sweet bee pollen vinaigrette.
We like mixing greens into pasta to add a light freshness. Red endive and radicchio are both great in dish of spaghettini with carrots, olives, and arugula. Sweet Italian sausage, arugula, and bell pepper make for an easy pasta salad, with radicchio rounding things out.
Find all of these dishes and more in our collection of chicory recipes.