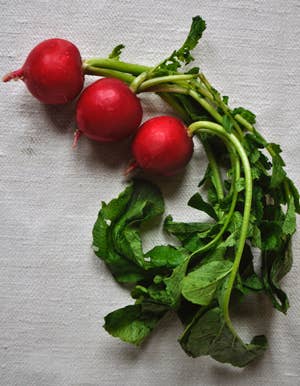 Radishes come in a wide range of colors (from purple to white), shapes (from plump and round to long and thin), and flavors (from mild to peppery). A staple in Asian cuisines, the radish is known as daikon in Japanese, moo in Korean, and lo bok in Chinese. Radish varieties available at farmers' markets at this time of year include the spicy Icicle, the colorful Easter egg, the slightly sweeter French breakfast, and the watermelon, which has a white exterior and a bright pink interior.
You can slice or shred raw radishes into salads or vegetable side dishes. Fresh and pickled lo bok and daikon radishes are often cooked in stews, soups, and braises.
When shopping for radishes, be sure they are firm, without any cracks or soft spots.
To store, refrigerate in the vegetable crisper, unwashed, in plastic bags for up to two weeks.
Radishes are sometimes sold attached to their peppery-tasting greens, which can be eaten cooked or raw. The greens are highly perishable and have to be used within two days.
To prepare radishes, wash well under cold water and trim the roots.
Radishes are sold at all supermarkets and farmers' markets. They are in season in the spring and early summer.