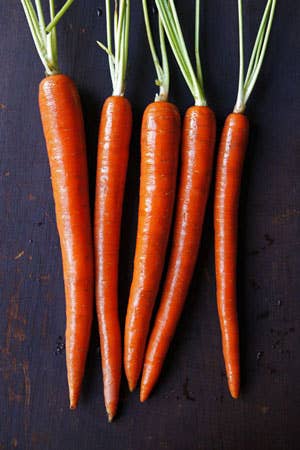 Techniques
One Ingredient, Many Ways: Carrots
The carrot's refreshing crunch and subtle sweetness elevate it from the workhorse of vegetables to shining star
There is nothing particularly fancy about a carrot. It grows underground, concealing its beauty beneath the dirt. And once harvested, it most often ends up hiding in the mirepoix of a more exciting sauce, or chopped into sticks and tucked next to a peanut butter sandwich. Even at its most graceful finely grated and mixed with olive oil, roasted and tender, or blended into carrot-ginger dressing, the carrot remains more workhorse than showstopper. And yet, as with boyfriends and bicycles, there is something to be said for dependability. Sometimes the very best vegetable is the one you can rely on, time after time, to get the job done.
The wild carrot called Queen Anne's lace, from which today's orange varieties evolved, originated in Afghanistan. It was a particularly homely root. More of a wispy, elongated stick than a vegetable to slice into salads.
By the tenth-century, the plant had migrated westward along the Silk Road and growers began to cultivate larger varieties more suitable for eating. It wasn't until the sixteenth-century in Holland that the familiar sweet, orange carrot emerged. Not long after that, carrots caught on across Western European and American cuisines, prized for their culinary versatility and, later, their Vitamin A-producing beta-carotene.
In recent years, the farmers market has worked miracles to increase the carrot's appeal, introducing striking and unfamiliar heirloom varieties like the fuchsia-skinned Cosmic Purple and the squat Thumbelina to customers. Many of these varieties can grow throughout the summer, but carrots reach their height of flavor during autumn when the cooler temperatures increase and concentrate their sugar content. The recipes below take advantage of carrots' peak season, serving them simply like the flash-sauteed Scallions and Carrots and Orange and Honey Glazed Carrots, or as part of a larger whole like the Moroccan Chicken with Carrot Puree and the luscious Carrot Rice Pudding.
SAVORY
Chilled Carrot Soup with Fines Herbes Mousse
A hearty dollop of herb-flecked creme fraiche tops this intensely carroty soup.
Scallions and Carrots
In this simple side dish, scallion and carrot match sticks are quickly sauteed and topped with butter, soy sauce and sugar.
Carrot Kari Indian Style (Carrot with Mustard Seeds)
Spicy mustard seeds add depth and kick to sliced stewed carrots.
Tzimmes Root Vegetable Stew
The flavor of this sweet and savory blend of root vegetables and dried fruit is deepened with the addition of slow-simmered beef.
Moroccan Chicken with Carrot Puree
Chicken breasts taste anything-but-ordinary when paired with oil-cured olives and a sweet carrot puree.
Banh-Mi
Carrots are a staple topping on this signature Vietnamese sandwich.
SWEET
Carrot Rice Pudding
Flecks of grated carrot lend sweetness and glorious color to this cardamom-spiced rice pudding.
Orange and Honey Glazed Carrots
Orange zest, honey and fresh tarragon combine in a deliciously sweet and unexpected glaze for cooked carrots.
Classic Carrot Cake
A can of crushed pineapple is the secret ingredient to this rich and flavorful classic.
Food52: Carrot Cake Whoopie Pies with Cinnamon Cream Cheese Frosting
These beloved sandwich cake-cookie hybrids get their moist crumb from shredded carrots.
DRINK
HGTV: Ginger and Carrot Cocktail
Spicy ginger, fresh carrot juice and sweet apple juice pair with vodka in this delicious cocktail.
Girl Cooks World: Jamaican Carrot Lime Juice
This frothy, refreshing drink combines fresh carrot juice with lime juice and a healthy hit of sugar.
Leah Koenig is a freelance writer and author of The Hadassah Everyday Cookbook: Daily Meals for the Contemporary Jewish Kitchen
.__