One Ingredient, Many Ways: Horseradish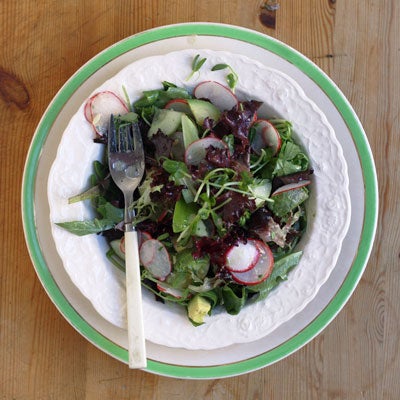 Growing up I ate the peppery root once a year, when a scoop of white or beet-stained prepared horseradish played a starring role as the "bitter herb" at my family's Passover seder. Today, the pungent, nose-tickling condiment immediately conjures up thoughts of springtime, my parents' dining room table, and how my brother and I would compete to see who could eat the most horseradish without crying. Recently though, while having brunch with friends, I discovered horseradish being used in an entirely unfamiliar context: as a mix-in to scrambled eggs. Was it a life changing meal? Not particularly. But it was delicious, and the experience got me thinking that maybe horseradish deserved year-round attention. With other fiery condiments like wasabi increasingly gaining favor in American kitchens, now seems like a perfect time for a horseradish renaissance.
Native to Eastern Europe, horseradish is relative to mustard greens, broccoli rabe and, yes, radishes. It is a particularly ugly thing — not much more than a dry and gnarled brown root — and for centuries it was used only in medicinal contexts before catching on as a culinary ingredient. My Lithuanian ancestors likely ate it as a topping on fish, cold meat, and kugel. And by the late 1600s, horseradish had traveled to central and western Europe, where Englanders favored it as a pairing for beef and oysters. They knew then what I'm learning now: despite its fierce bite, horseradish is a surprisingly versatile ingredient. Particularly when left raw (heat mellows the spiciness), it makes a natural companion to red meat and creamy root vegetable soups, where its heat cuts through the dishes' richness. It also perks up lighter fare from springtime salad dressings to pickled beets and eggs, adds a little kick to certain sweet dishes like applesauce, and is a classic mix-in to drinks like the bloody Mary.
SWEET
Horseradish Applesauce
The autumn staple gets a little kick from the addition of grated horseradish.
Epicurious: Cranberry Horseradish Sauce
An entire jar of prepared horseradish gets mashed into this sweet and spicy Thanksgiving side.
SAVORY
Mixed Green Salad with Horseradish Dressing
Horseradish dressing adds welcome heat to this springy green salad.
Southwestern Turkey Meatloaf
Spice up this cheesy meatloaf with a dose of prepared horseradish.
Spelt Risotto with Beets and Horseradish
Horseradish shows its elegant side in this beet-red spelt risotto.
Sardine Sandwich with Horseradish Cream
Update the classic sardine sandwich with a smear of horseradish cream.
Herb Crusted Beef Tenderloin with Horseradish Sauce
Horseradish cream is the perfect topping for beef roasted with herbs and peppercorns.
Kartoffelrahmsuppe (Spiced Potato Soup)
This creamy, spice-filled potato soup gets a bit of heat from garlic and horseradish.
Bialy Barszcz (Polish White Borscht)
This beet-less version of borscht, an Easter staple in Poland, gets its bite from 1/4 cup of freshly grated horseradish.
Pickled Beets and Hard-Cooked Eggs
While the horseradish in these pickled beets and eggs is optional, we highly recommend it.
Alabama Style Chicken Sandwiches with White Sauce
Horseradish gets paired with paprika, cayenne, cumin and several other spices in the creamy mayonnaise sauce that tops this chicken sandwich.
Bailik Fish
Surprisingly, there's no fish in these poached chicken dumplings, which come garnished with a dollop of horseradish.
Seafood Cocktail Sauce
This spicy, ketchup and vinegar-based sauce is the perfect accompaniment for seafood.
DRINK
Heirloom Tomato Bloody Mary
Fresh tomato juice and vodka are offset with freshly grated horseradish in this heirloom version of the classic drink.
New York Times: Horseradish Pomegranate Margarita
Horseradish-infused tequilla is the base for this sweet, tart, and spicy margarita.
Leah Koenig is a freelance writer and author of The Hadassah Everyday Cookbook: Daily Meals for the Contemporary Jewish Kitchen.