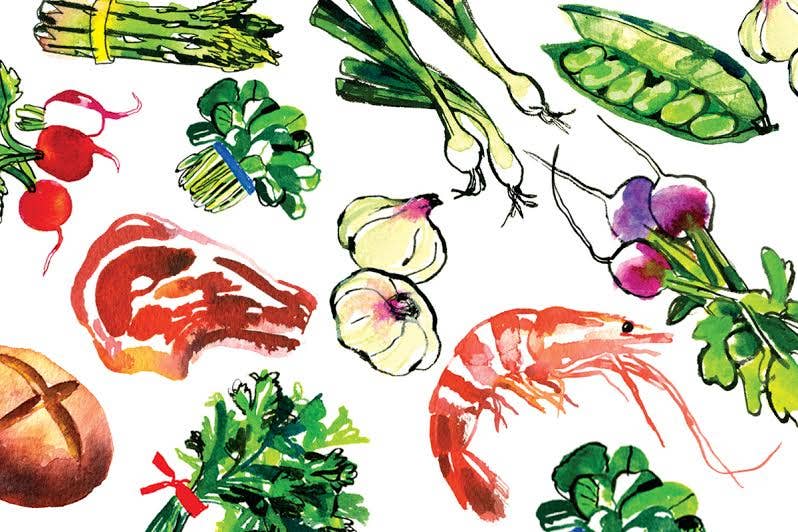 Recipes
Almond Cakes with Lavender Honey Ice Cream
The three parts of this elegant dessert from the Auberge de Noves—cakes, ice cream, and coulis—can also be served individually. For a simpler presentation, make one 9'' cake instead of four small ones.
FOR THE ICE CREAM:
1 tsp. dried lavender
2 1/2 cups milk
1 cup heavy cream
3 egg yolks, lightly beaten
3 eggs
3/4 cup clover honey
FOR THE CAKES:
1 tbsp. instant ground tapioca
6 tbsp. sugar
3/4 cup plus 1 tbsp. almond flour
tsp. baking powder
2 egg whites, lightly beaten
4 tbsp. butter, melted and cooled
1/4 cup raspberry preserves
1/4 cup blanched, sliced almonds
FOR THE RASPBERRY COULIS:
2 cups fresh raspberries
2 tbsp. sugar
1. For the ice cream, place lavender, milk, and cream in a medium saucepan and bring to a boil over medium-high heat. Remove from heat and steep for 10 minutes. Strain milk mixture into the top of a double boiler. In a medium bowl, whisk together egg yolks, whole eggs, and honey until mixture is pale yellow, then, while whisking, add egg mixture to milk mixture. Set double boiler over simmering water over medium heat and cook, stirring with a wooden spoon, until mixture is thick enough to coat spoon, about 10 minutes. Transfer to a bowl and refrigerate until cold. Pour ice cream base into an ice cream maker and process according to manufacturer's instructions. Store in freezer until ready to use.
2. For the cakes, preheat oven to 350°. Sift together tapioca, sugar, almond flour, and baking powder into a large bowl. Add egg whites and butter and whisk until smooth.
3. Line a cookie sheet with parchment paper. Lightly grease 4 ring molds, 3'' wide and 1 1/2'' high, and place on cookie sheet. Spoon about 2 tbsp. cake batter into each mold, spreading to even out tops with back of spoon. Spoon 1 tbsp. raspberry preserves into center of each mold, evenly cover with 2 more tbsp. batter, and decorate each cake with about 8 almond slices. Bake cakes until golden, about 20 minutes, cool slightly, then turn cakes out onto a cooling rack. Cool completely, then transfer, almond side up, to 4 small plates.
4. For the compote, place raspberries and sugar in a medium stainless-steel saucepan. Add 2 tbsp. water and bring to a simmer over medium heat. Cook, stirring occasionally, until berry juices have thickened slightly, about 15 minutes, then strain through a fine sieve into a small bowl. Spoon warm coulis around cakes and serve garnished with additional berries and lavender honey ice cream.