Recipes
Beef Noodle Soup with Liver Dumplings (Hovezi Polevka s Nudlemi a Jatrovymi Knedlicky)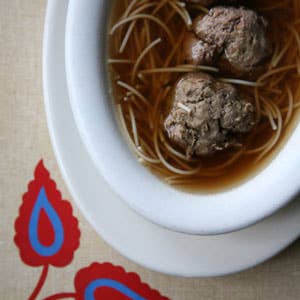 Thin noodles and hearty liver dumplings make this rich, hearty soup a mainstay of the 86-year-old Klas Restaurant in Cicero, Illinois. Just outside Chicago, Cicero was once home to a thriving Czech community, reflected in Klas's old-world decor and cuisine. For more about Klas Restaurant and other delicious stops on the road, see Adventures in Good Eating.
Ingredients
1⁄2 lb. pork liver, cut into chunks
2 tbsp. unsalted butter, softened
1 egg, beaten
2 cloves garlic, finely chopped
1 cup fresh bread crumbs (see Bye-Bye, Dry)
3⁄4 tsp. kosher salt, plus more to taste
1⁄4 tsp. fresh marjoram, finely chopped
1⁄4 tsp. freshly ground pepper, plus more to taste
6 cups beef broth
4 oz. angel hair pasta, broken into thirds
Instructions
Step 1
In a small food processor, grind pork liver until smooth, about 10 seconds. Add butter and egg. Pulse to combine. Transfer pork mixture to a medium bowl. With a rubber spatula, mix garlic, bread crumbs, salt, marjoram, and pepper until well combined. Refrigerate pork mixture for 30 minutes.
Step 2
Meanwhile, bring beef broth to a boil over high heat in a large saucepan. Adjust heat to medium-low and simmer broth. Using a metal soup spoon, scoop out 1 heaping portion of liver mixture from the bowl. Use another spoon to scrape liver mixture into broth, forming an oval-shaped dumpling. Continue with 5 more equal-size portions, using up all of the pork mixture. Cook the pork dumplings in the simmering broth, stirring occasionally, for 5 minutes. Add pasta. Continue simmering, stirring occasionally, until the dumplings are cooked through and the pasta is soft, about 15 minutes. Season with more salt and pepper if necessary and ladle soup into 6 small bowls.