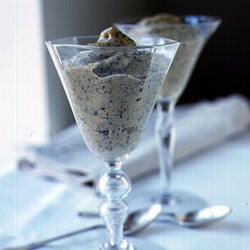 Using truffles in a dessert might seem odd, but this warm, frothy custard, mellowed with madeira, is a delicious way to experience truffles' unique flavor.
Yield: serves 4
Ingredients
1⁄2 oz. fresh black truffle pieces or shavings
3 tbsp. sugar
4 egg yolks
6 tbsp. rainwater madeira
Instructions
Place truffle in a mortar. With a pestle, pound truffles into a paste. Add.sugar, and continue pounding until the mixture is uniform in texture.
Combine egg yolks and the truffle sugar in a double boiler over simmering water. Whisk until mixture becomes pale yellow, warm, and creamy—about 4 minutes.
Add madeira and beat vigorously until the sabayon (custard) is hot and thick enough to mound softly. Serve at once in parfait glasses.