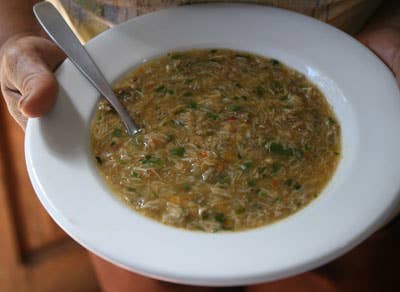 Recipes
Sopa de Caranguejo (Crab Soup)
Teeming with sweet shredded crab meat, this annotto and cumin-flavored soup is a traditional soup in Soure, on Marajo island in northeast Brazil. This recipe first appeared in our June/July 2012 issue along with Neide Rigo's story Passage to the Amazon.
1 large russet potato, peeled and cut into 1" pieces
2 tbsp. olive oil
1 small yellow onion, finely chopped
3 cloves garlic, finely chopped
½ Italian or cubanelle pepper, stemmed, seeded, and finely chopped
1 plum tomato, cored and finely chopped
1 lb. backfin or lump crab meat
1 tsp. ground annatto seed (available at The Great American Spice Company)
1 tsp. ground cumin
3 ½ cups chicken stock
3 tbsp. minced culantro or cilantro
Juice of 1 lime
Kosher salt and freshly ground black pepper, to taste
1. Place potato in a 2-qt. saucepan and cover with cold water. Bring to a boil over high heat, reduce heat to medium, and cook until tender, about 15 minutes. Drain and mash potato; set aside.
2. Heat oil in a 4qt. saucepan over medium-high heat. Add onion, and cook, stirring, until soft, about 5 minutes. Add garlic and pepper, and cook, stirring, until soft, about 3 minutes. Add tomato, and cook until liquid evaporates and mixture is lightly caramelized, about 4 minutes. Add reserved mashed potato, crab, annatto, and cumin, and stir to combine; add stock, and bring to a boil. Reduce heat to medium, and cook, stirring, until crab is heated through, about 5 minutes. Add culantro and juice, and season with salt and pepper before serving.