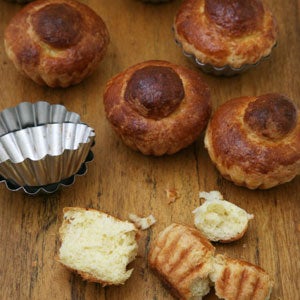 Golden on the outside, with a feathery, rich-tasting interior, the brioche is a perfect showcase for butter. The French name of this type of brioche (tete means head) refers to the confection's shape: a large sphere topped with a smaller one (the "head"). Use a good, high-fat butter such as Kerrygold, an Irish brand, to achieve the best results. This recipe was inspired by one that appears in the book La Technique by Jacques Pepin (Pocket Books, 1976). See step-by-step instructions for shaping the brioche »
Brioche à Tête
Golden on the outside, with a feathery, rich-tasting interior, the brioche is a perfect showcase for butter.
Ingredients
⅓ cups milk, heated to 105°–110°
¼ cups sugar
1 packet ¼-oz. active dry yeast
5 eggs, at room temperature
4 cups flour
1 tsp. fine salt
½ lb. unsalted butter (like Kerrygold), plus more as needed, at room temperature
Instructions
Pour the milk into a large bowl. Add a pinch of the sugar and the yeast. Let stand until foamy, about 10 minutes.
Whisk 4 of the eggs into the milk–yeast mixture and set aside. In the bowl of a standing mixer fitted with a paddle, combine remaining sugar, flour, and salt. With the mixer on low speed, add the egg mixture and butter and mix until combined. Increase the mixer speed to medium and beat, stopping to scrape the bowl down occasionally with a rubber spatula, until dough is satiny smooth and clings to the paddle, about 8 minutes.
nead the dough several times to bring it together, then transfer to a large buttered bowl, turning to coat. Cover bowl with plastic wrap and set in a warm place to let rise until double in size, about 1½–2 hours. Punch the dough down, cover, and let rise for another hour.
Generously butter 12 fluted 3″ individual brioche molds and put them on a baking sheet. Punch the dough down again, transfer it to a work surface, and divide into 12 portions, about 3 oz. each. Firmly roll each portion of dough on the table in a circular motion with the palm of your hand to form a smooth ball.
Using the edge of your hand (holding it as you would if performing a karate chop), gently roll the dough ball into a shape resembling that of a squat bowling pin, creating a small ball (the "head" of the brioche) that's roughly a third the size of the larger mass (or "body"). Lift the brioche by the head and place it body first into a buttered brioche mold. Press your fingers into the dough around the small ball to form an indentation, then gently push the small ball down into the center of the brioche. Repeat with the remaining dough balls, cover with a towel, and let rise in a warm place for 1 hour.
Arrange a rack in the center of the oven; heat to 375°. Whisk the remaining egg in a small bowl. Brush the top of each brioche with the egg and bake until deep golden brown, 25–30 minutes. Let cool in the molds for 10 minutes before serving. Brioches are the best when eaten straight from the oven but, once cooled, may be stored in an airtight container or plastic bag at room temperature for up to 3 days.