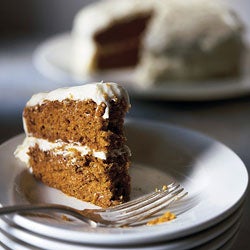 When baked, carrots develop a caramel-like fragrance. This stacked cake is flavored with cloves, allspice, and nutmeg and is topped with a traditional cream cheese frosting. The recipe is from Liza Schoenfein's article "Glorious," about the glory of cooking with carrots (May/June 2002). Learn how to make marzipan carrots »
Carrot Cake
When baked, carrots develop a caramel-like fragrance. This stacked cake is flavored with cloves, allspice, and nutmeg and is topped with a traditional cream cheese frosting.
For the Cake
1 tbsp. unsalted butter, softened
1 1⁄2 cups plus 2 tbsp. all-purpose flour
1 cup sugar
1 1⁄2 tsp. baking soda
1 tsp. baking powder
1 tsp. ground cinnamon
1⁄2 tsp. ground cloves
1⁄2 tsp. freshly grated nutmeg
1⁄2 tsp. ground allspice
1⁄2 tsp. salt
2⁄3 cup vegetable oil
3 eggs, lightly beaten
1 1⁄2 lb. carrots, peeled, trimmed, and grated (about 4 cups)
For the Frosting
12 oz. cream cheese
7 tbsp. unsalted butter, softened
1 tbsp. vanilla extract
3 cups confectioners' sugar, sifted
Instructions
For the cake: Preheat oven to 350º. Grease two 8″ round cake pans with butter, dust each with 1 tbsp. of the flour, tapping out excess, and set aside.
Combine the remaining flour, sugar, baking soda, baking powder, cinnamon, cloves, nutmeg, allspice, and salt in a large bowl. Add oil and eggs and stir until smooth. Add carrots and mix well. Divide batter between prepared pans. Bake until toothpick inserted in center comes out clean, about 25 minutes. Set aside to let cool on a rack, then remove cakes from pans.
For the frosting: Beat cream cheese, butter, and vanilla together in a mixing bowl with an electric mixer on high speed until smooth. Reduce speed and beat in sugar.
Put 1 cake round on a cake plate; spread one-third of the frosting on top. Set the remaining cake round on top; ice cake with the remaining frosting.