Charcoal-Grilled Corn on the Cob with Mayonnaise, Cheese, and Chile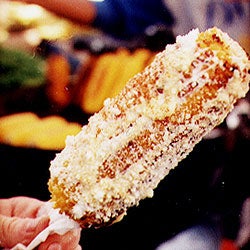 This smoky, chewy corn can also be slathered with sour cream thinned with a little bit of cream instead of mayonnaise.
Yield: serves 6
Ingredients
6 ears fresh sweet corn in the husk
3 tbsp. butter, melted
1⁄2 cup mayonnaise
1⁄3 cup queso añejo (aged cows'-milk cheese), finely crumbled
1 tbsp. powdered árbol chile
Instructions
Put unpeeled corn in a large, deep bowl, cover with cold water, and weight with a plate to submerge. Soak corn for 30 minutes, then drain. Meanwhile, preheat a grill and adjust grill rack to 5" above heat.
Grill unpeeled corn over medium-hot heat, turning frequently, until outer leaves are blackened, 15-20 minutes. Remove from heat and when cool enough to handle, peel off husks and remove silk.
Brush peeled corn with butter, return to grill, and cook, turning frequently, until browned all over, about 10 minutes. Spread each ear with some mayonnaise, roll in cheese, and sprinkle with powdered chile.