Spanish Chilled Tomato Soup (Salmorejo)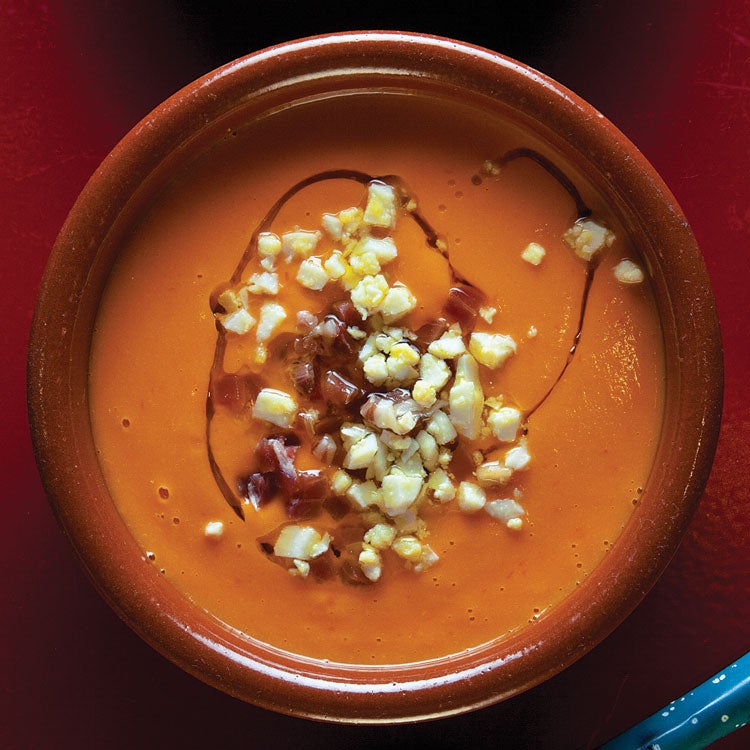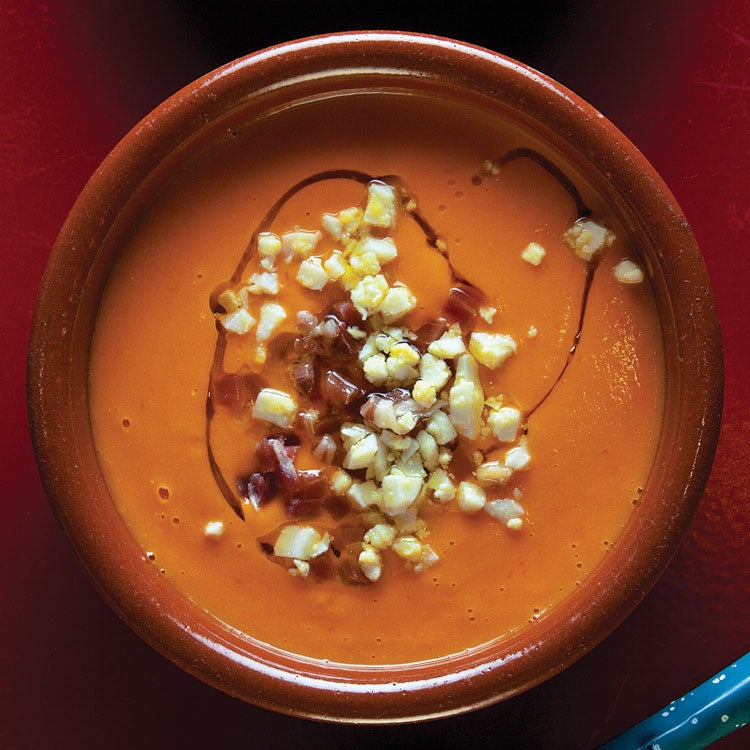 It was in Madrid in March where I first met salmorejo, gazpacho's richer, deeper cousin. The cool, creamy tomato soup transcended seasonality. It was topped with egg and jamon iberico, which wept fatty tears over its surface. Salmorejo demands that you act as a Spaniard and mop up every drop with bread. Then, like an American, you order another. —Alex Raij, a chef-owner of La Vara and Txikito restaurants in New York City
Spanish Chilled Tomato Soup (Salmorejo)
Salmorejo, gazpacho's richer, deeper, Spanish cousin is a cool, creamy tomato soup that transcends seasonality.
Ingredients
3 tbsp. kosher salt, plus more to taste
8 plum tomatoes, cored, halved, and seeded
1 clove garlic, crushed
1 baguette (about 10 oz.), cut into large pieces
1⁄2 small yellow onion
1 cup extra-virgin olive oil, plus more for drizzling
2 tbsp. sherry vinegar
Freshly ground black pepper, to taste
3 hard-boiled eggs, chopped
1 1⁄2 cups finely chopped Iberian ham or prosciutto
Instructions
Place salt, tomatoes, garlic, bread, and onion in a bowl, cover with boiling water, and let sit for 1 hour. Drain vegetables, reserving 1 cup soaking liquid; place in blender. Squeeze water from bread; place in blender with reserved soaking liquid, oil, and vinegar. Purée until smooth; season with salt and pepper, and chill. Pour into serving bowls; top with eggs, ham, and a drizzle of oil.
See all 150 classic recipes featured in our 150th issue »