Recipes
Schnitzel à la Holstein
(Breaded Veal Cutlets with Fried Egg, Anchovies, and Lemon–Caper Sauce)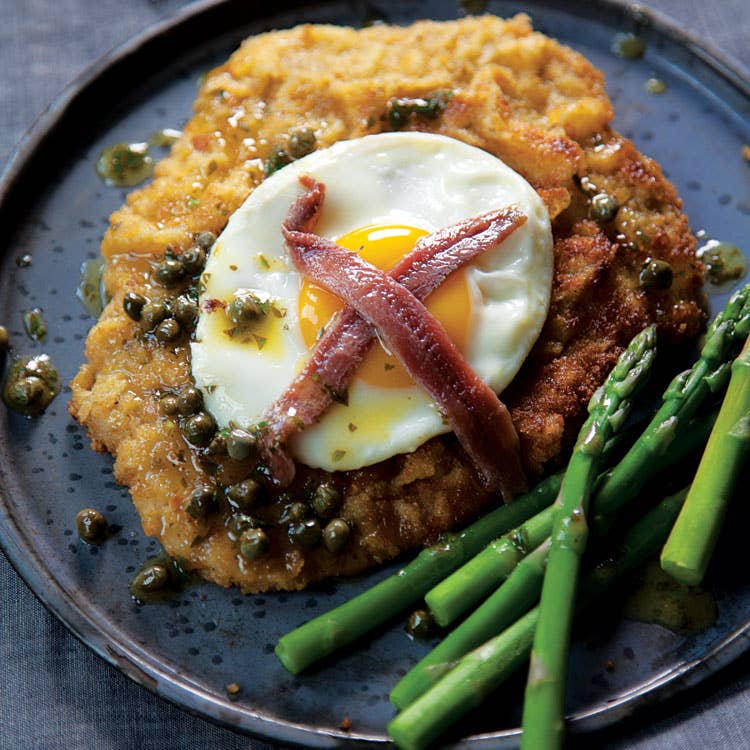 Oh, the many variations on the schnitzel theme. There's the basic wiener schnitzel—a veal cutlet pounded tender, breaded, and fried—found, with different regional flourishes, throughout central and northern Europe. This revamp was cooked up in the late 19th century at the Berlin restaurant Borschardt, to please the palate of one Friedrich von Holstein. The crisp-fried veal topped with luscious egg and salty anchovies and capers is a brilliant study in contrasting flavors and textures.
Ingredients
1 cup flour
1 cup fresh bread crumbs
1⁄2 cup milk
6 eggs
4 (3-oz.), 1/8"-thick veal cutlets
Kosher salt and freshly ground black pepper, to taste
8 tbsp. unsalted butter
8 oil-packed anchovy filets
1 tbsp. finely chopped parsley
2 tsp. finely chopped capers
Juice of 1 lemon
Instructions
Step 1
Place flour and crumbs on separate plates, and whisk milk and 2 eggs in a bowl. Season cutlets with salt and pepper. Coat cutlets in flour, then egg mixture, then dredge in crumbs. Heat 2 tbsp. butter in a 12" skillet over medium-high heat. Add 2 cutlets and cook, turning, until browned, 4 to 5 minutes. Transfer to a plate; repeat with 2 tbsp. butter and remaining cutlets. Return skillet to heat. Add 2 tbsp. butter; crack remaining eggs into skillet; cook until whites are firm, about 3 minutes. Place an egg on each cutlet; crisscross 2 anchovies over each. Return skillet to heat with remaining butter; cook, swirling, until brown and nutty, about 30 seconds. Stir in parsley, capers, and juice; pour over cutlets.