Corn Cakes with Eggs Scrambled with Onions and Cabrales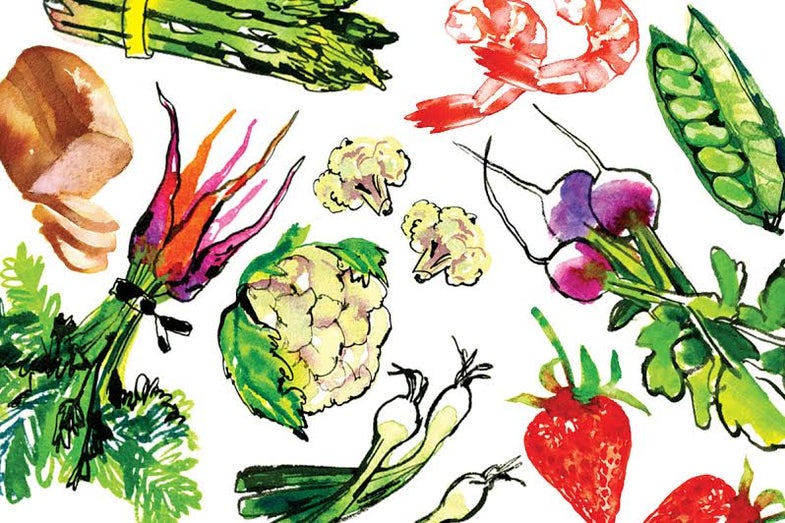 (Revuelto de Cebolla y Cabrales Sobre Tortos Crujiente de Maiz)
This recipe comes from Nacho Manzano, chef at the Michelin-starred Casa Marcial in the Asturian town of Arriondas.
Yield: makes 8
Ingredients
Salt
2 cups yellow corn flour
1⁄2 cup flour
1⁄4 cup extra-virgin olive oil
2 yellow onions, thinly sliced
Vegetable oil
1⁄4 cup heavy cream
1⁄2 oz. (about 4 tsp.) cabrales or other strong blue cheese
4 eggs, lightly beaten
Instructions
Dissolve 1 tsp. salt in 1 cup warm water. Sift flours together into a medium bowl. Pour salt water over flour and mix into a dough with your fingers, working out any lumps. Form dough into a ball and transfer to a clean work surface. Knead gently for 1 minute; transfer to a small bowl. Cover surface of dough with a damp tea towel and refrigerate for 6 hours.
Heat olive oil in a large skillet over medium-low heat. Add onions and cook, stirring occasionally, until caramelized, about 1 1⁄2 hours. Drain onions in a sieve and set aside.
Divide dough into 8 equal balls. Working with one ball at a time, place it on a slightly moistened piece of plastic wrap and, using moistened fingertips, press the ball out into a 4 1⁄2″ disk. Cut out and discard a 1⁄2″-wide circle from middle of disk, cover with plastic wrap, and set aside. Repeat with remaining dough.
Pour vegetable oil into a heavy medium pot to a depth of 2″ and heat over medium heat until the temperature registers 350° on a deep-fry thermometer. Working in batches, fry each corn disk while continually spooning hot oil over it until it puffs up, turning once, and fry until golden brown, about 1 minute per side. Drain on paper towels.
Heat cream and cheese in a large skillet over medium-low heat, stirring, until cheese is melted and mixture is well combined, 3–4 minutes. Stir in reserved onions and cook until hot, about 2 minutes. Increase heat to medium, add eggs, and cook, stirring, until eggs are just set, 3–4 minutes. Season to taste with salt. Spread each torto with some of the egg mixture.