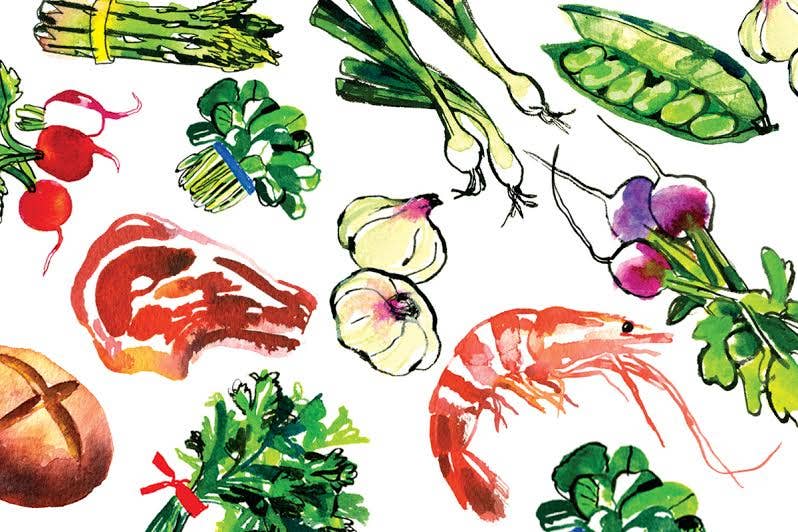 Recipes
Crab and Soybean Stir-Fry over Sizzle Rice
Sizzling rice was originally made with the crust of rice that stuck to the bottom of the pot (guoba means "what sticks to the pot"). Today, small squares of prepared sizzling rice, ready for deepfrying at home, can be purchased at Chinese markets. This is one of the rare Chinese recipes that call for unrinsed rice.
1 1/2 cups short-grain rice
8 cups vegetable oil
6 oz. boneless Smithfield ham
1/2" piece ginger, peeled and minced
2 cloves garlic, peeled and minced
4 oz. shiitake mushrooms, cleaned, stemmed, caps thinly sliced
Salt2 cups frozen shelled fresh soybeans (edamame)
1 lb. lump crab meat, picked over
24 oz. silken tofu, drained and cut into1" pieces
3/4 cup dry vermouth
2 cups chicken stock
Freshly ground white pepper
1/4-1/2 tsp. cayenne
1 tbsp. cornstarch
1 scallion, trimmed and thinly sliced on the bias
1. Put rice and 1 1/2 cups water into a small pot with a tight-fitting lid and cook over medium-low heat until rice is tender, 25-30 minutes. Remove pot from heat and let rest, covered, for 10 minutes. Fluff rice and let cool for 30 minutes.
2. Preheat oven to 300°. Grease a 10 1/4" x 13" sheet pan with 1 tsp. of the oil. Lightly oil your hands, then cover bottom of prepared pan with rice, pressing it into a thin, even layer. Bake until top layer of rice is dry, edges are slightly golden, and underneath is still a bit moist, about 50 minutes. Set aside at room temperature, uncovered, to let cool and dry until brittle, at least 3 hours or as long as overnight. Break rice sheet into 1"-2" pieces. (Dried rice may be stored in an airtight container for up to 1 month at this point, if you like.)
3. Put ham into a small pot, cover with cold water, and boil over medium heat for 15 minutes. Drain and let cool. Mince half the ham and cut the remaining ham into very thin matchsticks. Pour all but 1/4 cup of the oil into a heavy medium pot and heat over medium heat until temperature registers 350° on a candy thermometer.
4. Meanwhile, put ginger, garlic, and remaining 1/4 cup oil into a wok or a large nonstick skillet and heat over high heat. When ginger and garlic start to sizzle, about 30 seconds, give them a stir, then add mushrooms and minced ham. Season to taste with salt and stir-fry for 1 minute. Add soybeans and crab and stir-fry until heated through, about 2 minutes. Stir in tofu and vermouth and let boil for 5-6 minutes. Add stock and boil, stirring occasionally, until tofu dissolves into flecks and thickens the sauce slightly, about 5 minutes. Season to taste with salt, pepper, and cayenne. Mix cornstarch with 1/4 cup water and stir into wok. Return mixture to a boil, stirring as it thickens slightly. Keep stir-fry warm over lowest heat.
5. Working in batches, fry dried rice pieces in the hot oil, stirring to keep pieces separate, until rice is puffed but not golden, 20-30 seconds. Using a slotted spoon, transfer rice as done to a large shallow serving dish in a single layer. Pour stir-fry over rice, garnish with scallions and the remaining ham, and serve immediately.