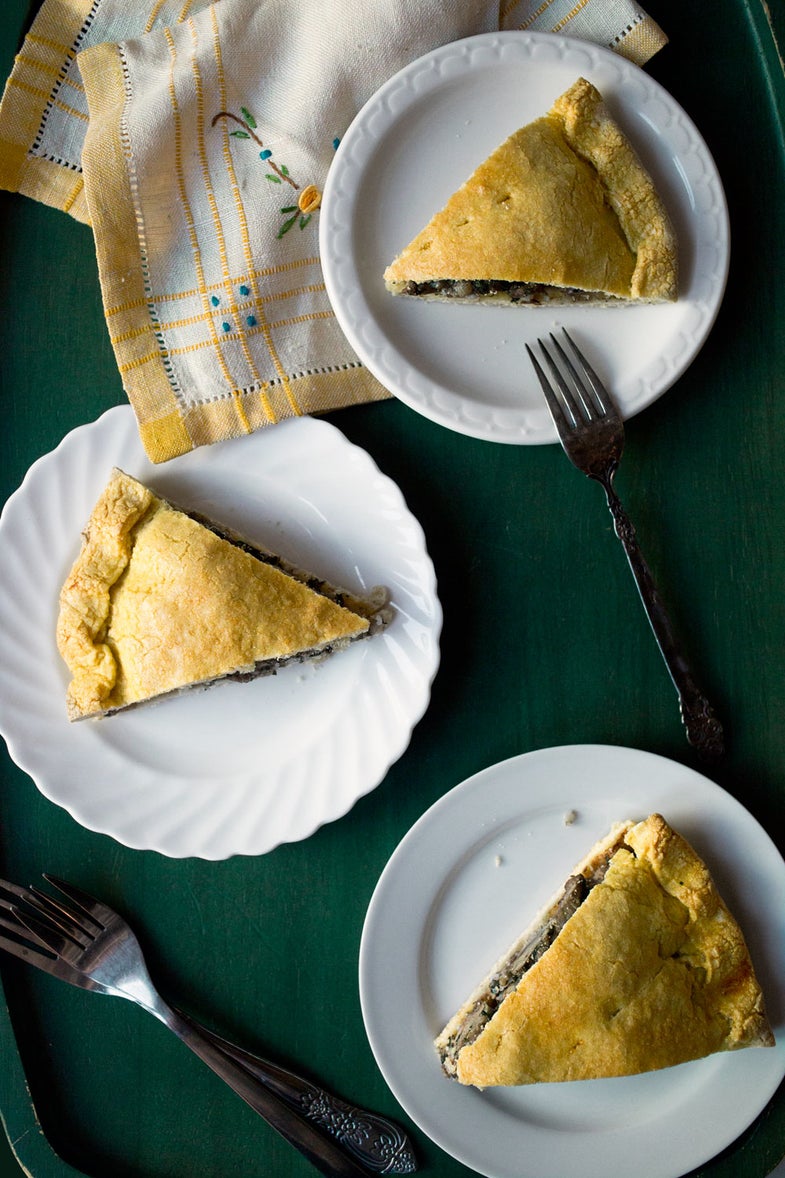 These moist lamb pies are popular in Sicily during Easter celebrations. This recipe appeared in our March 2011 issue as a part of our special feature, Soul of Sicily
Easter Lamb Pie
Sicilian home cook Giovanna Giglio Cascone taught us how to make these moist lamb pies.
Ingredients
2 1⁄4 tsp. active dry yeast
2 1⁄4 cups durum wheat flour
1 tbsp. vegetable shortening
3⁄4 tsp. kosher salt, to taste
4 cloves garlic, finely chopped
12 oz. lamb shoulder, thinly sliced
1 tbsp. finely chopped basil
1 tbsp. finely chopped oregano
1 tbsp. finely chopped parsley
Freshly ground black pepper, to taste
1 egg, beaten
Instructions
Combine yeast and ¾ cup water heated to 115° in a small bowl and let sit until foamy, about 10 minutes. Place flour in a large bowl and form a well in center; add yeast mixture, shortening, and ¼ tsp. salt and mix until dough forms. Transfer to a floured work surface and knead until smooth, 6–8 minutes. Transfer dough to a lightly oiled bowl, cover with plastic wrap, and let sit until doubled in size, about 1 hour. Meanwhile, mash remaining salt and garlic into a smooth paste and combine with lamb, basil, oregano, parsley, and a generous amount of pepper in a medium bowl; set aside.
Heat oven to 475°. Using a knife, cut away one third of dough; cover with plastic wrap and set aside. Using a rolling pin, roll remaining dough until ⅛″ thick and trim to make a 9″ circle; transfer circle to a parchment paper—lined baking sheet and mound lamb mixture in center, leaving a 1″ border around edge. Using a pastry brush, brush border with egg. Roll remaining dough until ⅛″ thick and trim to form a 8″ circle; place circle on top of lamb mixture and bring border of larger circle up to meet edge of smaller circle, pinching edges together to seal. Repeat around circles, crimping edge as you go, to form a pie; brush whole pie with egg and poke a paring knife in center of top to vent. Bake until pie is golden brown and cooked through, 25–30 minutes. Let cool for 15 minutes before slicing and serving.