Farfalle with Wild Mushroom and Tomato Sauce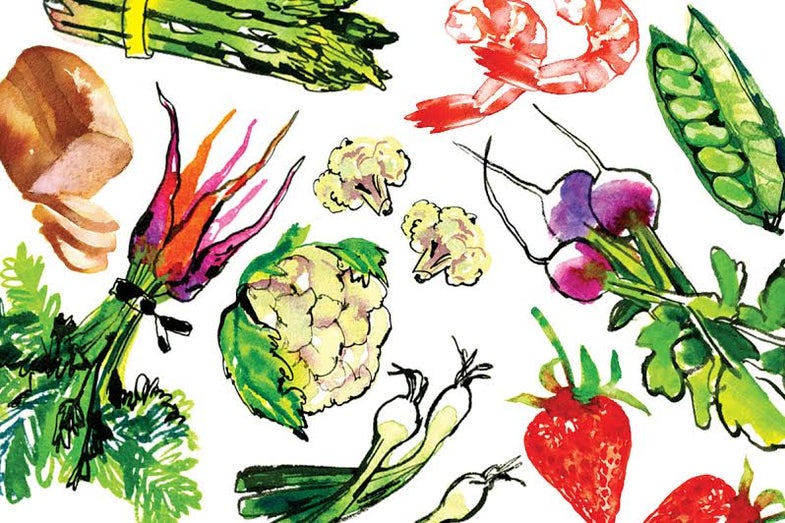 Artist and self taught cook Ed Giobbi loves wild mushrooms, and cooks up variations on this simple pasta dish when they're in season.
Yield: serves 4
Ingredients
4 Tbsp. extra-virgin olive oil
1⁄2 lb. sweet Italian sausage
1⁄2 lb. wild mushrooms, such as hen of the woods, trimmed and coarsely chopped
1 medium yellow onion, peeled and chopped
3 cloves garlic, peeled and minced
3 lb. plum tomatoes, peeled, seeded, and chopped
Salt and freshly ground black pepper
2 Tbsp. finely chopped fresh basil
2 Tbsp. finely chopped fresh parsley
1 lb. farfalle
Instructions
Heat 2 tbsp. oil in a medium skillet over medium-high heat. Add sausage and cook, browning on all sides, for about 15 minutes. Remove sausage, cut into large pieces, and set aside. Add mushrooms to skillet and sauté until golden, 1–2 minutes. Remove mushrooms from pan and set aside with sausage.
Reduce heat to medium-low, add remaining 2 tbsp. oil and onions, and cook, stirring occasionally, until onions are soft, about 20 minutes. Add garlic and cook for 2 minutes more.
Increase heat to medium, add tomatoes, season with salt and pepper, and cook, stirring occasionally, until tomato juices have evaporated, about 15 minutes.
Stir reserved sausage and mushrooms into sauce and cook for 10 minutes, then add basil and parsley and season with salt and pepper. Meanwhile, cook farfalle in a large pot of boiling salted water until al dente, about 10 minutes, then drain, toss with sauce, and serve.